If there's one question Eoin McGee is asked most by people on the street, it's "What's the one thing I could do for my finances that would have long term impact?" The answer? "Being conscious."
"Good money management is about spending your money on the things that are important to you", he tells RTÉ LifeStyle. "Lots of us spend money on things without even really thinking about it, really thinking about the impact that they're going to have on our lives."
Being conscious of our money has never been more essential, as the Covid-19 pandemic turned many people's financial lives upside down. Finance expert McGee is back with a new series of his money makeover show, How To Be Good With Money, and many of us have never needed his advice more than now. 
Sitting doing something else and I hear this voice and think "I know that voice" ... that's cos it is my own voice 🤦🏻😂🤦🏻😂🤦🏻

We are back. Thursday, 8.30pm on @RTEOne @CCPCIreland pic.twitter.com/npZqdnM3eH

— Eoin McGee CFP© (@EoinMcGee) January 2, 2021
The pandemic has already profoundly changed people's financial situations, but it's never too late to make a few tweaks here and there to improve your situation. Where should people start? 
"There's two cohorts of people right now," McGee says. "There's people who are better off because they have the same income. Their expenses have gone down to the floor because they can't do anything but life. You can actually end up in a position where you've got a lot of money in your bank account that you've never been used to before."
This is the ideal situation, of course, but doesn't come without its own dangers. MeGee says that unless you're using that extra income on specific things – clearing debt, getting rid of your credit card or investing in something – it can run out quickly. 
"The opposite side of that is the people who have taken a serious hit in their wages", he adds. "They've moved on to some type of Covid payment or some type of social welfare, possibly for the first time. They're very uncertain about where they're going to next or what their future looks like, what their financial future looks like. And that's an awful place to be. And if you're in that position again, it's still about taking control."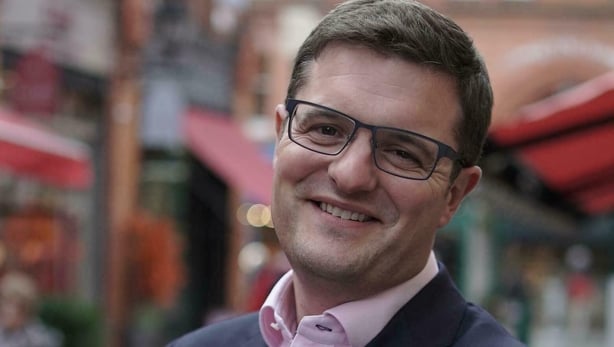 Making a list of your must-pay expenses – your "rocks", McGee calls them – is the first step. For most people, that would be rent or mortgage, and McGee says now is a good time to talk to your bank or landlord about that situation if you need help. 
"Lots of landlords are being really, really good about that. Of course, you have a contract with them, and if you don't pay it for two months, you will still owe that two months." And while he says that banks will make you "jump through a few hoops", McGee says there are ways to make your situation better. 
Not everyone is lucky enough to have savings, but if you're one of the fortunate ones McGee has some advice for you. Savings have increased in the past 12 months, he says, with over €123 billion in savings, an increase of around 12 billion. 
"If you're in that cohort of people, I just remind you that the economy is really struggling right now. We're going to need some of that savings to be spent if we're if we're going to get the economy back on track again."
"Start to think about how you can spend this, first of all, to your benefits, but also secondly to the Irish economy's benefit."
@EoinMcGee money well spend !!! pic.twitter.com/kAlLslVYKb

— James O Brien ☘🇪🇦 (@James_dm5) January 3, 2021
With the country currently under Level 5 restrictions, spending money without much thought has become more difficult given we're not pottering around shops, passing cafés and spending more on nights away or nights out. "If you want something now, you think about it," he adds. 
Of course, online shopping brings its own perils. "There are some statistics that show us when we shop online, we spend more than we would have if we had have been in the store because it's so easy just to click, click, click, click", McGee adds. But being more mindful about what we buy – whether due to less money coming into our account or a rethinking of what's really important – has certainly been one of the biggest lessons from the pandemic. 
"When you're spending your money, the purpose of spending your money should be to improve the quality of your life and the value for the things that are around you and half the time, they're not material things. I think at the moment we can really realise that."
Watch How To Be Good With Money on 7th January, 8.30pm on RTÉ One.