It may be December but Marty Morrissey is still in the thick of the action. He talks to Donal O'Donoghue about a most unusual GAA season, his broadcasting ambitions and his Christmas cards.
Marty Morrissey is up to 90. It's the Monday after the historic wins of Tipperary and Cavan as well as the Bloody Sunday Centenary commemoration, and RTÉ's GAA correspondent doesn't know whether he's coming or going. For a brief while, he was primed to travel to Louth to cover the news about Mickey Harte's appointment as the wee county's football boss.
Then it was Waterford or Kilkenny for a preview of the All-Ireland hurling semi-final. Finally, the story is Shane O'Neill, the Galway manager, at his base in Limerick. And so he's on the road again. In the dying light of November, when Marty should be wrapping his Christmas presents, we have yet to wrap the GAA championships.
It's a far cry from the summers of Sam and Liam, being in Marty's company amid the carnival atmosphere of a Munster final. 'Marty can we get a photograph?' 'Marty do you want a 99 ice-cream cone?' Marty, where's the
party?' Young and old, male and female, all wanted a piece of the Marty man and he delivered. But now, he travels alone, commentating on eerily quiet games in largely empty stadia.
"Apart from the players, the backroom staff, the officials and TV crew, there is nobody else," he says. "Without the roar of the crowd, you hear all sorts of things from the pitch, fellows shouting at each other and so on, that you'd never normally hear at an inter-county championship match. It is surreal."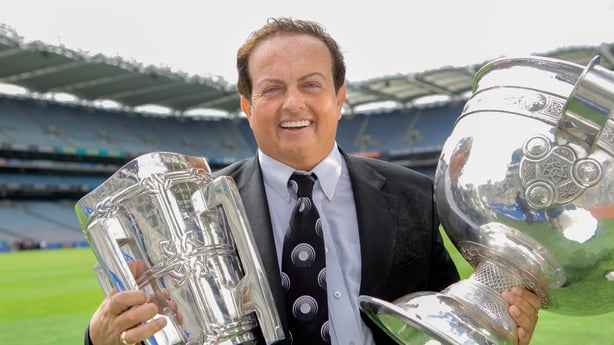 Marty is somewhere north of Limerick when we speak again: hands-free, keeping the show on the road. "You're contributing in a small way to keeping people entertained, but at the end of the day, it's all down to the players because without them we wouldn't be there."
Yet the GAA is also wired into Morrissey, from growing up in the Bronx, a puc fada from Gaelic Park to West Clare at age 11, where he played both football and hurling (to minor inter-county level) and was a successful underage coach. From the back of a tractor and trailer, the science teacher launched into a life in broadcasting: Cork Multi-Channel TV, Clare FM, RTÉ Cork and then RTÉ HQ, where he has been GAA correspondent since 2013.
Of course, Marty Morrissey has long been more than just a sports correspondent: from Dancing with the Stars to two seasons of anything goes on Marty and Bernard's Big Adventure, he has also been sprung from the bench for bank holiday radio cover. Earlier this summer, in a reflective interview with Mike Murphy, he spoke of being at a crossroads in his career.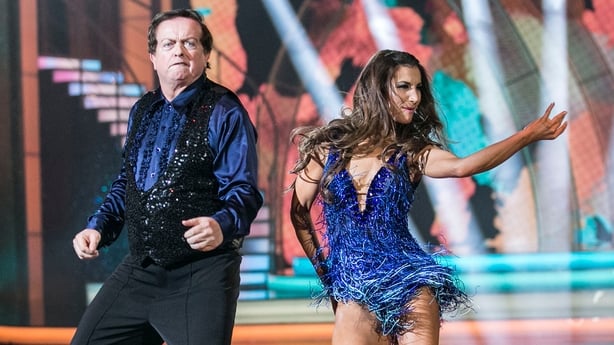 What did he mean by that? "I'm thankful to RTÉ that they have given me a chance to do other things as well as sport which I love," he says. "But we all change and evolve over time and while 'crossroads' might be the wrong word, I'd like to try other things in broadcasting. I would love to do an entertainment show and more radio."
Listening back to that Mike Murphy interview, you wonder is it the interviewer cleverly probing or the interviewee making a case for his own future? "This is my eighth year as a GAA correspondent and that was something I was only planning to do for two years," says Marty now.
"I do find the travelling around the country difficult as I spend a lot of time in the car and that can be hard. But there's always a warm welcome at the end of it, which is great. I also enjoy doing something outside my comfort zone, whether that is the dancing on TV or the radio show on a bank holiday and I still think radio is the best medium of the lot."
He's never short of ideas. Marty in the Shed (his idea) arrived in May in the middle of lockdown. This was the broadcaster, complete with a life-sized cardboard cut-out of himself, doing a virtual chat show from his garden shed in west Clare, where his mother, Peggy, lives. Guests included LA-based Chris O'Dowd, former GAA footballer and DWTS winner Aidan O'Mahony and first out of the traps, comic and impressionist Oliver Callan, who coined Morrissey's signature catchphrase.
"Yep that's true: the Marty Party thing came originally from Callan's Kicks," Callan says when I get in touch to clarify. "But fair play to Marty, he got the joke about being 'Marty who likes to Party' and ran with it."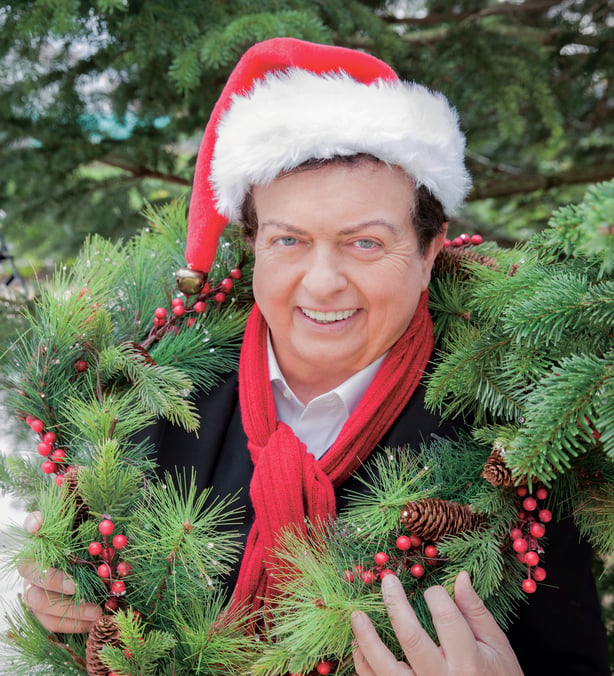 More recently the broadcaster had another 'brainwave'. "I thought what about a Marty Christmas card," says Marty. And lo it has come to pass: four different cards, four different images of Marty and four different recorded messages ("if you're having a Marty party, stay safe"). Morrissey's percentage of the sales go to the Children's Health Foundation Crumlin and there will also be a limited number of special edition of Marty Santa jerseys on sale to raise funds for various charities.
"I'd like to delve a bit into business just as I also like to bring a smile into people's lives," he says. And so in 2021 Marty will publish his first book, a collection of stories, anecdotes and personal memories.
Marty Morrissey – born in Mallow, reared in the Bronx, made in west Clare – was the only child of Martin and Peggy, also only children. With no siblings, aunts or uncles, friends took on an extra resonance. "When Dad died, I suddenly realised I don't have a sister or brother who will keep an eye on things when you're away," he says.
"Dad died 16 years ago this Christmas on December 19. It was sudden, even though he had two heart attacks six years earlier. And his death changed so much. Whenever I now hear of someone with a small family losing a parent I empathise with them. I also realised then so much more depends on me, even if I do it willingly and gladly."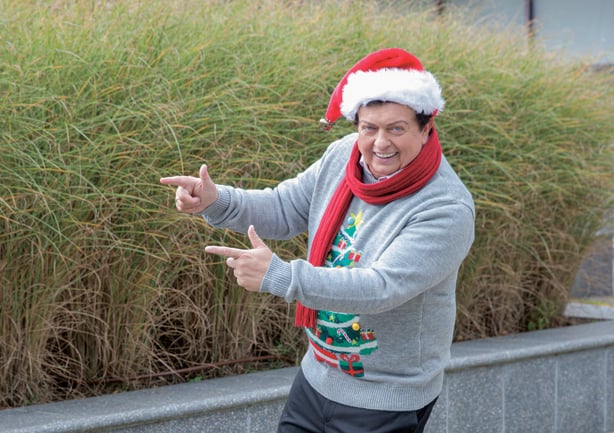 His mother, Peggy, still lives in Clare where neighbours and friends look out for her. "Since Dad died, I became very aware of how lonely people can be in rural Ireland and in urban Ireland too," says Marty. "I think everyone loves to see people calling by."
Marty calls by his mum as often as possible. I imagine she's very proud of him. "Her motto has always been not to get a big head and keep your feet on the ground," he says. "Or she might ask 'Would you ever come back home and go back teaching?'" He laughs.
For now, a return to Clare is unlikely for Dublin-based Marty. "I'm still a country boy at heart and always will be," he says. "But it's nice to have a 24-hour shop across the road."
A natural broadcaster, with a keen ear for the colloquial, Morrissey nonetheless experiences insecurity. "To me, Gay Byrne was the king," he says of the late, great broadcaster.
"Then when you read his book, you see what he went through. So I think many of us in broadcasting are a little bit insecure. We need positive reinforcement, we need to be liked, if that is the right word. To this day, if I get a text from one of my bosses saying 'Well done', I'd be delighted. So that hasn't changed. Maybe I am a little bit [insecure[, although you can't give that impression because you don't want it to be seen as a weakness. They say 'You're only as good as your last gig' and that's very true in broadcasting."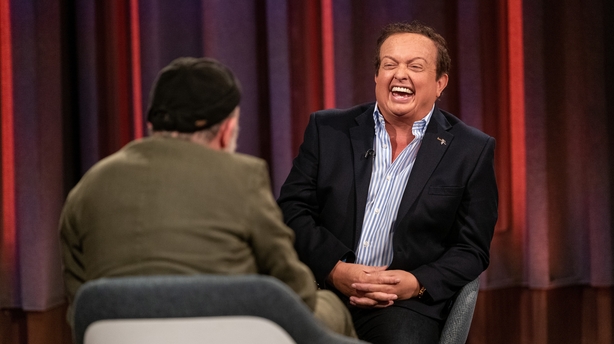 Yet he is Marty Morrissey, the 'most famous man in GAA' as someone once put it, and a most unlikely sex symbol. "I joke that I'm a sex symbol even to myself" he says. He plays the ladies' man card, the party animal who doesn't smoke and rarely touches a drop, even if he dresses with pizazz and likes to do that 'bang-bang' greeting with his fingers.
His "other half" is Liz, the rock in his life and the person who gives him sartorial advice. They first met when he was working in Cork but apart from a few rare red-carpet sightings, you will see and hear little more from Marty who likes to keep his public and private lives in separate boxes.
"Do you have enough there?" says Marty, who has arrived at his destination in Limerick. Can you ever have enough of Marty Morrissey? But he's on a deadline and there's miles to go before he finishes with the GAA for another year. While the grounds might be that bit quieter on championship day, with Marty Morrissey, Technicolor is never far away.
"I finish up on December 20 with the Ladies' Football Final and after that I intend to do two days of Christmas shopping and then go home, turn off the phone and do absolutely nothing."
For a moment, I try to imagine Marty Morrissey doing absolutely nothing, but the image never really comes.
Marty is raising funds for Children's Health Foundation with a set of Christmas cards. On sale now, you can buy from Eason and all good bookstores, with a percentage from all sales going to the CHF.