We all need a little escapism from time to time, whether it's a wistful click through apartments in Lisbon or an episode of Room to Improve, golden bathtub and all.
But eventually we need to come back down to earth and put all that creative energy into something more realistic.
The past few months have seen us spend more time in our homes than possibly ever before, and there's no doubt many of us have gotten sick of staring at the same four walls, looking the same way they always do. Watching Dermot Bannon design an open plan Scandi-style kitchen is all well and good, but how can the ordinary person jazz up their homes without breaking the bank?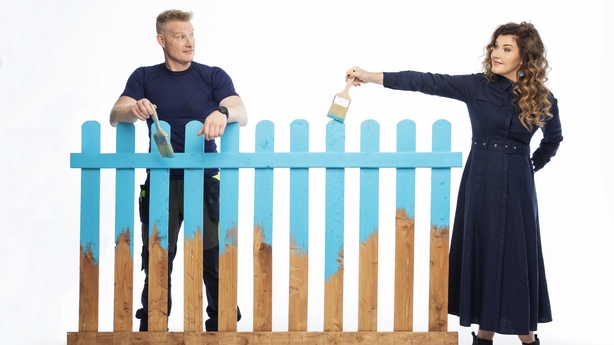 Well, just as the lot of us are retreating back to our homes once again, Home Rescue is back, with architect Róisín Murphy and builder Peter Finn bringing order to chaos and light to darkness.
House proud
We've all become home-mad since the outbreak of Covid-19, from Marie Kondo-ing our wardrobes to trying our hand at painting and gardening. With the construction industry on pause in March, Finn busied himself with building a climbing wall for his kids and adding to the family's tree house.
When the first restrictions came in in March, Murphy says "I found I was busier than ever, probably because the stuff that I do, in terms of home interiors, went bananas".
"People want to know what they can do while they're at home with very little access to builders or money or shops."
The way we think about our homes has changed "drastically", she adds, as the home has become the setting for most parts of our day. "I think people would have been concentrating on the big build and they're not so focused on that anymore.
Back on Thursday!!! @RTEOne clicking heals to #homerescue @COCOcontentie pic.twitter.com/EofP8bMSYA

— Róisín Murphy Architect ?? ?? ?????? (@RosinMurphy) October 27, 2020
"They're focused on smaller spaces for each individual in the home. Particularly for children, because they have to do homework. The idea of individual space in the home being out of fashion for 20 or 30 years, it's suddenly back in fashion."
Finn adds: "People now understand that space in their home is not just nice to have, it's a necessity. Every millimetre of the home is valuable, whereas people were just throwing stuff into spare rooms and wasting full rooms of their homes."
Comfort is now the buzz word of the year when it comes to the home. "Comfort as opposed to drama", Murphy says. "The home is about entertaining each other. Even as an individual in the house, it's about your space as opposed to the public realm of a house."
Clearing out the clutter
Before you can build your nest, though, you have to clean it, and decluttering is a huge part of Home Rescue. Coincidentally, it's also been a soothing pastime for many of us stuck indoors. Marie Kondo led the charge at the start of the year with her Netflix show, and now The Home Edit has picked up the mantle but Murphy isn't too convinced.
"I'm not mad about it now, it could be a jealousy though!" she laughs. "It could be straight forward green eyes. They have a big American budget and I love the fact that all our homes are ordinary people."
So what's the key to decluttering like a pro? "Empty the room. Never declutter in the room, and have it in three piles: go, keep, charity. I do it all the time at home and if you're doing it for a kid, leave one cabinet if they're refusing you. You can't force them."
We need your consent to load this Instagram contentWe use Instagram to manage extra content that can set cookies on your device and collect data about your activity. Please review their details and accept them to load the content.Manage Preferences
Once you've the space cleared, then you can start dreaming up a new look. With the colder months setting now, now is the perfect time to switch from gardening to DIY projects, says Finn.
"Start simple, don't try and bite off more than you can chew because you'll get a fright and back off or you won't enjoy it", he says.
"Painting is a really good one, most people can have a go at that. Start with a small room. Never start with the wall you're going to see first, always start in the hidden corner. The more you get painting, the more you get used to using the tools and you'll start improving.
"Most people can put together flat pack units. People can then start making their own stuff."
Get crafty
Sure, many of us don't have a few grand lying around for an extension, but if Home Rescue shows anything, it's that all you need to change your space is some craftiness, vision and a few clever design tricks.
"Knocking walls down always has a huge impact", Murphy says. "Being able to make space bigger, not necessarily by extending but by opening up." She adds that avoiding spaces where clutter builds, like corners in a kitchen unit, will help keep the space clean.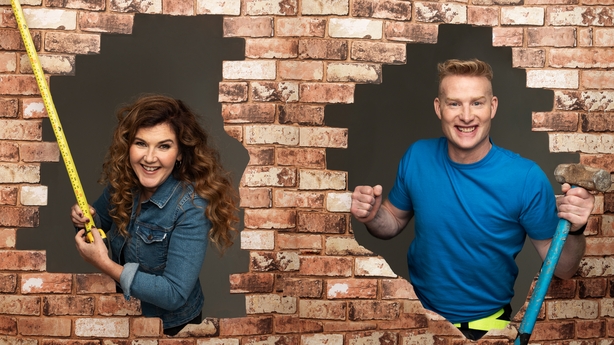 "Natural materials are a huge thing for me, whether we can get a countertop that's got a real piece of wood on it or a natural material carpet. I love a tree! Something that's from nature."
And if you're looking to make a small change with major impact, painting a window is a cheap, chic and sustainable choice.
"We're not afraid to paint a brown or PVC window and that's an incredibly inexpensive way to upgrade your rooms. It's a great environmental choice because you're not throwing them out."
Watch Home Rescue on RTÉ One on Thursdays at 7pm.