Life has changed a lot in recent months with all of us creating new routines; from how we shop for essentials to how we make trips to the supermarket as fast as possible.
Avoiding surfaces and exchanging coins and notes are now familiar behaviour for many of us.
You may have started using contactless payments for the first time or be grocery shop online. In fact, over half of all face-to-face transactions with a Visa card in Ireland are contactless.
Visa has been working to give you peace of mind, so that you can feel safe when you are shopping. For example, you can now pay for purchases in-store up to the value of €50 with your contactless debit or credit card, making it more convenient when you pop into your local shop.
Contactless is fast, easy and just as secure as chip and PIN, allowing shoppers to limit interactions while buying what they need. Contactless cards use the same highly secure chip as is used for chip and PIN payments but use radio signals to establish a connection with a payment terminal without you having to insert your card.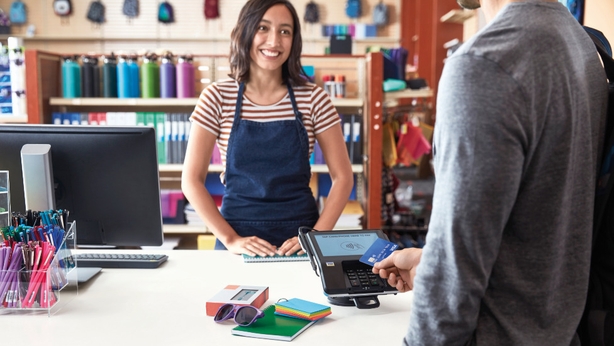 For purchases of more than €50, you can make contactless payments using your smartphone – which is also simple and secure. This is because your mobile device uses methods such as fingerprint or face-recognition to make sure you are the right cardholder before you pay. All you have to do is load your card details onto your mobile wallet, which Visa substitutes with a unique set of numbers – a digital 'token'. This means your sensitive account details are not contained within your mobile wallet and you remain protected should you lose your phone.
From ordering groceries to indulging in some retail therapy, you may be shopping online more than ever. With the increase in online activity, you need to make sure you're making payments safely. Working with partner banks, Visa use multiple layers of security to prevent fraud, protect your data, and help you get your money back if someone uses your card without your permission.
In addition, Visa's Zero Liability Policy offers extra protection if your debit or credit card is lost or stolen, or if fraudulent activity occurs. Whether purchases occur online or off, you pay nothing for fraudulent activity.
There are also some simple steps you can take to give yourself that extra sense of security. For example, when paying online, check the website address to ensure it begins with "https://". The "s" at the end indicates a secure connection.
Also, be careful of unsolicited and suspicious emails or phone calls. Hackers may be trying to steal personal information like your account number, username and password. If in doubt, do not click on any links or download files.
Know that how you shop matters and that you can shop with confidence and stay protected by using Visa.
For more information on contactless payments or shopping online, please visit Visa.ie