So what has your 12 year old been getting up to during lockdown? Some quality Lego time, maybe? A decent bit of work on hand-passing? Or perhaps a major investment in Disney+?
A lot of 6th class kids will have been sorely disappointed that they didn't get to finish their final year in primary school. No "graduations", no trips away together, no sports days, even. But one 6th class pupil in Roscommon decided to put away the maths books for the day and try his hand at archaeological discovery instead.
And Cathal McDonagh from Lisacul, might just have made a very significant find. Cathal and his dad Peter spoke to Oliver Callan – sitting in for Ryan Tubridy – about the discovery.
There's a lake in the field behind the McDonaghs' house and Cathal put on his wellies and spent some time exploring the edge of that lake and it was there he came across something especially interesting, as Peter told Oliver:
"He felt something obviously under his feet and started doing a bit of digging around. Now you couldn't see anything because obviously as you started to manoeuvre the silt, it was covering everything. So, from that then, he had his mother Eileen go down because he was convinced it was a boat of some description."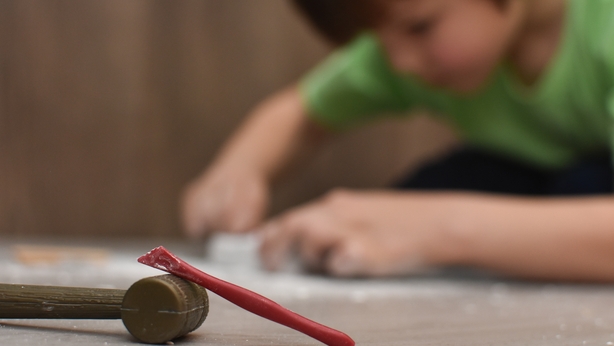 Cathal's mother and sister worked on raising the boat for a week before they called his father in. He managed to get his hands underneath the artifact and move it slightly. The McDonaghs began to think they could raise the wreck of whatever it was from the bed of the lake. But it wasn't easy:
"Between myself and Cathal we started to move it and obviously getting the water underneath, it moved the silt and from that then we were able to pull it out."
The family weren't sure what they had uncovered, so they took some photos and showed them around. The impressive boat is more than 5 metres long and almost a metre wide. It may be as much as 4,000 years old.
An archaeologist put them in contact with the National Museum, who will likely send an underwater team to investigate. The advice in the meantime is to put the boat back in the lake to keep it intact.
The young Indiana Jones himself, Cathal, spoke to Oliver about how his archaeological discovery came about:
"I sorta got sick of homework, so I said I'd head down to the lake."
He wasn't digging in the lake, just paddling through it when he saw something black sticking up from the silt at the bottom of the lake.
"I started digging around it. I could feel the size of it and from then on, I basically sprinted up to the house."
Does Cathal think he has a future in archaeology? "Probably not, no. I don't really have the patience for it."
You can hear Oliver's full chat with Cathal and Peter McDonagh on The Ryan Tubridy Show here.