As lockdown continues, people are looking for simple but effective ways of brightening up their homes. Irish paint suppliers have been inundated with online orders and home delivery requests as lots of us focus our energies on updating our homes.
Architect and interior designer, Denise O'Connor, MD of Optimise Home, has lots of practical advice for anyone planning to take on a painting project. Here are her top tips for perfect paintwork.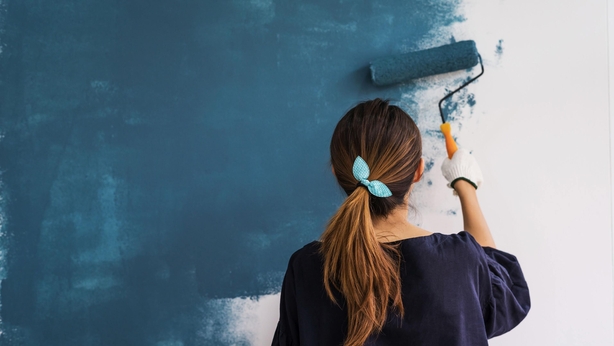 Think about how you use the space
You will want to create a different atmosphere in your kitchen than you will in your bedroom. Your kitchen should feel fresh and inviting so you will want to go for brighter colours. Your bedroom, however, will want to feel calm and restful, so softer colours that create a tranquil feeling are an excellent choice, or you could even consider a dark, moody tone to create a cocoon-like effect.
Take the orientation into account
Think about the orientation of the room. Is it north or south facing? With north-facing rooms you should try to make them feel cosy so warm earthy shades work best; in sunnier rooms you have more options and can play with both dark and light tones.
Test before committing
To help you select the perfect colour, first collect some swatch cards in the shade that you want to use. Once you've narrowed it down, invest in some sample pots of your preferred shades. Instead of painting directly onto the wall, paint onto a large piece of board or card. This way, you can carry it around the room, testing the colour in different light conditions.
Don't paint a north-facing room white!
A common mistake for a north-facing or dark room is to paint it white to try to make it feel brighter. This doesn't work and can make the room seem cold. Instead, what you should try to do is make the room feel cosy.
#Lovelocal: Irish artists JANDO launch campaign to keep loved ones connected
Multi-award winning Irish printmakers JANDO are running a nationwide campaign in a bid to keep Irish people connected during lockdown. Until Sunday, May 17, Love Where You Live asks JANDO social media followers to nominate their favourite places in Ireland that they miss most.
The winners will receive a special one of a kind piece; created just for them in JANDO's distinctive pop culture style. For more information on Love Where you Live or to buy a JANDO print (RRP from €50) visit @jandodesign on or jandodesign.com where they currently have 20% off their designs.