Of late, RTÉ broadcaster, Bryan Dobson, has become a bit of an online star with his Morning Ireland broadcasts from his home, but the news always comes first. Donal O'Donoghue gets his story.
"Later this afternoon my wife, Crea, will cut my hair in the garden," says Bryan Dobson, sounding just a wee bit anxious. Usually, the Morning Ireland broadcaster has his locks clipped by a professional but, desperate times call for desperate measures - and he says he doesn't really fancy doing the job himself.
Otherwise, it is business as usual for the dapper newsman, affectionately known as 'Dobbo', who has become an unlikely social media star for his Morning Ireland broadcasts from his home, as well as his gallery of mugs ("I'm running out of them now!").
This morning's @morningireland home studio mug - a gift from one of my daughters! Both me and Mr Dobbo definitely need a hair cut. pic.twitter.com/npaZmWWzNN

— Bryan Dobson (@BryanMIreland) April 10, 2020
In many ways, Dobson is a throwback to the golden era of TV and radio news, a belt and braces newsman with a face and voice that inspire trust. I call Bryan Dobson at his Morning Ireland 'studio'. You know the one from Twitter: it has a large wooden table, bookshelves lined with such tomes as the collected works of travel writer Eric Newby ("Did y'know, he once cycled around Ireland?") and it looks suspiciously like Bryan's own living room.
This is a first! Presenting @morningireland from the dining room. #remoteworking pic.twitter.com/pFQc8DV0gb

— Bryan Dobson (@BryanMIreland) March 24, 2020
Today is the broacaster's day off, so no white shirt and braces, just a casual top and a pair of jeans. I know this because I ask (it's important to know what your interviewee is wearing these days). "On the mornings that I work, I do dress up but don't bother with the tie, which seems a bit silly" he says. "I think it helps psychologically to put on the kit, even if I'm just walking down the stairs."
And a month or so into the global pandemic, shirt and tie or not, the Morning Ireland host continues to be a steady hand on the tiller. Some six years back, we cycled around Dobson's old home turf, the leafy Dublin suburb of Sandymount.
Wheeling in the years, we passed by the broadcaster's old primary school, St Matthew's, dawdled by the sports ground where he played tennis and cricket ("not very well") and quietly gazed on his old family home where Bryan and his sister, Jane, were raised by their late parents, Violet and James. It was pleasant and fun, with well-wishers and wiseacres calling out to the TV anchor from their cars. By Sandymount Green, we remembered local William Butler Yeats before Dobson recited the opening lines of The Lake Isle of Ininisfree. It was like going for a spin with your big brother, someone who always has your back.
Morning Ireland home studio. On the left is the ViA unit, my link with the studio control. pic.twitter.com/aSb8jlVzNh

— Bryan Dobson (@BryanMIreland) April 1, 2020
Nowadays, Bryan Dobson lives in the fashionable neighbourhood of Portobello with Crea. Their two grown-up daughters, Sophie and Hannah, have flown the nest. (Hannah lives in San Francisco and had only just flown back to Dublin before the lockdown). The couple first met on Inishbofin on the August Bank Holiday in 1982. "I was with a group of pals, one of whom worked with Bord Fáilte and was doing a report from the island for the Tidy Towns competition," he says. "So we all ended up on Inishbofin on a bank holiday weekend, my friend in a hotel while I was in a tent." Six years later, Bryan and Crea got married in St John's Church in Sandymount and as he says, the "rest is history".
In late 2017, Dobson moved from TV to radio, swapping the Six One News for Morning Ireland. The decision was spurred by a desire for fresh pastures and the opportunity to work on RTÉ Radio's flagship show and biggest audience draw. Any regrets? " I have a principle in life, 'no regrets!'," he says. "Having regrets is a futile exercise. I'm sure they creep into my thinking sometimes but I believe that everything you do, success or failure, adds to the sum of your life. Morning Ireland is a great show to work on, much faster and more intense than what I did before. That can be unsettling at times but that's just the nature of the programme. The biggest drawback is the alarm at 4.30 in the morning. There's no getting used to that for me."
Years ago, Dobson's sister discovered an old cassette tape which featured 13-year-old Bryan 'interviewing' members of his family. "I was a nosey kid," he says and laughs. "My girls say that I still 'interview' them and I have to be careful with their boyfriends not to start asking questions!"
It was ever thus. During his time at Newtownpark Comprehensive, the young Bryan was the producer of a school radio show which featured an interview with the principal. "I thought that it was extraordinary we could do that and he answered the questions", he says. "As a journalist, you're in this privileged role that you can try to hold people in positions of authority or power to account. I've always felt that's the heart of what we do."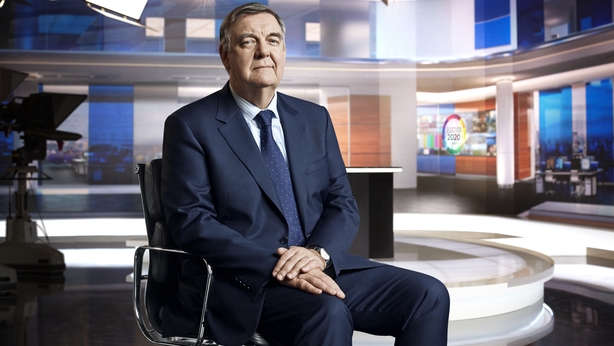 Dobson largely learned on the job: dropping out of a journalism course in Rathmines to work with the pirate radio stations Southside FM and Radio Nova. Southside was based in a shed at the back of the Victor Hotel in Dún Laoghaire; when it rained, he says, it ran down the back of your neck. Radio Nova was raided by the Garda in May 1983 and shut down (before returning to the air a few weeks later). Dobson subsequently applied for a job with RTÉ Radio 2 which he didn't get, but RTÉ's Leo Enright recommended him for a job at BBC Northern Ireland, where he started as a radio reporter in 1983.
He says his four years in Belfast were the making of him as a broadcaster. "I was doing a lot of reporting out and about on the streets," he says. "I just learned so much from the sheer amount of stories I was covering. And apart from the local news, there was the big international story of The Troubles." It was also, apart from a brief sojourn when studying in Rathmines, the young Dubliner's first time living away from home. "I got the Enterprise to Belfast one Sunday night, suitcase in hand. I had a little flat close by Cypress Avenue, famous for the Van Morrison song. I learned that toilet paper just doesn't appear, you have to go out and buy it, and your clothes don't wash themselves."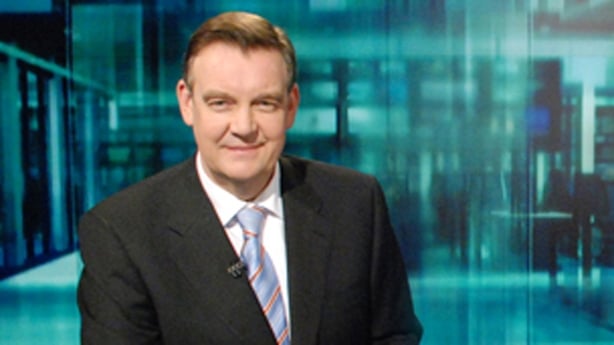 Since 1987, he has worked with RTÉ: from reporter on the current affairs radio programme, This Week, to business correspondent with Marketplace and then the carousel of presenters of the One O'Clock News in 1991, followed by the Nine O'Clock and in 1996, he became anchor of Six One.
Along the way, there were landmark gigs like reporting on the first free elections in South Africa in 1994 and covering the 9/11 attacks in the US. Not that it has been all plain sailing. A 2006 interview of former Taoiseach Bertie Ahern was deemed too soft by some, while a recent pre-election grilling of Sinn Féin leader, Mary Lou MacDonald, was decried as too tough by others. "It's almost impossible to get it right," says Dobson. "You always tend to drift to one side or the other of the line."
On that cycle around Sandymount in 2014, Bryan's late mother, Violet, popped up in the conversation. She died in February 2019 in her 94th year, still active in the community to the end. "She was a very social person, someone who loved people and thrived on meeting friends," he says.
"When I think of her now, it was that unconditional love she had for myself and my sister, not that she wouldn't be shy of pulling me up on an interview that didn't impress her. She was always interested in politics and I remember being taken by my parents to the polling station as a kid. Years later, we did the same thing with our children. Our parents were tremendously supportive of myself and my sister and that gave me great confidence in myself and in life."
And life rolls on. Later that day, the clippers will come out. Bryan will go for his daily social distancing walk around the neighbourhood, planning to clean the windows at the front of the house (because he did the back ones yesterday).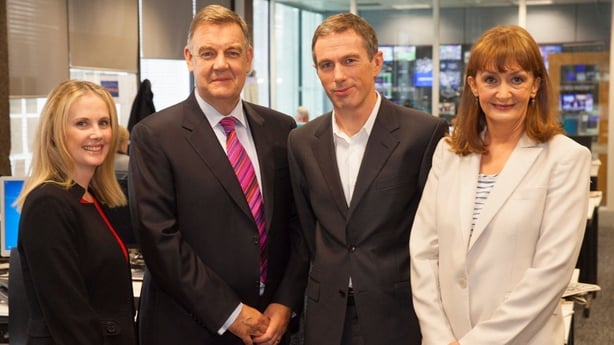 "A lifer" is how the 59-year-old describes himself, part of the furniture in RTÉ. He still does the occasional TV job (general elections and such), but radio is his home, back where it all began.
"All of us are a little more conscious of our own mortality because of this," he says of the pandemic. "We spend so much of our life thinking what's next. I'm definitely in that league. Now we are all kind of forced to live in the moment, which is not a bad thing. Maybe that will have a lasting impact. Maybe."