During this unprecedented time of social distancing, web pages across the internet are popping up with suggestions and admonishments about what we should or shouldn't be doing with all the time we allegedly have at our disposal. And when we finish watching our twelfth full-body workout video on Instagram, we might ask ourselves how we could possibly find something else to do that would improve our quality of life.
Lo and behold, as if hearing the question we're almost afraid to vocalise, there on Wednesday's Today with Seán O'Rourke, teacher and oboist with the RTÉ Concert Orchestra, David Agnew brought us – learning a musical instrument.
Naturally, the first question he fielded from Seán was, well, can anyone of any age learn a musical instrument?
"You can learn it at any stage. I have students that are 8 years of age and I have one who's probably approaching 80 years of age."
So, telling yourself it's too late and you'd be better off binge-watching Tiger King (again) is not an option.
"You can pick up any instrument and realise some music out of it at some stage."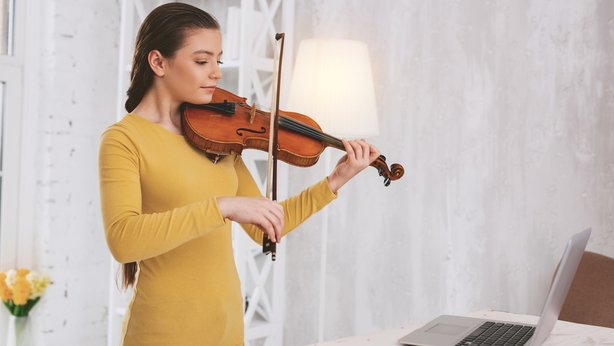 David is teaching remotely these days and he told Seán that, while it has its challenges, it's going really well.
"Most of my kids would come in on a Monday and you know they've had a long weekend, they're tired after their first day at school, whereas now they're fabulously refreshed, they're all at home, they've no commute, they've plenty of time, they're doing a bit of practice, there's no competition with tennis or hockey or other sports or things that they're involved in and they're interested and they want to do it because it's a break in the day."
But, of course, there's nothing that beats the in-person experience when a teacher can assess things like posture, breathing and tension. As a short-term solution, though, it's working well and David is enjoying it.
Seán wondered how long it would take someone who'd learned an instrument 20-25 years ago and stopped to get back to where they were before. The answer that will give comfort to one-time bedsit strummers across the land is, apparently, not very long.
"The sensations are there and there's the desire to want to do it, so, like, you're immediately getting dopamine release and emotional satisfaction from doing it."
Depending on the instrument and depending on your physicality, things can happen quite quickly, David says. So it seems there's hope for us all. Put down the remote and pick up that banjo – your family mightn't thank you, but it'll certainly make this time that bit more memorable…!
You can hear Seán's full chat with David – including how, as a member of an orchestra, you can see the face of God – by going here.