TV presenter, wellness advocate and animal lover Andrea Hayes and her husband David have transformed a small three-room cottage in the Dublin Mountains into a practical and beautiful family home. She tells Claire O'Mahony why it was all worth it
"We bought a cottage that had no toilet during the boom. People thought we were absolutely crazy," says wellness expert and TV presenter Andrea Hayes, recalling the day she and her husband David Torpey acquired a South County Dublin house. She and David lost their hearts to their future home in 2004 and looking at it now,it's clear that other buyers who passed on the fixer-upper at the time had not seen its enormous possibilities. The couple subsequently transformed the three-room cottage and its overgrown garden, quadrupling its size so that it now encompasses a kitchen, bedroom, bathroom, hall, cinema room (which includes Andrea's workspace) and a conservatory/playroom on the ground floor.
Upstairs, there are three bedrooms and a bathroom. The cottage's attractive location was never in question, with the quiet area of Rathmichael offering seclusion while still being less than a 20-minute from Dundrum. But regardless of its potential,Andrea – who has written several books and is also a certified hypnotherapist – felt an affinity with the cottage as soon as she walked through its dilapidated door.
"It was almost from another world and another century. There was a toilet outside and all the original outhouses. The person who lived here before was a really keen gardener so he had very unusual gardening books and lots of magazines," she remembers. "We kind of fell in love with the cottage's essence and there was a real sincerity about the energy of the person who lived here before and I really felt connected with that. All the previous houses we'd looked at were beautiful but they were very high-end and styled and there was something very raw about this."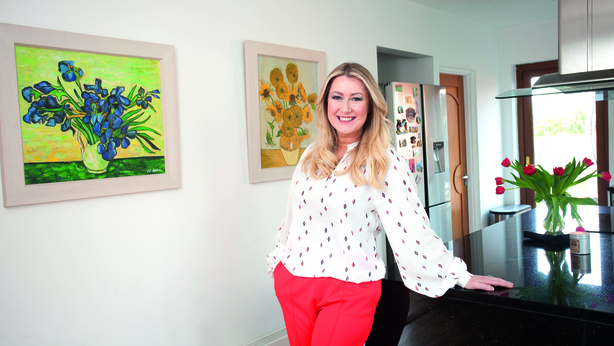 Renovating the cottage had its trials and getting planning permission was one of the first difficulties. "At the time, there was no M50 and this was sort of a green belt and it was protected. Although there were other houses here, there wasn't a great precedent for what we could do," she says. This was resolved after a little back and forth with the planning authorities and the next step was to extend the cottage, keeping the original part as an open-plan dining/living area and adding a two-storey extension.
David's father, builder Pat Torpey, was called out of retirement to take on the task and one year after they bought the cottage, they moved in. Andrea and David are now parents to two daughters – Brooke, who is eight-years-old and 20-month-old Skylar. Dash, their beloved Labrador retriever, died just before Christmas. They hope to get another pet soon, with Andrea stressing that theirs is first and foremost a family home before anything else.
It's also a very stylish one, featuring a neutral palette with pops of colour provided by eye-catching cushions and numerous artworks and photographs populating the walls. "All my family live abroad and I don't see them so it's nice to be able to put pictures up. I love photographs and family is very important," she says, describing her interior design style as "probably quirky, a little bit. Art plays a very important part but so do the kids' things. It has a homely feel, hopefully."
Decorating the house together was something of a learning curve for her and David, who is co-founder of design and film consultancy Image Now, whose clients have included Riverdance, AIB, Vodafone and An Post.
"David has a very keen eye for detail so he was very interested in the little finishing touches like light fittings and things I had never considered and wouldn't really be too bothered about," Andrea says. "It was very interesting, actually, because it's a great opportunity for a couple when they build a house to really decide if your aesthetics marry together or if you're completely divided in your opinions."
Although they share a lot of similar tastes in décor, Andrea and David differ when it comes to art. The solution to this is an art rail in the living area where they can rotate their individual favourite pieces. It's also one of the reasons they chose a soft shade of grey for the walls in this room. "Grey as a neutral backdrop has really facilitated our choice and changes in art," says Andrea.
"If we went for a bold wall, it doesn't lend itself as well to being able to change to art with different colours. There's something very special in being able to look at the wall and appreciate the art that you fell in love with."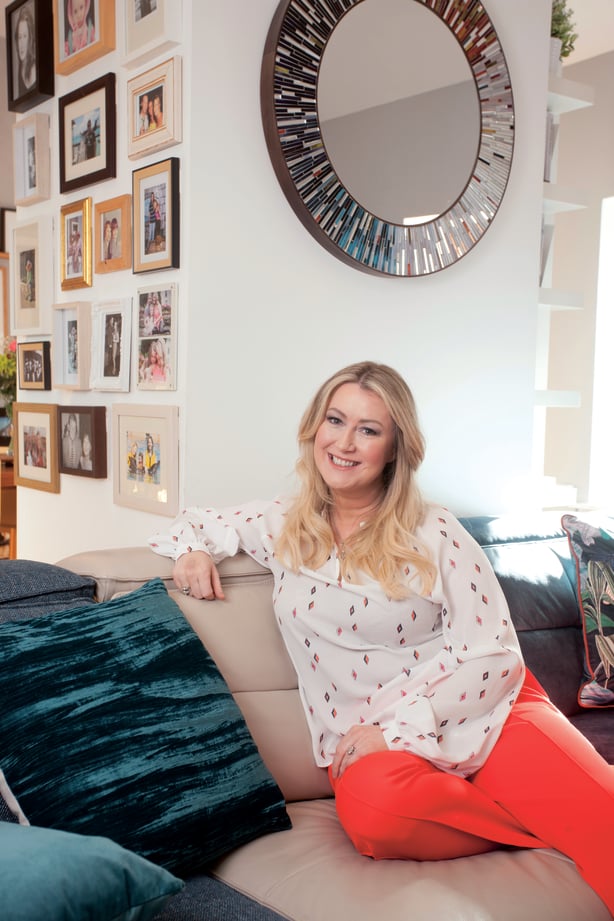 This is Andrea's favourite spot in the house. "I love the original cottage part just because it brings back lovely memories of twisting that key and opening the door on your first house and trying to visualise what it would be. We've had great parties here and great fun. This room is the heart of the home."
One of her most treasured possessions is a picture of her grandmother Brigid, which sits on the art rail. Andrea, who had hearing problems as a child, was very close to her grandmother and spent a lot of time with her. "Simple things have great resonance for me, like photographs, because they're infused with memories that are just so precious."
She emphasises that her home is her haven. "It's nice to be in a place that you really enjoy walking around, in a space that feels quite sacred and there's that sense of love."
Originally from Beaumont in north Dublin, Andrea enjoys her adopted home of South County Dublin for many reasons. Rathmichael doesn't have a village centre, but she works as a Bethany grief minister and volunteers at the church in nearby Shankill.
"Shankill has that real country feel to it and people look after each other and they really welcomed me with open arms. During a really bad period in my life when I was diagnosed with a rare brain disorder, the community really helped me stay positive," she says, referring to her 2013 diagnosis of Chiari Malformation 1, a condition where the brain pushes down into the spinal canal.
For the avowed animal and nature lover, whose CV includes the TV shows Animal A & E, Dog Tales and most recently Fota: Into the Wild, Rathmichael delivers on these counts too. "The walks in the area and the parks around really are nourishing to my soul.All of the things that I love – nature, wilderness, unspoilt places – are at my doorstep Literally within three minutes up the road, one of our neighbours has donkeys and horses and you go down a lane and there's a river running by and Puck's Castle is a short walk away. Now, they have started to do a lot of building work around here so the place is changing but that's to be expected."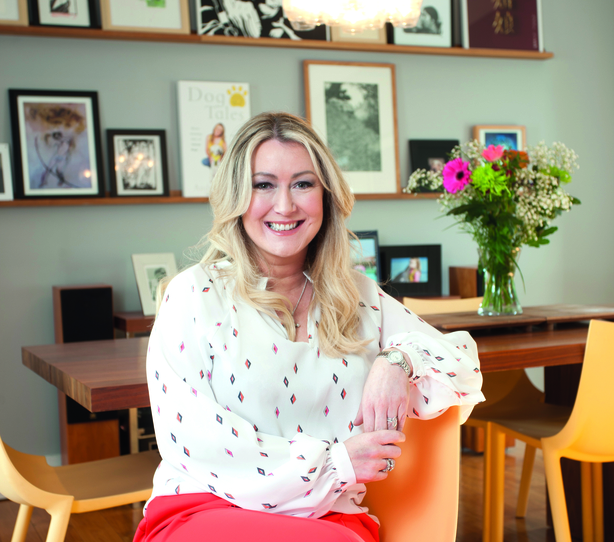 Even with the benefit of hindsight, she doesn't think she would change very much about the way they renovated the cottage. "At the time, it was really expensive but we really saved as much as we could and with the goodness of family, built the house. We did the best that we could at the time with the finances we had," she says. "One of the things that we did in recent years was to do the garden, and that's been a great investment but I wouldn't really look back and do anything differently because I think we're very blessed to have what manifested and there's a really good energy in the house."
The children adore the cinema room, which features a large screen and a projecter but there may be some reconfigurations down the line, as the children get older, including the kitchen. "We haven't really done anything since the original extension so we're going to be considering a little adaptation," she says. "At the time, I wasn't as into cooking as I am now and that space seemed really big when we were coming from an apartment in town."
Her advice to anyone thinking about taking on a major renovation like they did is to keep two things in mind: budget and brief. "I come from a post-production background so budgets were part of my everyday, massively so. In television everything runs to a tight schedule, it runs to a tight budget and it runs to a very defined brief. I would say sit down, be realistic about your budget, be clear about what you want with your contractor and to really marry what you can afford with what you can actually achieve. Timeframe is really important too – staying on time and on budget will really help you with your expectations but also make sure that everything runs smoothly. Having very clear ideas at the start and managing your expectations are also really important. Rome wasn't built in a day. This is going to be your home for life so things like extra rooms or gardens– all that can be done later."
Find out more about Andrea Hayes at andreahayes.ie