For Home of the Year's Deirdre Whelan, your home is all about personality. So what does her own place say about the interior designer? Donal O'Donoghue pays a visit.
"It's all about personality," says interior designer Deirdre Whelan of what makes 'a house a home', effectively the tag-line for the TV show she co-hosts, Home of the Year. "A home is where people express themselves, where you can relax and where you need to feel welcome. As for our home, well, we love lots of light and airiness and we also like reading.
"Normally, there would be toys everywhere on the floor but we had to curtail that. And we do like our art. This is an open-plan house where you can move about easily, you don't feel like you're confined. With a young child, open-plan works very well because they want to be where you are. It's when they are teenagers they want to be in a different room."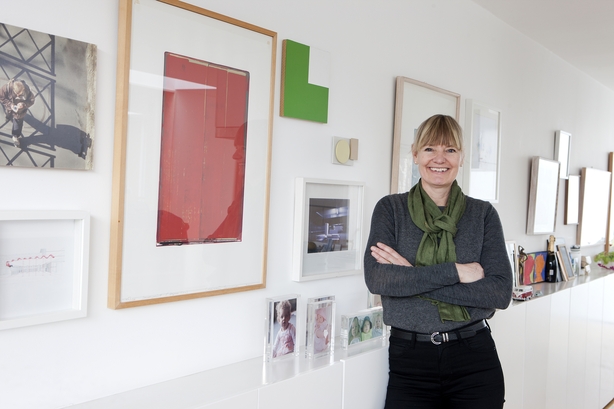 Whelan's home in the red-brick Dublin suburb of Rathmines is so discreet we are unable to find the entrance. "Are you looking for me?" At the end of a lane, a high wooden gate is pulled aside and our host, phone in hand, ushers us in. Beyond the front door, a little dog (Moon) yaps his heart out and there are bikes galore.
We go upstairs to the dining-living area, an open-plan space with floor-to-ceiling windows and white walls alive with paintings, prints and family photographs, including Deirdre and her architect husband, Paul Kelly, and their daughter, Anna May. It's a homely house, clever without being pretentious, just like the personality of its owner. "Oh that door is banjaxed!" says Deirdre before adding later: "And I shoved all the crap into the cupboards!"
Hard to believe that Whelan was born and raised in Holland, moving to Wicklow with her family when she was 15. That was in 1981, when Ireland was very different to the country and culture we live in now. "We lived in a very modern house in Holland, architect-designed, open-plan, with no doors downstairs," she says. "Then we came to Ireland to a bungalow which needed a lot of work but it had an amazing garden and we eventually moved close to the sea, which was great."
Like her siblings, Deirdre spoke limited English ("I had secondary school level") but her hockey skills translated well to camogie. "I loved it and I cycled everywhere, still do, and I also love the Irish humour," she says. Indeed, she laughs frequently, sitting on a miniature chair for the duration of our chat.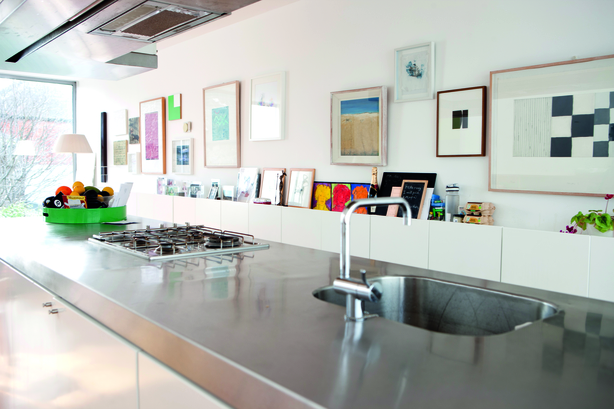 Dee, as she is known, always knew what she wanted to do. "Something in design, so it was going to be architecture or interiors or textiles. I reckon I was born with that and my mum also was quite a creative, always making things." As a kid she would hang out in her bedroom, supposedly elbow-deep in homework, actually sketching out the thoughts and images in her head. "I don't do computers," she confesses now, with a guilty giggle.
"I draw everything by hand and then I go 'Could you draw that up for me on a computer?' So yes, I'm a dinosaur but I love it."
Following school, she studied environmental design at DIT in Dublin before specialising in interiors and textiles and after graduation, she worked for two years in London, before returning home, because her mum was ill, and staying.
For some 20 years, Whelan worked for herself before joining Scott Tallon Walker Architects in 2017, where she is now co-lead of the interior design studio. "I enjoy the hotel projects," she says of earlier work, with a special nod to The Residence on St Stephen's Green, which was done during the heyday of the Celtic Tiger. "It was quite decadent and opulent but it also suited the house, which was quite old.
For that project, we had a substantial budget but I also like a challenge where the budget is tight. For example, we are currently working on a student centre in Maynooth and that is all about how you can make something look really cool with very little money." As with all of her jobs, the brief focuses on the end-user. "So it'll be bean bags and beds everywhere then?" I say, and she laughs like a train.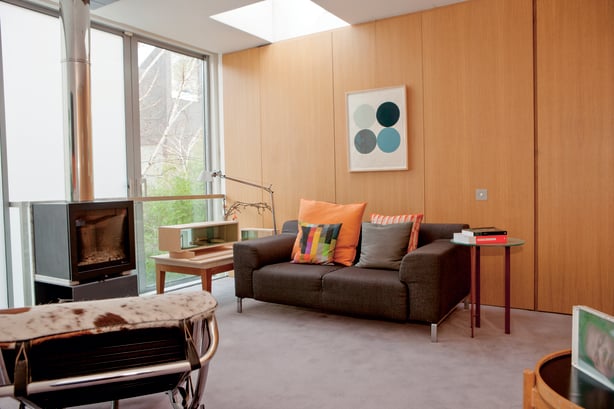 It is Whelan's fifth season with Home of the Year. When she first auditioned for the show, she had never seen it (fellow host, Hugh Wallace, has been with the series from the beginning, while architect Peter Crowley is on his third season) but she had worked on the RTÉ interior show Beyond the Hall Door. So why are shows like HOTY so popular?
"Because we are all nosey parkers and also you can get ideas from watching," she says. "It is meant to be a bit educational and the whole family can watch." Does she watch it? "Of course I do. I get to see the homeowners for the first time because we don't meet most of them, only the finalists at the end.
"We just go into the empty house and try to suss who lives there, having been only told that it's a family or a couple or a single person. But that's good because we have no preconceived ideas."
Deirdre married Paul 26 years ago. "He slammed the door in my face," she says with a laugh recalling the first time they met. That was the summer of '87, when she and the architect-in-making were both J1 students, renting in the same building in Boston. "It was an old house with three apartment spaces," she says. "The landlady was very funny. She said to us 'There are some lovely Irish fellows moved in upstairs' and all I kept thinking was 'football shirts, white spindly legs and mops of red hair!' Of course, they were nothing like that: a good-looking bunch of Irish architects."
They tied the knot some eight years later and have one daughter, Anna May (14) who has special needs. "She likes building and would love to spend all day on a building site, the noisier the better," she says. "Anna May will stand there all day watching the Kango hammer."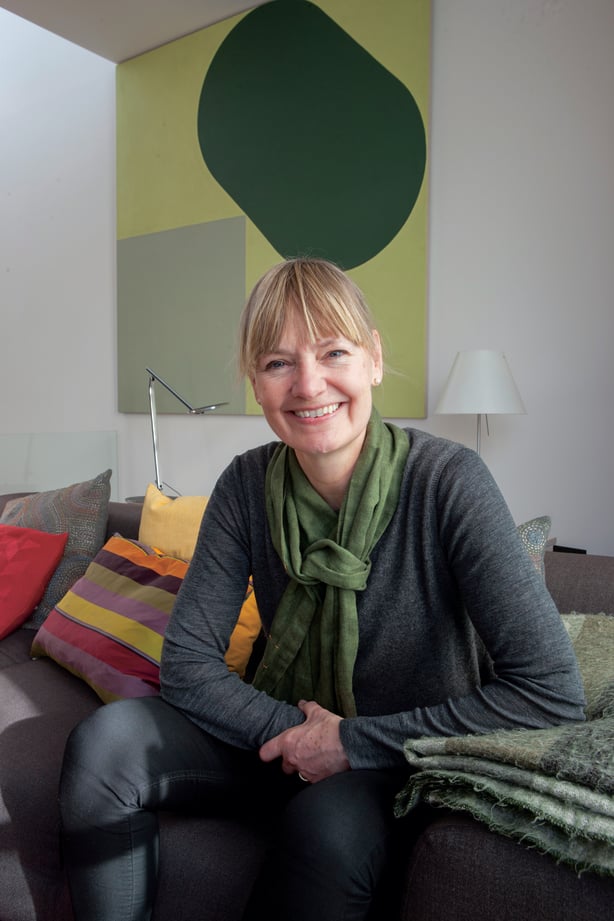 Deirdre and Paul have lived in their Rathmines home for the past 20 years. "It was a new build which we designed and built ourselves," she says. "It was previously a commercial shed that accommodated old cars. Only the external wall on one side was retained and everything else was flattened. So we had the foundations and that was it. We agreed on an open-plan kitchen and on the finishes we decided on stone flooring and under-floor heating.
"We do have similar likes and every decision was made jointly, even down to the whitewash finish on the joinery."
It took two years before they managed to secure planning permission for the property. "You have to be a bit gutsy sometimes and take a chance," she says. "Now I wouldn't move. The location is amazing here. You could walk into town but we all cycle everywhere."
Later, as we wait down the lane for a taxi, Dee zips past us on her bicycle. "Hey, you guys still here?" she calls out, a woman on a never-ending mission with personality to spare and a home to match. I recall the top tips she listed when considering giving your home a make-over. Things like making a list of your priorities (kitchen? bathroom? garden?), considering the quantity and position of light sockets, storage space, a quiet room if you can afford that luxury, the significance of natural light and the importance of having a dining space for the family to socialise.
But in the end, it's all about the personality and how it can be channelled to light up your house and your home.
Watch Home of the Year on Tuesdays at 8:30pm on RTÉ One.