A lot of eyes will be on Twickenham this Sunday as Ireland try and win the Triple Crown for only the twelfth time.
For those not interested in the oval ball, there are loads of other activities and events to keep the family entertained over the extended mid-term break weekend including theatre, music, movies, workshops and even wrestling!
Have fun!
1) Scene + Heard Theatre Festival
This weekend the festival reveals their Children's Theatre programme. For the theatre critics of the future starting with Unicorns Are Real! for 4+, Made From Paper for 7-9, Eithne for 8+, and Bookworm for 8 to 108. Grab the family and head in + play.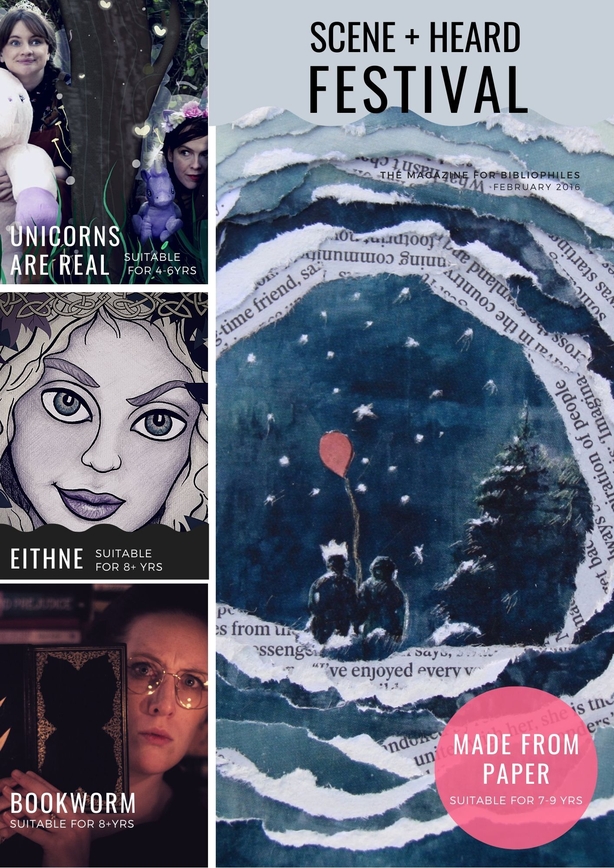 2) Northern Ireland Science Festival
The NI Science Festival concludes this weekend with events this weekend including W5 Space Training Academy, Lasers Live at the Ulster Museum, Ask the Astronomer at the Armagh Observatory & Planetarium and The Science of Circus in the Alley Theatre, Strabane.
3) American Wrestling
The Arena at An Táin Arts Centre will crumble, as the American Wrestling Superstars get ready to rumble on Saturday evening. Cheer the GOODIES, boo the BADDIES, and get your tickets today for the family-bonding experience of the year.
4) Mother Tongue Festival
The #MTFest2020 will take place in Tallaght on Saturday & Sunday and in Blanchardstown on Friday and Saturday. It's the perfect weekend activity for anyone who is interested in arts and culture whether it be theatre, poetry, dance, music, arts, workshops, family fun and much more.
5) Fantastic Flix at The Ark
As part of the Dublin International Film Festival, The Ark have a mid-term full of film and animation workshops including An Introduction to Movie Making and Silhouette Animation Workshops.
6) Rediscovery Centre Workshops
Take part is some fantastic Make and Take workshops this week, where families work together to make something useful to take home including Potty about Plants Workshop on Thursday, Build your own Toolbox Workshop on Friday and Make a Bird Box Workshop on Saturday.
7) Castlecomer Discovery Park
Reach new heights during the mid-term break with a visit to Castlecomer Discovery Park in Kilkenny, where, among a huge range of activities, you can enjoy the Tree-Top Adventure Walk, Climbing Wall, Octagon High Ropes Course or Ireland's longest Zipline!
8) Kidspace Rathcools | Mid-Term Fun
Enjoy a selection of mid-term workshops and fun in Kidspace Rathcoole including Lego Activity Session, Kids Pamper Morning and a Slime Making Workshop.
9) Zipit Forest Adventures
After Storm Dennis forced a change of plans, the delayed start to the season kicks off this week at Zipit locations in Dublin & Roscommon.
Climb high into the treetops, swing into cargo nets and fly down one of their many zip lines providing hours of fun for all ages and abilities.
10) Magical Oceans Workshop | Cool Planet
Cool Planet's concoction-packed workshop will captivate kids who love to explore and experiment. Dive into the scientific method, experiment with the pH scale and create bubbling chemical reactions.
11) Lady & The Tramp | An Tain Arts Centre
Enjoy a free screening of the Disney classic at 12pm on Saturday (first come, first served). An upper-middle-class American cocker spaniel named Lady and a street-smart, stray schnauzer called Tramp embark on many romantic adventures and fall in love. Stay around after the movie for the Super Saturday Family Hangout.
12) Hawks Well Theatre | The King & I
Based on the smash Broadway hit and movie about the King of Siam, the show promises to be a wonderful and memorable musical theatre experience for all the family featuring Sligo talent old and new. Runs nightly until Saturday with an extra matinee on Saturday afternoon.
Three things to do next week:
1) Engineers Week
Engineers Week is a week-long festival of nationwide events running celebrating the world of engineering in Ireland starting next Saturday, 29th February.
2) Dublin International Film Festival
The DIFF starts on the 26th February, with a jam-packed program of film, movie events, masterclasses and lots more.
3) Winter Wooly Walk
Take a 'Leap' for the Cancer Fund for Children with the annual family-friendly Winter Woolly Walk takes place at Tollymore Forest Park next Saturday, 29th February - Leap Day!
YourDaysOut is a sales & marketing SaaS platform, connecting people with activities and events while providing tools for businesses to sell tickets and take bookings online for admission, events, birthday parties, camps, school tours, classes and more - all managed from a very simple dashboard.