With just two eliminations gone on the fourth series of Dancing With the Stars, audiences have already gotten their first shock decision, as presenter Glenda Gilson was sadly sent home last night.
The presenter had won praise from judges, contestants and audiences alike for her emotive performances, compelling storytelling and incredible lifts over the past few weeks. Unfortunately, this wasn't enough to keep her in the competition, even though her Titanic-themed Movie Week dance racked up 18 points from the judges.
We caught up with Glenda just minutes after the shock decision, which had Twitter ablaze.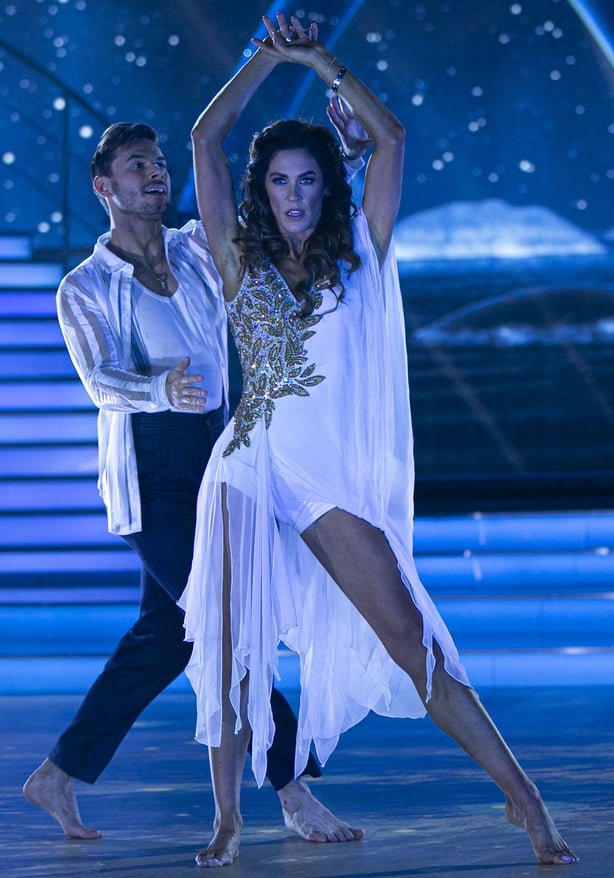 "I'm obviously deflated after that", she told RTÉ LifeStyle. "But I struggled with it, it was tough for me. the Public have decided at the end of the day, they like what they see."
The show is certainly a demanding one, with countless hours spent rehearsing, perfecting steps and timing, and many of the contestants are admittedly a long way off professional. For Glenda, with young baby Bobby at home and a breakfast show to host, the routine started to wear her thin.
"Tough, very tough", she says of the schedule. "I have a 14-month-old child at home and still working every week on the breakfast show and showing up for rehearsals. It's tough and the stress of it, I just find that I'm going leaner and leaner from it. Now, I'm eating loads but it's just your fitness. At least I can breathe now for a while!"
We need your consent to load this Instagram contentWe use Instagram to manage extra content that can set cookies on your device and collect data about your activity. Please review their details and accept them to load the content.Manage Preferences
Naturally, no one could take part in such a challenging experience without a fierce support network and Glenda leaned on husband Rob MacNaughton a lot.
"My poor husband is in an awful state out there!" she laughed. "He is obviously really upset but I'm sure he's happy that Mammy is back and take back a bit of the role of minding Bobby."
Still, there are some aspects to Dancing With the Stars that you'll only find on its spotlight-dappled dance floor, like the chance to be made up like a showgirl every week. For Glenda, this wasn't too much of a challenge.
"Getting to put on these fabulous outfits, go through hair and makeup, learn a dance, it is an experience and I really enjoyed it. I'm just sorry it's over already."
We caught up with Glenda backstage to find out what her highlights were on the show. Click on the video above.