First Dates Ireland is back for a fifth season with Mateo Saina on hand to smooth the way for the nervous first-timers. He spoke to Andrea Byrne during a break from the hectic pace of festive restaurant service.
9am on a Monday morning is the only time that suits Mateo Saina, the charming maître d' from First Dates Ireland, to talk about the return of the real-life dating show he has been involved with from the outset. It's just before Christmas, the busiest time for the hospitality industry, so his free time is largely non-existent.
"Hello", a voice croaks on the other end of the line, "I set my clock for 8, but clearly I slept through it," he apologises, explaining that he didn't finish work until 3am.
Croatian born Mateo moved to Ireland 14 years ago to take up a position at a busy Dublin restaurant. Since then, he has worked in some of the country's best-known eateries. Currently, you'll find him entertaining guests at Glas, a vegetarian/vegan restaurant just off Grafton Street.
What is it about Ireland that made him stay a lot longer than he had originally planned? "Once you make the kind of friendships that I have made, it's hard to leave. Also, I'm not a kid anymore, I can't just turn around and decide to move to, say, Germany. I'm passed that. I've built a life and a career here. And I love it. Ireland accepted me and gave me a chance."
Mateo and his partner of ten years Vjerana, who is also Croatian, have a little girl of 19 months, Isabelle Luna. "Little divil", he says with a hint of an Irish twang. "Her communication skills are brilliant. She speaks five languages," he jokes.
Will English be her first language? "It's a hard one. Listen, she is already screaming, 'Ma'", he says mimicking a strong Dublin accent, "so I don't think it's going to be Croatian, more Irish than anything. She certainly has the accent anyway."
Much to Mateo's delight, First Dates Ireland, the fly-on-the-wall dating show, returns to our screens for a fifth series. No surprise really; it's proven a big hit with viewers for its ability to make us laugh, cry and cringe in equal measure. Many dating shows can be cruel, but not this one. The genuine objective is finding love and the producers go to great lengths to ensure that the people paired u for dates have a lot in common.
A testament to its popularity, over 4,000 people applied for this series. "It's going to be running for another five (series)", Mateo says confidently, "The guys in charge, they know what they're doing, they know how to produce it and present it. They know what the viewer wants to see. Also, it's very real. There is nothing scripted. What you see is what you get. That's why I think it is so popular."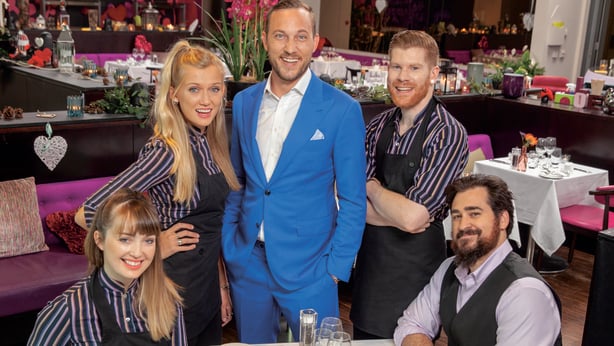 In the latest instalment, we can look forward to meeting 81-year-old Michael, the restaurant's oldest dater ever; 32-year-old Jenna on her very first date since an accident left her paralysed; and comedian Edwin Sammon, best known as Father Gabriel from Bridget & Eamon.
In a show first, we will also see a double date in which a father and daughter are looking for love. There are also some familiar faces returning. Three years on, Timmie from Clare is hoping for a love connection. And Dublin taxi driver Paul is back, this time packing a brand new level of confidence and a full set of shiny new teeth.
Along with Mateo, the rest of the restaurant team, including Ethan, Alice, Pete and Libby, return for the new series.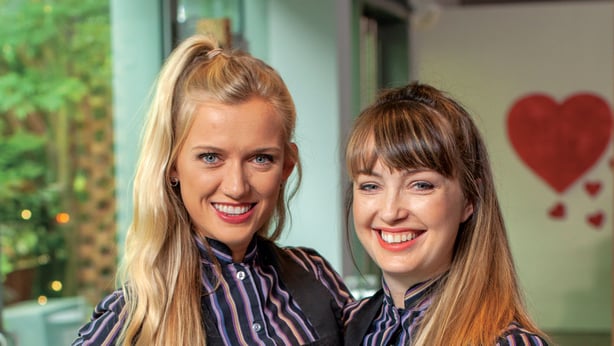 There have been many memorable connections made in the show's short history, including Shannon and Ciara, who provided the First Dates' first nuptials.
Does Mateo have a favourite couple? "I don't have a favourite couple. But I definitely have a favourite generation. I love elderly people. They're there for the right reasons. There is no showing off. No showboating. They're very much themselves. They're genuine."
Being genuine is the key to successful dating, according to Mateo, who let's face it, has seen enough good, bad and indifferent dates to know!
Watch First Dates on RTÉ2 on Thursday, 9th January at 9.30pm