On any day of the week, you can spot them from Salt Hill to the Forty-foot. Big smiles, fluffy dressing gowns and not a wet suit between them, for most it's a quick dip, in and out. Afterward, they're buzzing as if they've just had a triple espresso. The cold has become the new frontier of health.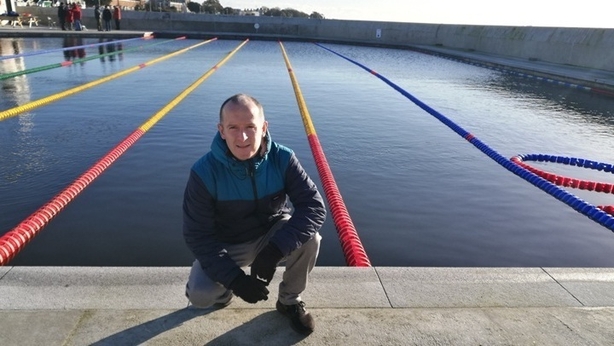 A mile swim in water of 5 degrees or less.
However, there will always be those who seek to push themselves further and discover new limits, and in cold-water swimming, there is the 'ice mile'.
One mile in water 5 degrees or less, unassisted, wearing only standard swimwear, goggles and a swim hat. Tough, risky and growing in popularity. I decided to check out the 7th Eastern Bay international Ice Mile which took place in February.
On arrival, I met organiser Fergal Somerville who explained his introduction to the sport: "I started winter swimming in 2012 to prepare for an attempt on the North Channel (Ireland to Scotland). John Daly, an Eastern Bay teammate worked with me and we introduced the Eastern Bay Ice Mile in February 2013 and have run it ever since.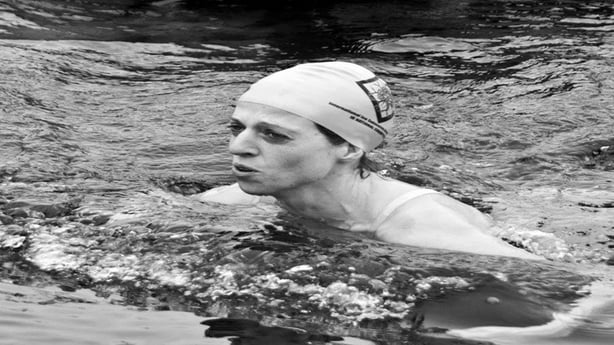 A delicate line between stress, danger, and reward.
Snow conditions made the original site at Lough Dan in Wicklow inaccessible for vehicles and the event was relocated to Clontarf baths, a beautiful site but surprisingly much colder than the lake due to its concrete insolation. 
Swimmer Pearse Ryan got a shock on arrival "when the official thermometers measured 2.4'C. Normally my hands freeze after about 1000m but this time this happened after about 100m, so I knew it was going to be tough".
Watching the swimmers in action was like seeing our relationship with stress played out in fast forward. The longer you remain in the water the more your performance declines, but as you're numb, you miss the feedback. The swimmer may be the last to know they are getting into trouble. Therefore, safety is paramount, and the 14 swimmers must be medically cleared and participate in weekly sea swims from October.
Claire Ryan who has six ice miles under her belt described her swim: "As the swim progresses and your bodies core temperature starts to drop, your blood thickens, your muscles slow down, each stroke becomes harder, your hands can stiffen into the shape of a claw, towards the end of the swim you start to struggle with your ability to concentrate and talk, your support team constantly keep an eye on you talking to you as the swim progresses monitoring your cognitive functions looking for signs that you might be struggling, then when you only have a short distance to go you know the end is within reach".
The clock is ticking as soon as you're in the water. Pat Phelan shared his tactics prior to his swim: "With the ice mile you have to go all out to finish it, you have to keep a high pace because you're going to slow down, you can't beat hypothermia". The backup team monitored lap times and performance and provided constant encouragement and a hero's return.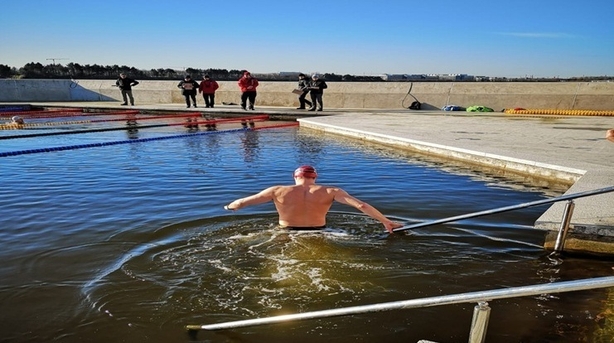 Alone with their mind games and pain, but with a supportive team around them.
So, who does ice swimming? It's not a sport of adrenaline junkies, and lean mean athletes don't do as well. These were just regular people with busy lives that had found something where they could challenge their limits, go to their edge and push past their discomfort zone. 
Swimmers finished exhausted, slurring their words, often needing help to walk, the hands-on support was impressive. Speaking afterward, Pearse Ryan recalls fuzzy memories: "I have no idea who dressed me, though I do remember a calm voice directing everyone what to do with me, so I just let them dry, dress me and take me to the ambulance for rewarming. There we were covered in blankets, towels, and tinfoil with the heating on full blast as the after the drop sets in. This is when cold surface blood returns to the warm core about 10 minutes after the swim".
The after drop presents its own dangers and needs careful supervision. The recovery period can take anything from 25 minutes to a couple of hours, to a point where you are back in control of your body and senses. The sense of pride and accomplishment was clear to see, and the reward may be delayed but contagious.
Guy Molyneux shared afterward that he "felt euphoric. I had trained hard and by mental strength had completed the coldest mile swim done. I felt I could overcome any challenge". 
If you would like to find out more about Ice mile swimming, check www.iisaireland.ie for more information.