It's almost that time of year, folks. Operation Transformation will return to our screens on Wednesday, January 8th and, as always, fitness expert Karl Henry is ready to put us through our paces.
The 'Ad break challenges' have always been a popular part of the Operation Transformation journey for you, the viewers, watching (and lunging) at home.
Over the years, everyone from Francis Brennan and The Dubliners' John Sheahan to Marty Morrisey and Brenda Donohue have taken but part but, this year, Karl has a little something special up his sleeve.
In 2020, towns across Offaly will be taken over by Operation Transformation so that Karl can put each of the towns through their paces.
The first Ad Break Challenge will be filmed in Emmett Square Birr, on Saturday, January, 4th at 4:30pm and the OT team want as many people as possible to join in so as to kick start the new year on the right note.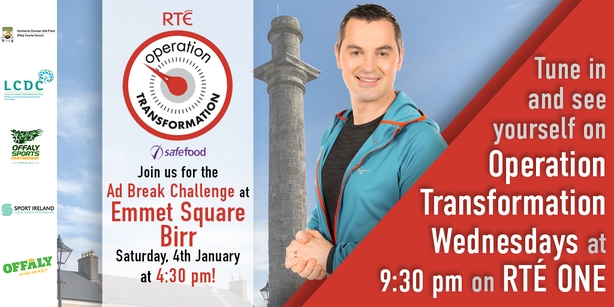 Following this we will be in a different town each week, listed below. Which town will have the biggest numbers? Come out and support your town and enjoy the fun of the ad break challenges!
Saturday, January 4th: Emmett Square, Birr
Saturday, January 11th: O Connell Square, Edenderry
Saturday, January 18th: Banagher Marina
Saturday, January 25th: The Green, Clara
Saturday, Feb 1st: Moneygall (Details TBC)
Saturday, Feb 8th: Kinnity (Details TBC)
Saturday, Feb 15th: Tullamore (Details TBC)
Each town will be featured in an episode of Operation Transformation, from Wednesday January 8th at 9:30pm.