Happy Toy Show day, everyone! The big event has finally arrived and we are counting down the seconds until host Ryan Tubridy kicks off the big event at 9:35pm on RTÉ One.
Yesterday afternoon, RTÉ's best-kept secret was unveiled to reveal a winter wonderland inspired by Disney's Frozen. According to our host - who will, of course, be playing the goofy character of Olaf - this year's opening number will be his "most outrageous" to date. 
Read more: Everything you need to know about The Late Late Toy Show 2019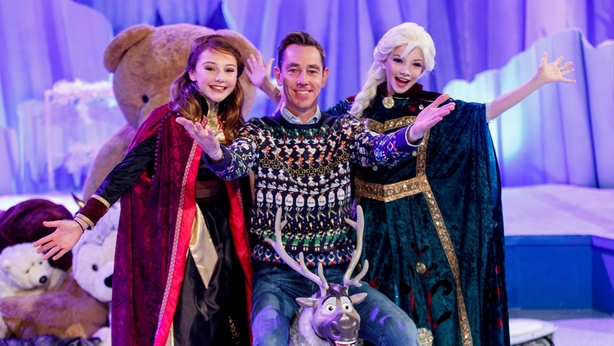 This is Ryan 'Toy Man' Tubridy's eleventh year hosting the Christmas extravaganza and his dedication to his costume appears to have no bounds. This year, he even made a trip to the dentist - all in the name of great television.
"There will be a lot of goof this year and that will be obvious as soon as I step out in the most outrageous of costumes," he said."It involves a very toothy grin...even my own weren't sufficient for the occasion!" 
Read more: Something Elsa! Late Late Toy Show is Frozen for all this year's fun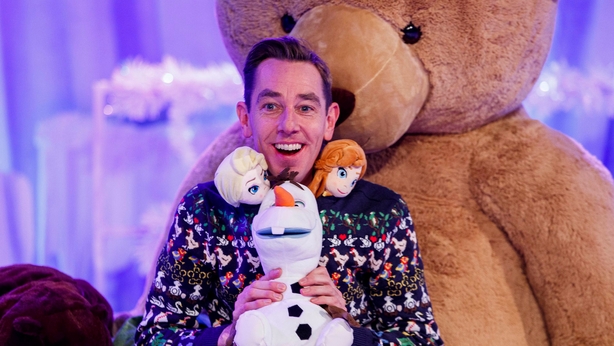 Hundreds of toys have been tested and will feature throughout the live production, and, of course, there will be a special nod to the late Gay Byrne - the very first presenter of The Late Late Toy Show.
"He just had a lovely way. We miss him like mad and we're going to be remembering him on the Toy Show this year and it's going to be gorgeous," said Ryan.
Read more: Tubridy's Top Toy Show Jumpers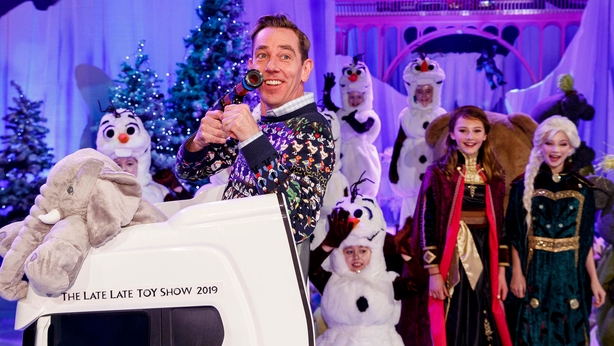 Addressing the children of Ireland via our cameras, Tubridy shared the rules that must be upheld across the country during tonight's performance. Watch it at the top of the page.
"Children of Ireland, my message to you as the Toy man is as follows: If you are under the age of eight, go to bed early. You can stay up until 10pm but, otherwise, it's curtains. If you're over eight - this is where the fun begins - you can stay up as long as you want.
"Also, anything bad for you is good for you tonight. Get it all in; jellies, crisps, soft drinks, everything, pizza - get it in there. Anyone who says, 'you can't do that, it's not good for you' - don't mind them.
"Tell them I said it doesn't matter because it's Toy Show night! All rules? Break. All bets? Off. You rule the castle tonight. That's my message."
Part 3 of The Late Late Toy Show Unwrapped will air on Friday, November 29th, at 7pm on RTÉ One.
The Late Late Toy Show airs on Friday, November 29th at 9.35pm on RTÉ One.