Host Mairead Ronan returns to Ireland's Fittest Family alongside coaches Anna Geary, Davy Fitzgerald, Donncha O'Callaghan and Derval O'Rourke as they put some of Ireland's fittest family teams through their paces.
In the second episode of the series, it was Davy and Derval cracking the whip, as the two judges coached their teams through a grueling set of obstacles and challenges, all set against the picturesque background of Strandhill and its sand dunes.
"I call Dad 'The Terminator', in my eyes he's a machine".

The Dinans from Cork mean business! ??#IrelandsFittestFamily continues on Sunday, 6.30pm. pic.twitter.com/ePTvEwH2YR

— RTÉ One (@RTEOne) November 1, 2019
Davy's Hogans from Wexford, McComiskeys from Co. Down and Cookes from Co.Antrim take on Derval's Dinans from Cork, Mandiangus from Dublin and Murphys from Wexford.
First up was the Quicksand challenge, that saw all family members must scale a 120 metre sand dune carrying 2 buoys. Next was Rule the Runway, which included a 500-meter sprint and saw the families pull a 2 tonne plane back 350m.
The bottom two families from each time trial face off against the opposing bottom two families in two eliminators in Sligo Airport.
Always a crushing part of the course, the Eliminator starts with a sprint to the reverse crawl ice baths, then it's a scramble through a cargo net crawl onto the runway where they face a series of over and unders. An inverted wall stands in their way, then it's onto a 10-foot wall and ending on the Ireland's Fittest Family signature ramps.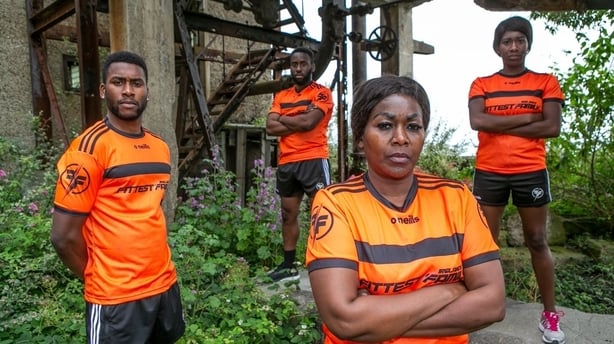 While each of the teams put in a Herculean effort on the course, it was the Mandiangus from Dublin that stunned audiences with their fierce determination, support and startling win at the end of a punishing Eliminator course.
Despite stumbling at the start of the show, the Mandiangu boys rallied around their mum, decked out in full glam for the day, helping her along and ensuring she made it to the top of the dune. Twitter was alive with praise for "Mamaí Mandiangu", who already seems to have a very loyal following.
And cheering on the families each week are fans around the country, sharing their support, admiration and the odd criticism on Twitter:
Pass the pork belly
Best thing about watching #irelandsfittestfamily is loudly proclaiming "sure *I'd* do a better time than that" between mouthfuls of thai take away ??

— Andy (@ImACultHero) November 3, 2019
Comeback
Mammy Mandiagu...... the greatest comeback since Jesus ??????#irelandsfittestfamily

— Sharon McGourty (@MrsMagoo446) November 3, 2019
Ireland's Fittest Falsies
@FittestFamily what's with all the false lashes?!???? #irelandsfittestfamily #irelandsfittestfalsies

— Irish Mammy (@gaamammyyah) November 3, 2019
If it works...
"Come on...come on" is this the best encouragement Davy can offer... #irelandsfittestfamily pic.twitter.com/aQyVZvJwJM

— John Kennedy © (@johnkendy) November 3, 2019
Some sand dune
Exhausted just watching it, thats some sand dune #irelandsfittestfamily

— Sorcha Ward (@SorchaWard1) November 3, 2019
Match? What match?
More satisfying than the 32-12, The Mandiangu family were fantastic #irelandsfittestfamily

— Eavanna Breen (@akinabeauty) November 3, 2019
Postcard, please
Liverpoo vs Barcelona or mammy Mandingo ! Who's was the better comeback? Answers on a postcard please !!!#irelandsfittestfamily

— Michael Hanly (@maxiescottie) November 3, 2019