'May you live in interesting times' – an ancient Chinese curse, but for political debate shows like Claire Byrne Live, it's bread and butter. Donal O'Donoghue meets her for the RTÉ Guide.
It's the day after the first Fall of Boris Johnson. Claire Byrne, broadcaster and self-confessed news junkie, has spent much of the previous night wired into proceedings. "I was awake at one o'clock this morning," she says. "I watched all the Brexit stuff, wrote my Brexit blog and then went to bed. But every time I closed my eyes, I thought I'd better check if anything new had happened in the House of Commons. I was driving myself mad."
Madness maybe but there is ever the method for the co-host of the News at One and anchor of Claire Byrne Live, someone for whom the Big Picture is all about the little details, the human face of global events. For the broadcaster is also a wife, a mother, a daughter and a working woman, all influences in how she sees the world she reports on every day.
We're in a café on the RTÉ campus. Claire has brought her own flask (water) and a mug for a coffee refill. "If I don't have my coffee cup with me I will not buy coffee," she says. Earlier, on the News at One, she quizzed the Tánaiste on what a No Deal Brexit would mean for businesses along the border. It was typical Byrne, getting down to the brass tacks of the matter.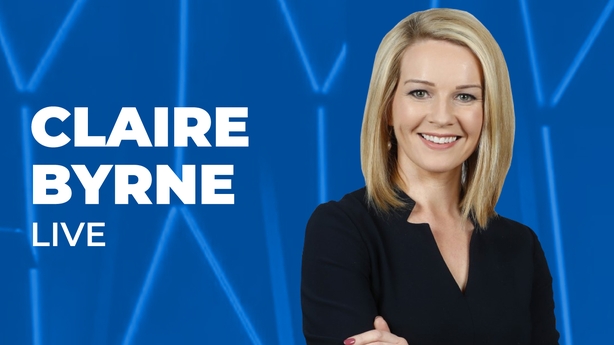 Yet her natural news instinct is dampened by other events, as two days before she attended the funeral of her friend, the priest, campaigner and author, Father Tony Coote who died aged 55 from motor neuron disease. In memory of his life and legacy, the broadcaster set up the inaugural Walk While You Can, a 5km fund-raiser for the Irish Motor Neurone Disease Association on September 14 in Dublin's Phoenix Park.
"I haven't really experienced grief in my life," says Claire. "My parents are still alive and my family are healthy but the death of Tony hit me like a truck." Empathy has always been a part of her DNA and that ability to connect has long coloured her professional career. "The more I do this job the more I realise that the most important thing is to be honest," she says.
"People at home should know that you mean what you say and you are coming from a place of honesty." The viewers saw that on Claire Byrne Live last February when the host choked back the tears when introducing Michael Gallagher, whose son Aiden was killed in the Omagh bombing. "I have also become much softer as a result of becoming a parent," she says. "I feel that pain a bit more. That might sound trite but I do."
We speak on the eve of the fifth season of Claire Byrne Live, a newsy talk show that manages some lighter moments, not least when Professor Niall Moyna stopped by to record the host's metabolic age. The usually unflappable Byrne looked unsure as she stepped onto the scales which gave her a metabolic age of 28. "Not bad for a 43-year-old," quipped a clearly relieved Byrne.
"When it was first suggested to me by the editor of the programme I said, 'You are not weighing me like a heifer on live TV!' I was not doing it. I later found out that it had all been booked and they were just trying to convince me to do it. So I thought 'What the hell!' I was delighted with the result. I would like to do it again to see if it was right nor not."
Claire Byrne, as you might gather from that heifer comment, is a country girl. She grew up on a farm in County Laois within hailing distance of Mountrath. One of six children (Maura, Fiona, Anne, Claire, Eileen and Tommy) her childhood sounds fun. "I even loved school," she says and laughs. "I did, seriously! I was alright at school, I could have tried harder." Did she get 'could try harder' on her report card? "I got 'a bit of a messer.'" What does that mean? "Ah you know, Donal, school girl messing, c'mon!'
Her parents, Breeda and Tom, are still going strong. "We had a birthday party for our father recently. It's a great bonus in life to be part of a big family. And you always have a sounding board as well, people who will always keep your feet on the ground."
It's hard to imagine Byrne losing contact with terra firma. "I've never planned anything, I just planned to do the job I love" she says of a broadcasting career that has taken her from commercial radio on Jersey in the Channel Islands via TV3 and Newstalk to RTÉ in 2010, where she worked on The Daily Show, The Late Debate, Morning Ireland and Prime Time. It seems like the path of an arrow.
At the age of five, she used a cardboard box to deliver a news bulletin about a fire in a neighbour's house; in school, she was a whiz in the debating team and her first work experience, at age 14, was with the Leinster Express. Following her Leaving Certificate, she began politics and social science in UCD and moved to journalism at DIT in Rathmines.
I ask a question I've asked before. It's about how, when she was 14, she contracted bacterial meningitis and was given the last rites. She missed four months of Junior Cert before eventually making a full recovery. Some have speculated this ordeal could have been the making of her. "It's funny I just did an interview with the Irish Times and was asked that as well," she says. "But no, I just don't see that as having a lasting impact on me. Not consciously anyway. Maybe somewhere in there it does, but I don't go around saying 'I'm so glad I'm alive!' Obviously, I am glad, but I don't rejoice about it every day. It happened. I didn't die. I was very lucky. But on we go."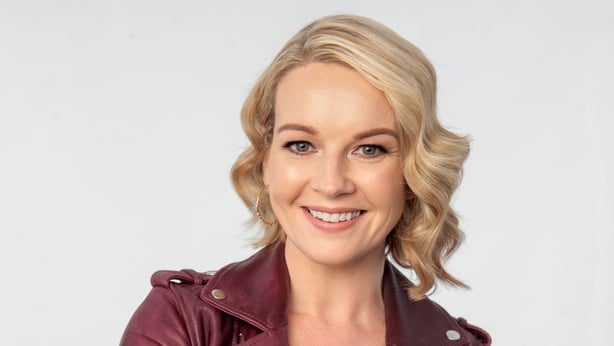 Such pragmatism is the essence of Byrne. It's all about the here and now, more than ever in the slipstream of motherhood and the life lessons instilled by her friend Fr Tony. "I look back on the years before I had children and wonder what in God's name was I doing with my time?" she says. "This morning I was up at half six to make lunches for the children before getting them into their uniforms and getting myself ready for work. When I get in here to work I find that the sole of my shoe is hanging off. The other thing I've learned with having children is that you have to use your time more efficiently. So if I want to do exercise, I have to get up before anyone else and do it before the madness starts."
Claire lives in Greystones in Co Wicklow with husband Gerry and their three children: Patrick (nearly six), Jane (nearly five) and Emma (two). "Time flies," she says. "Now when I say to Emma, 'my baby', she pushes me away and says 'I'm not a baby! I'm a big girl' and I feel a little bit sad when she says that. The baby is gone." Both parents are hands-on but Byrne says she's the softie in the mammy-daddy dynamic. "My children definitely play me," she says. "You know that thing after dinner when they say 'I'm still hungry'. [Gerry] will say 'Scat out of it', whereas I'll be sneaking them rice cakes thinking 'The poor child might be starving'. I also think it's important to have a hot meal every day. That's how we were reared and it's the one tyranny I adhere to."
She also credits her sense of fairness and professional balance to her parents. "We weren't a party-affiliated house," she says. "Every time an election came round there would be a big discussion about who you'd vote for and why you'd vote for them. Party didn't come into it. The candidates were discussed; what they had done and what they were going to do and their promises. There would be a battle about it and my mother would vote for one person and my father would vote for somebody else, but every candidate was given a fair shot around the dinner table and that has stayed with me. I don't have any political affiliations and that is how I think and how I hope I conduct myself doing my job."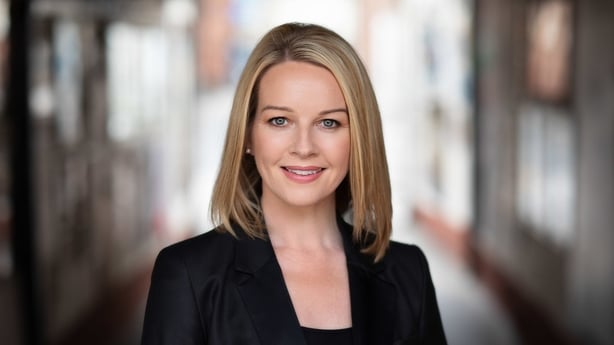 No political party has ever approached Byrne to run on their ticket. "Never" she affirms. And she's not likely to ever do Dancing with the Stars. "I'm really bad at dancing but I bet I could learn," she says, revealing that competitive streak. "I just wouldn't be able for the TV show though. I admire those who do but I wouldn't be a good candidate. My eyesight isn't great and I would get really frustrated with all those steps and moves." Yet she loves music and at one moment, while talking about the onerous lot of the politician, harks at the music playing in the background. "Billie Eilish!" she exclaims to my blank look. "Everybody loves Billie Eilish!"
She jettisoned Twitter a few years back but is still addicted to the seductive cries and beeps of her smartphone. "I was at home yesterday with the children, preparing for the new season of Claire Byrne Live, and I was thinking I've got to stop this. Then I saw this headline 'Switch Off, Disconnect and Start Paying Attention to Your Children' and I thought: 'That headline is speaking to me!' I have to stop this. It's an addiction. I'm convinced. It will be like smoking, although I'm saying that in jest. I do feel I have to reply to things straight away, so when I get an email or something to do, I do it straight away as it will make me anxious if I don't." Claire's ambitions for her family are that of any parent. "I just want my children to feel that they have the freedom to be and do what they want to be and do," she says, just like her own path so far.
Claire Byrne Live will be five years old this January, a landmark she measures against a more personal yardstick ("Jane was just born when we started planning it in October 2014"). On the radar of the new season will be the B-word for sure but there are other issues, smaller maybe but close to her heart, like home help hours. "My ambition with the show is always to find those injustices that may look small on a national stage but hugely impact on people's lives," she says. If all politics is local, then so are the stories they tell: Claire Byrne learned that a long time ago.