Ahead of this year's most anticipated sporting event, RTÉ teamed up with Heineken Ireland to give away the ultimate Rugby World Cup 2019™ prize.
A trip of a lifetime to Japan was up for grabs on 2FM thanks to Heineken, worldwide partner of Rugby World Cup 2019™.
The competition, run on-air on 2FM, culminated in a live grand finale in studio hosted by Tracy Clifford alongside Heineken ambassador and rugby star Stephen Ferris.
Finalists from around the country participated in the live finale to win 5 nights in Japan, tickets to the Bronze Final to perform the coin toss and tickets to the Rugby World Cup™ Final as a VIP Heineken guest.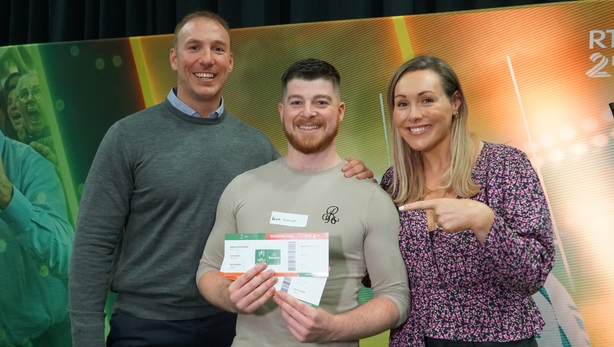 Our five finalists; Siobhain Walshe from Mayostone, Co Limerick, Hugh O'Brien from Kilkenny, Kevin Harnett from Ratoath, Co Meath, Ian Doody from Santry, Co Dublin and Caroline Conway from Mungret, Co Limerick, battled it out on our custom-designed studio pitch.
Tensions ran high but in the end, there could only be one winner and it was Kevin who took home the prize.
Kevin, an avid rugby fan, said he couldn't wait to visit Japan and cheer on the Irish team.
'I'll be singing Ireland's Call loudly and proudly all the way,' he said.
'One match that sticks out was the massive win we had against England in 2007 when we trashed them 43-13. Hope there's more matches like that!'
The Rugby World Cup 2019™ Japan kicks off today with coverage across all RTÉ platforms.