Dermot Bannon, the man who has made Irish home renovations into unmissable TV, is back with a new season of Room to Improve. But how are his own home improvements going and how does he cope with
stress and a possible mid-life crisis? Donal O'Donoghue meets the country's most famous architect.
When he was 13, Dermot Bannon embarked on an epic adventure. Leaving his home in suburban Dublin he bought a bus ticket into the city and then travelled onwards to his granny's place in New Ross. It wouldn't be his first such foray into the unknown, or his last. Since then the country's best-known architect has made his
name and fame with the home make-over show, Room to Improve.
Boldly going where builders feared to tread, the Dubliner is hardwired with an independent streak. When he says he was bullied in school for being overweight, I wonder whether this may have been the making of his adult character. "I often wonder if that's the reason I pushed myself into TV, looking for recognition because of the bullying?" he says, in a conversation bubbling with self-belief but also tinged with doubt. "Really, I don't know."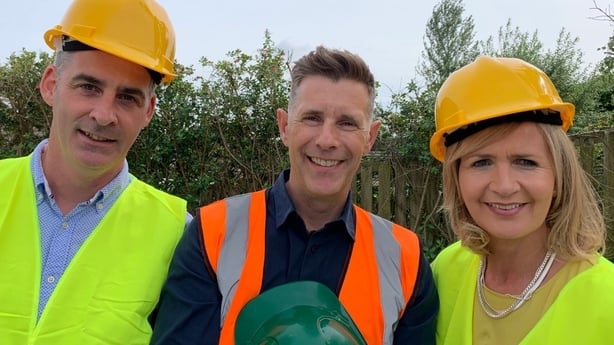 We meet in a café near the architect's offices in Clontarf. As ever, Dermot is armed with his notepad which is scribbled with pointers on the new season of Room to Improve. But we don't talk about those. Not immediately anyway. Instead, I want to ask about the celebrity gardener (Diarmuid Gavin) who makes a cameo appearance in the first episode of the TV show.
"Dermot and Diarmuid are quite excitable together," says the site foreman in that opening show in which Bannon hires Gavin to sort out a monstrous back-garden that soars skywards with overgrowth. "But Diarmuid is excitable," says Dermot, and you think pot and kettle and black.
"In fairness, there were only one or two things on which we disagreed. And when Diarmuid showed me the drawings for the garden, I was like 'Wow!' because I would never have thought of that. So simple yet so brilliant, the guy is a genius."
Despite its success, Dermot Bannon still worries about the show. "I'm going from watching Ozark to us and thinking, is Room to Improve that good?" So you want drug dealers and shoot-outs and money laundering in the show? He laughs. "But why are people watching it? I don't know if it's any good or bad, I can't see that anymore."
Last year an episode featuring Daniel O'Donnell, his wife Majella and their Donegal home was the most-watched TV show of the year, with an audience of 860,000. And the series itself is a regular ratings topper, even if it was the hi-jinks of Daniel and Majella's make-over that made it go supernova. So was there a temptation to include more famous faces in the latest season? "Oh I'd love to do more celebrities," he says. Like whom? He pauses, hums and haws. "Somebody who has a bit of a wild life, someone like Bono and his house."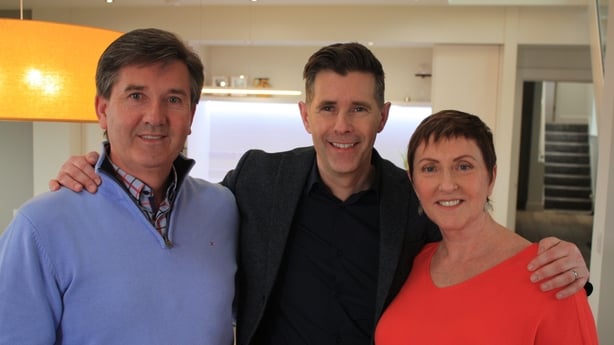 Dermot's own house is another matter. For the past six months, he and his family have been living in rented accommodation while their new home is been extensively renovated (it will feature in a TV special next January). "We should have finished it by now," he says. And why is that Dermot?
"Why, me of course," he says with a rueful smile. "I've messed up everything. I've changed the specification which has added a huge amount of time. Everyone is going bananas." Not least himself, a man paralysed by choice and despite his skill at convincing others, not great at taking his own advice.
"It was quite difficult but we're on the home stretch now," he says. "I think!" His quantity surveyor Patricia Power (a friend and former QS on the TV show) was his saviour when things got tricky on his greatest challenge yet.
All will be revealed next January in that two-part special on RTÉ. Initially, Dermot was anxious about putting his new home on TV but as far as he's concerned, this is the story of his house and his wife Louise and their three children – Sarah (14), James (11) and Tom (7) – were not filmed.
"It's just me and the design with my team," he says. "It's about my own struggles and not whether I fought with my wife." Despite it all being hush-hush and under wraps, Dermot lets a few details slip, not least his efforts to get the property an A rating, that Diarmuid Gavin designed the garden and how he did lose some battles. "I'm not a big bathroom fan," he says.
"I grew up in a one-bathroom house. How many bathrooms were in your house?" But Louise and Sarah were not for turning. "I lost that one and I'm glad I did now." Does he get stressed? "Oh yes, I have sleepless nights but I believe you don't get anything worthwhile out of life unless you put the work in. So the struggle is important, whether that is the TV show you are making or the home you are building or even family life and marriage.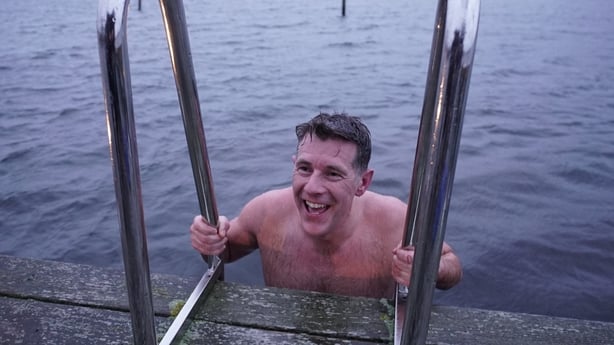 "Life has its ups and downs but you learn to cope." He goes for regular swims, walks along the seafront and cooks (he was a five-star chef on the TV show, The Restaurant). "Those are the things that help me to reset," he says, "but I can't do meditation. There's just too much going on in the mind." True. He talks like a runaway train and is always asking questions of himself, of everything. "Nobody can help you with stress," he adds.
"I've found you have to deal with it yourself. And my mum's favourite saying is 'this too will pass' and I believe in that." His mother, Mary, is still his biggest fan. When his father, Tom, died in June 2007 (weeks before Room to Improve debuted) Dermot was bereaved but also driven by the reality of life's brevity and intent on seizing the day. Does he miss his dad?
"Constantly yes," he says. "I miss the chats and the advice and all the rest." But life goes on and his father's love of the GAA is reborn in his own children who play with the local club, Na Fianna. So has he become the mad GAA dad? "No I'm pretty laidback, although my wife roars from the sideline!" he jokes. "Our parents instilled a great self-belief in us" - (Dermot has a younger brother, Pádraig and sister Fionnuala).
"They were strict but they always supported us in what we wanted to achieve. While I was bullied at school it didn't define me. I was always fiercely independent. I learned to use humour as a defence mechanism," he says. "I was never great at sports and was always the fat kid. I was different, so you learn those mechanisms and maybe it made me more resilient but bullying is not good for you."
Does it also make you want to prove yourself to people? "I often wonder if that's the reason why I pushed myself into TV or whatever, looking for recognition because I didn't get it as a kid because of the bullying? Really I don't know." Did he tell his parents? "No, you didn't back then, because you felt ashamed. But kids are talking about bullying now, which is brilliant. Keeping the communication lines open with your children and talking about it is so important." He was 47 earlier this summer. " at's a weird age," he says. Why? "Because you're hurtling towards 50 and you can't say you are midforties any more. But it's just a number isn't it? I feel younger than 47."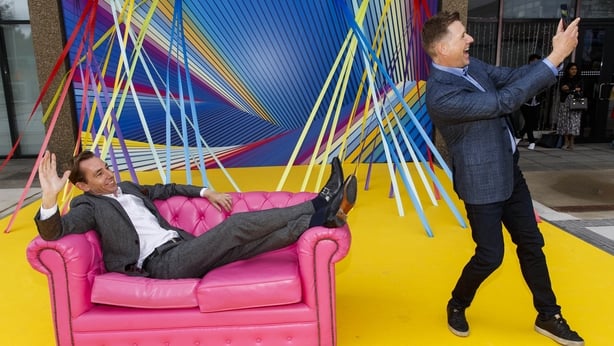 He certainly looks it, the man occasionally mistaken for Ryan Tubridy, whose three children keep him young, constantly "astounding" him, whether it's their technological savvy (James and Tom) or their sheer independence (Sarah). Yet the clock is ticking – does the man with the plans have a long-term blueprint? "Maybe it was a mid-life crisis hitting 47 and realising that there was not as much in front of me as behind me," he says.
"But now it's about making more time for the things that mean the most to me. That's my wife, my family and my friends." Every year he's asked to go on Dancing with the Stars and every year he declines. Not enough
time. "I did it once for a Late Late Show special and it was incredibly tough," he says. Can he dance? "Like the rest of us, we all think we are much better than we are. Have you ever danced sober?" But he'd love to publish another book following his 2014 debut, Love Your Home. This time he fancies a kids' book about architectural
design (he grew up loving Lego and its many possibilities) as well as another book for adults.
"I'm a bit of a workaholic," he says. "So I'd like to have more of a life that is not work." Yet in another moment he's changed tack again. "Yes I'd like a nice quiet job for a month or so but then I'd go out of my head. I need to be challenged. I need that adrenaline pumping through me." Indeed. The tape is off but Dermot is still going. He opens his notebook and shows his scribbled schedule for the day. "I have to go to the dentist this afternoon," he says. "I hate the dentist."
As we walk towards his office, he zips through the new season of Room to Improve: the older couple who met again after parting many years earlier and sealed the deal with a new house; the walled garden (which he designed) in Dublin; the no-budget property in Wicklow and so on. "I've been doing Room to Improve longer than I've done any other job," he says.
"Would I like to be there for season 20? Of course! But what would I be like? Grey-haired and tottering around with a walking frame and saying 'I told you not to do that colour!'" And he laughs: maybe at the audacity of going on for so long or maybe it's the image of his future self or maybe it's just because he likes to joke.