Having struggled with my nails for years and years I think I've finally found the solution. Builder in a Bottle (BIAB), by The Gel Bottle Inc, is a form of gel that can be painted on like a nail polish, but a much stronger version.
Bad tasting formula was the first step for me as a child, and probably the first step for many. The nails would be coated with a bitter-tasting polish, with the hope of deterring any gnawing or nibbling on the nails. Whilst it was an effective method, the taste that transferred onto your food on a daily basis made it an unpleasant experience.
With constant moaning, my mum, with all her good intentions, finally gave in and I was back to, yet again, biting my nails. As I got older I turned to Shellac, but at this stage my nails were weak and it never lasted, to a point where I was in the salon weekly getting them done over and over again.
I then tried gel extensions, which helped the nails grow underneath but I wasn't used to the length. Subsequently, they kept breaking and a very short gel nail can sometimes look chunky. Not to mention extensions can sometimes be damaging to the natural nail.
After a long period of getting gel nails, I decided to see what my natural nails were like. Being paper-thin, I tried the Sally Hanson 'Hard as Nails' nail polish and it helped improve their condition. They were becoming a little harder and growing a little more.
So before I could do any damage I tried Builder in Bottle (BIAB) by the Gel Bottle Inc, which was recommended to me by a friend. Her nails looked perfect and when I found out what it was, I was relieved that it wasn't gel or acrylic extensions, even though they had the perfect gel finish.
Having had my acrylic overlay (on my natural nails) for three weeks now it was time to get them done again. I decided that instead of going back to my usual nail salon that I would try BIAB and see what the difference would be. The picture below of my nails after 3 weeks of the gel over-lay.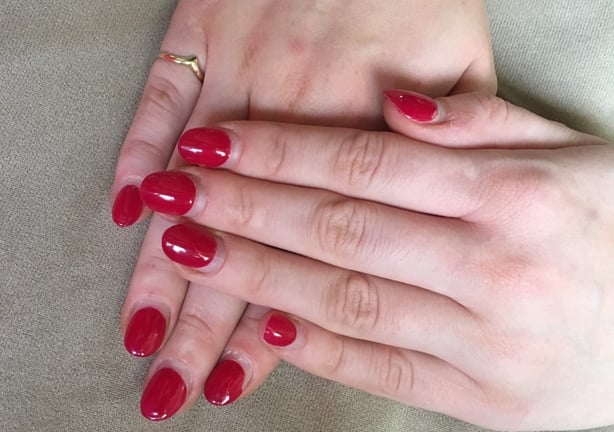 I would usually get refills but, instead, I had them removed - I was ready for a fresh start. The picture below is of my nails having just got the overlays removed.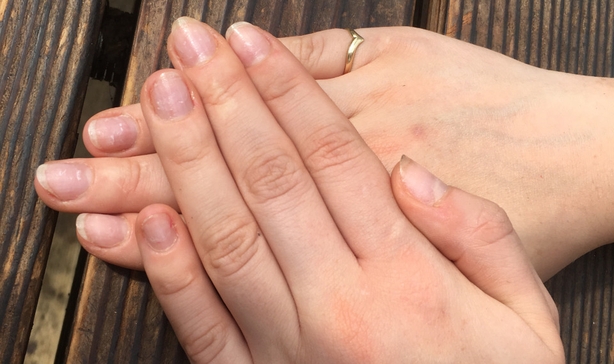 Results
When nail technician and distributor, Breda O'Neil, arrived and began working on my nails, she was shocked at their condition. She explained that my nails were weak and urged me to take better care of them. She put a base layer on first to protect them and then began working her magic.
It can be used on natural nails as an overlay or on extensions as a builder gel. It's a brilliant way to make short nails look good again. It has definitely has made my short nails look great.
Breda used the colour 'Fluffy Cotton' on my nails with a layer of added sparkle over it.
The nail wizard said it should last up to three weeks. I've had it on a week now and it looks like it's not going anywhere anytime soon. Usually, I can see a slight lift in the gel on my nails after a week or two but there's no sign of this with BIAB. It also feels much lighter on my nails, therefore I don't feel them. Not noticing them means I haven't been biting or picking at them.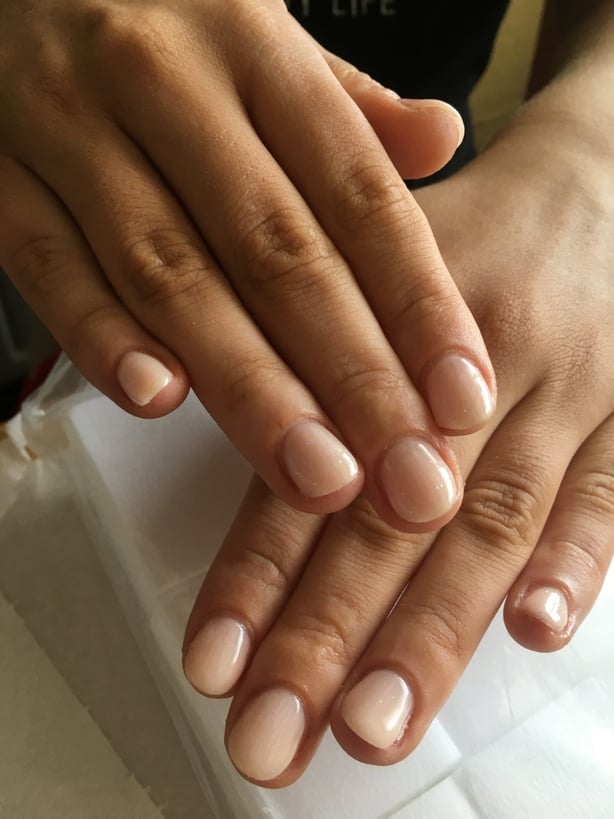 The details
When RTÉ LifeStyle spoke to nail technician and nail and beauty blogger of adorn.ie, Anita Coote, she said, "for me, the biggest advantage is how user-friendly it is because it's in a nail polish type bottle."
She went to say that "there is very little prep required," from a salon's point of view. This is a professional product only so using it at home should definitely be avoided.
Anita emphasized the importance of treating your nails with respect, such as keeping them moisturized, using cuticle oil, wearing gloves if using chemicals and if you usually get your nails done.
When we asked, Breda, what the customer feedback has been like so far, she said the word customers have used most so far is "game-changer".
She said it doesn't wrinkle or shrink, making it very user-friendly. She also told us that many celebs are using it too, such as the Kardashians and Bella Hadid.
I was lucky enough to have my treatment covered but, usually, a BIAB manicure costs between €35 and €50. Most salons will charge €35 for overlays and €50 for a full set of extensions.