Usually flowering from May into July, a tree peony is one of the gardens great spectacles. Now is a good time to plant, providing you can give the plant exactly what it needs. When planting, always water well and position it where it will not dry out.
They grow well in either the ground or containers. Plant in a sunny sheltered spot and if you have trouble with drainage, dig in some horticultural grit as this will provide ideal conditions through the winter.
You can plant tree peonies from now until the beginning of October. They are available in many varieties, often with large, single flamboyant-looking flowers, the size of a small dinner plate. Others have full double flowers with hundreds of petals.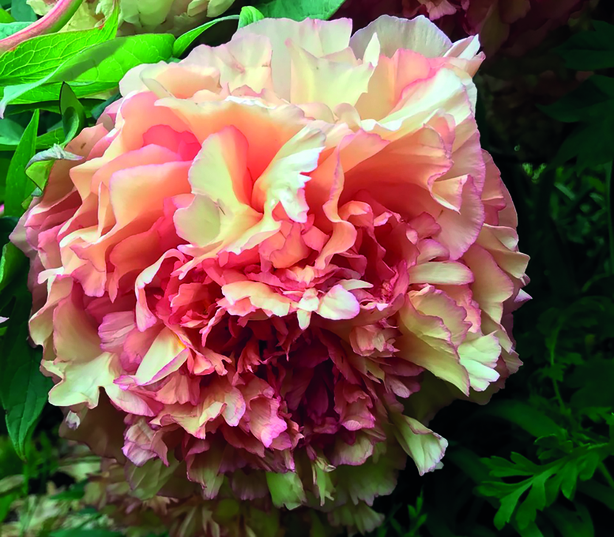 Tree peonies can be tricky to find, only appearing in larger garden centres from time to time. They are usually sourced from specialist nurseries in France, where there is a long tradition of breeding new varieties.
'Souvenir de Maxime Cornu' is a fabulous double-flowered pink variety and one of the largest flowers I grow. It flowers slightly earlier than other varieties.
'Yan Wei Bai' – it took a long time for this white variety to flower in my garden but it was well worth the wait.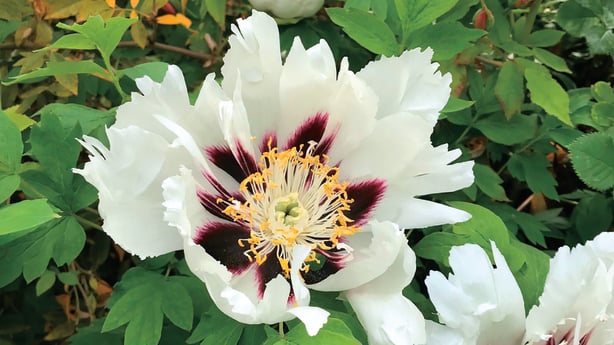 To do this week
Keep plants well watered, using your water butt as much as possible.
Garden centres have a great range of succulent plants, ideal for growing in sunny patios, hot borders and balconies.
Buy a bundle of long bamboo canes, that can be cut to size as needed. These are ideal for supporting perennial plants like dahlias.
Continue to cut sweat pea flowers now, as this will encourage more to develop.
Deadhead roses as flowers fade, cutting a leaf stem back to a leaf axel can often encourage more flowers.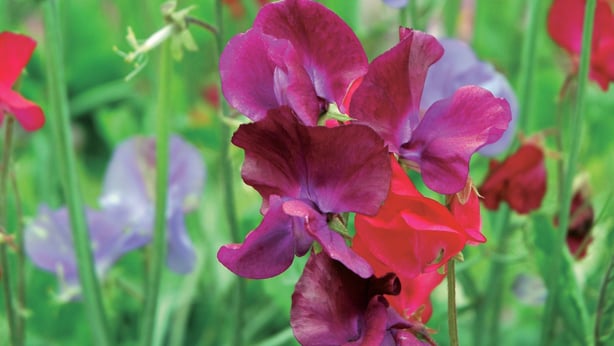 Expert Advice:
A special Clematis
I am a big fan of clematis and added two last year that I found at Camolan Potting Shed in Co Wexford. 'Purpurea Plena Elegans' is a vigorous climbing plant with double-centred dusky purple flowers from midsummer to early autumn.
Cut the vine back hard in spring before the new growth starts and watch for slugs and snails at this time – they can devour much of the new growth overnight if not controlled.
As with any Clematis, 'Purpurea Plena Elegans' is best planted near support such as trellis or wall, in which case, it should be planted at least 50cm from the base of the wall, where the soil tends to be dry. Train the growing plant into the wall and onto supports. Keep new plants well watered.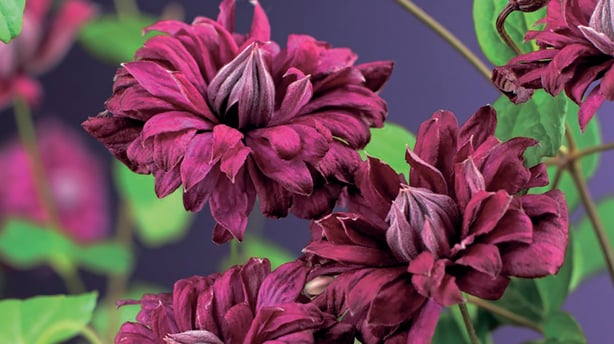 Reader's tip
Hi Dermot,
I have been having terrible trouble with black-spot on my roses this year and instead of giving advice I am wondering if you can help.
Ann O'Callaghan, Tipperary.
It helps to remove badly spotted leaves and burn them. In breezy and moist conditions, black-spot spreads easily but can be controlled by keeping the soil clear of dead leaves and weeds as much as possible. Keep your roses well-watered and feed them little and often, especially during the growing season. This will make them more resistant to infection.
Garden centres have a good range of rose feed with some incorporating a fungicide. Black-spot is a fungus and at the end of the season, it is worth covering soil around the plants with a mulch to cover up the fungal spores that will otherwise be a source of infection the following year.
You could also use an organic spray called SBK Plant Invigorator, covering both the top and bottom of the foliage, but not when it is in direct sunlight. This feeds the plant but also deter black-spot and other pests like greenfly.