It's not often you get 'the weather' in Dublin and it's not often you get invited by Croke Park to experience their Skyline and Stadium tours followed by a hurling semi-final. And it's not often that you get to do it with your eldest son and your dad. But that's what happened on Saturday and it was a brilliant day of three generational bonding.
As the pitch goes (pardon the pun): "Are you ready for a 17-story high? Then bring your adventurous spirit (and your camera!) to Croke Park's Skyline. Located right in the heart of the city, this thrilling rooftop walkway is actually Dublin's highest open-viewing platform and offers breathtaking panoramic views of Ireland's vibrant capital from the mountains to the sea."
We rocked up at 10.30 for the first of the day's tours and after a short safety briefing from John - our very charismatic and knowledgeable Derry-born, Irish-American tour guide – we made our way through the various walkways of the stadium into one of the player dressing rooms where we put on our harnesses and got ready for the dizzying adventure ahead.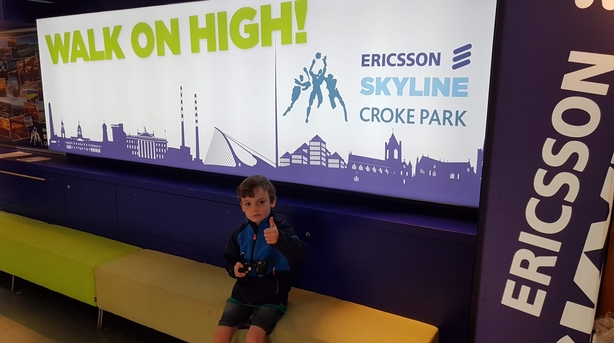 And it was just that, an adventure. As we made our way to the stadium roof we rested ourselves in the seats of the Hogan Stand for a brief history of the GAA, Croke Park and the history behind each of the famous stands.
For a born and bred Dubliner, I was surprised at how little I knew about this iconic home of the GAA and it was lovely too, to see my 7-year-old son and my 70 something-year-old dad fully engrossed in the storytelling as well. Good times.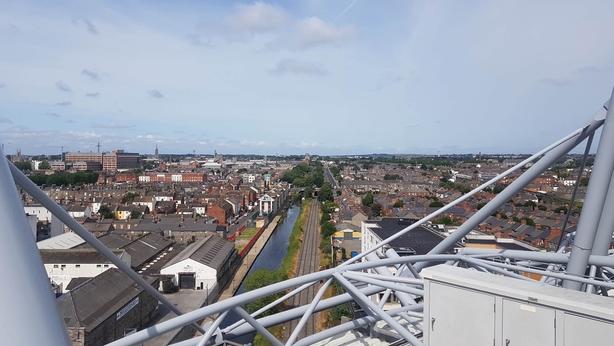 The rooftop walk didn't disappoint either. As we made our way around (and above) each of the stands – Hogan, Davin, Cusack – we were blessed with warm weather and 360-degree panoramic views of Dublin's fair city. Landmarks were pointed out, history was told and my dad even got to see his old school drenched in the shadows of the wonderful stadium.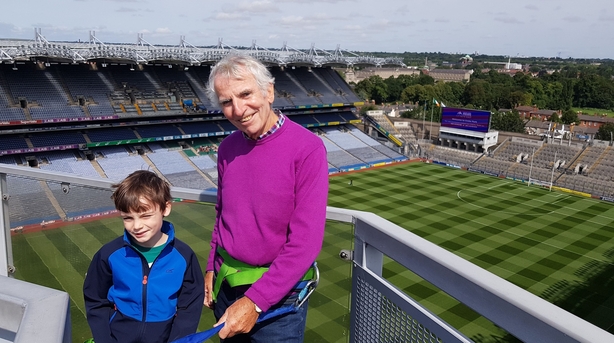 The highlight, of course, was the incredible view from the cantilever or viewing platform that's suspended over what was an immaculate pitch. Gasps were taken. Selfies were taken. Family photos were taken. It was breathtaking.
We then made our way back down via the Cusack Stand where we once again took a little pitstop and listened to John enthusiastically embellish us with more interesting facts and stories about the stadium and the surrounding neighbourhoods.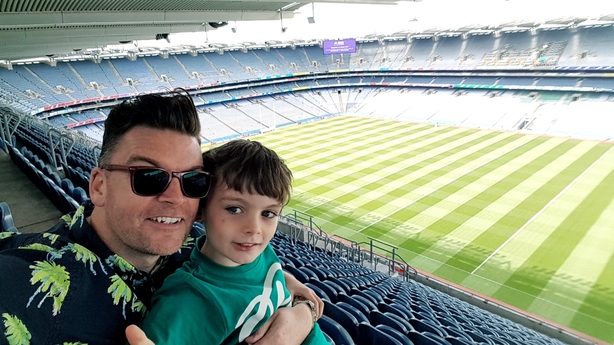 It was a fabulous tour and one that I'd highly recommend. All in all, it took 90 minutes of which you're on the roof for at least 45 minutes.
We also had the pleasure of doing the Stadium Tour immediately after, and although aspects of it were repeated, it was still great to experience Croke Park from the pitch, not to mention visiting the players' changing rooms, the players' lounge, a corporate box, the media room and posing for photos with replicas of the Sam Maguire and the Liam MacCarthy Cups.
This tour also lasts 90 minutes and I'd definitely recommend it if you don't have a head for the heights of the Skyline tour.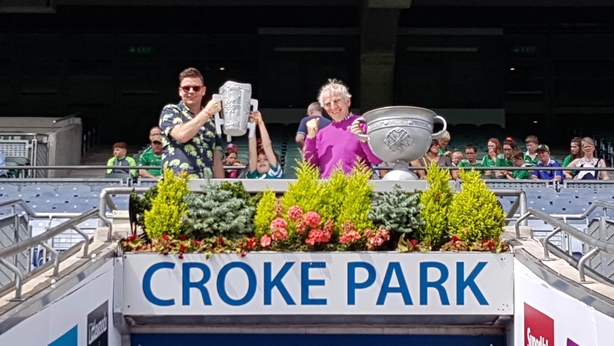 That evening, all 3 of us watched the semi-final between Kilkenny and Limerick from the lofty perches of the sun-blessed Cusack Stand and while we cheered for Limerick (we had to support the mother-in-law) we were not overly disappointed to see Kilkenny prevail. We had had a brilliant bonding day and one we won't forget in a very long time.
Thank you for the memories, Croke Park.
DD
Details about the Croke Park Skyline and Stadium tours can be found at crokepark.ie along with information about match days, the GAA Museum and interactive games area and much more.
Please note, that all GAA tickets for U16's are either free or €5 up to and including the All-Ireland Semi-Finals.
We were lucky enough to have this tour gifted by the GAA Museum.
---
For more reviews, musings, tips, anecdotes, and giveaways, you can find me on:
Facebook | Instagram | Twitter | e: digitaldad@rte.ie