This week, we're looking at the beautiful Carpinteria. Introduced from California in 1880, this evergreen shrub is truly magnificent when in full flower. From June to the end of July, it produces masses of attractive pure white flowers which have a central boss of golden yellow stamens.
It is slow-growing and does best when planted in a sheltered spot and is happy in sun or part shade. The evergreen leaves are narrow and a medium green, and the plant rarely needs to be pruned. This choice shrub is never widely available and you may have to search for it a little.
Consider planting a Clematis viticella variety nearby to twine through the shrub, producing an extra display later in the season. There's a wide range of colours, but I'd suggest a light-coloured form which will stand out against the evergreen leaves.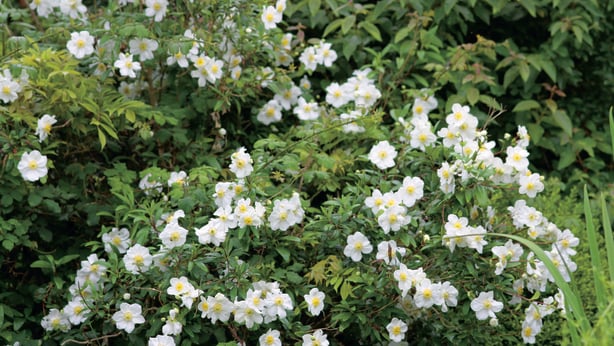 Reader's tip
Take cuttings of Clematis
"This year, I've decided to take cuttings of some of the clematis in my garden. The cuttings are taken between leaves on the stems: these are called internodal cuttings. Remember which is the top and bottom of the cutting, as it can be easy to mix them up.
"I use a small amount of rooting hormone on the base. The cuttings are inserted around the edges of a pot filled with a free-draining compost. I include a label with the name and date. Water from the base and cover with a clear polythene bag. Put in a sheltered spot where they won't get too hot or too cold, and wait until you see growth. Then they can be transplanted into a bigger pot for growing on."
L. Bermingham,
Co Wicklow.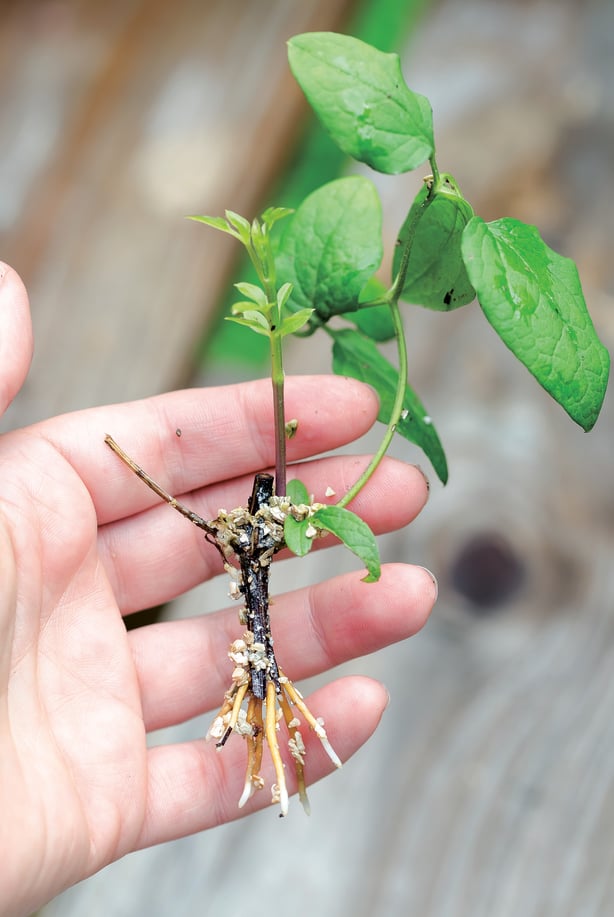 To do list
Take cuttings of tender plants like Pelargonium and Fuchsia, using non-flowering stems if possible.
Give Pyracantha a dressing of rose feed to encourage a good display of autumn berries.
Sow seeds of wallflowers, forget-me-not, winter flowering pansies, Sweet William and bachelors buttons for a spring display next year.
Dead-head roses to encourage more flowers on varieties which bloom all summer.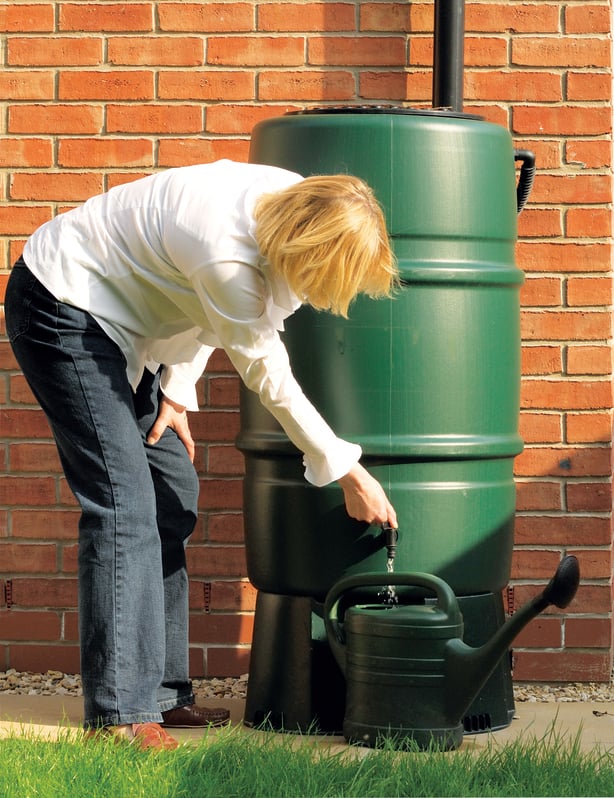 Expert advice
If you haven't already invested in a plastic rain butt, I recommend that you do it now. Rainwater has many uses in the garden and a watering can which fits under the tap on the butt will make using it easier.
Rainwater is good to make your own organic feed or insect killer. Rhubarb leaves can be decomposed in a container of rainwater and then filtered and the result is effective for killing greenfly and many other pests.
NB: Remember the solution is poisonous and needs to be kept away from children and ponds with fish or frogs. Always label any rhubarb leaf solution you make and don't store it for more than three months.
I also use rainwater to make organic liquid feed from a combination of nettle and comfrey tops allowed to decay in a two-gallon container with 2kg of green tops. Leave it for two or three weeks and when well-rotted, put the rotted parts on your compost heap and the concentrated solution can be diluted with rainwater for use.