Having been diagnosed with amyloidosis, a form of blood cancer, in 2013, Aslan's Christy Dignam has had his fair share of health scares.
When in 2017 he received news that a "negative" cancerous protein had begun growing in his blood, he said "I got a terrible shock. I got the result from my monthly blood test that I'm most afraid of".
However, in the years since, Dignam has been stoic about his prognosis, telling Ryan Tubridy on The Late Late Show that the condition can be "held at bay" with treatment for years.
.@OfficialAslan is in the house 🙌🏼 (and when we say house we mean barge) @RadioRayRTE live now 😎 #irelandshiddenheartlands @HeartlandsIRL @discoverireland pic.twitter.com/lr95QytgvG

— RTÉ Radio 1 (@RTERadio1) July 10, 2019
Speaking to the host in 2015, he said "There's no cure for it. I think there's only four or five people in the country that have it. With me, it produces too much protein; the protein affects my heart and my kidneys. So my heart's working at about two-thirds of its normal capacity."
Up to now Christy Dignam's cancer, amyloidosis, has not had a cure but just yesterday he found out that there is now a cure for it.
Speaking to Ray D'Arcy on The Ray D'Arcy Show on RTÉ Radio 1 live from Clondra, Co. Longford as part of Ireland's Hidden Heartlands tour with Fáilte Ireland, Dignam opened up about how the news made him feel.
'My DNA is telling my liver to produce a protein... the protein is a negative which is cancerous, so this (gene silencer) blocks the signal going from your DNA to your liver...", he explained.
"It was terminal up to now, it's stopping it being terminal'.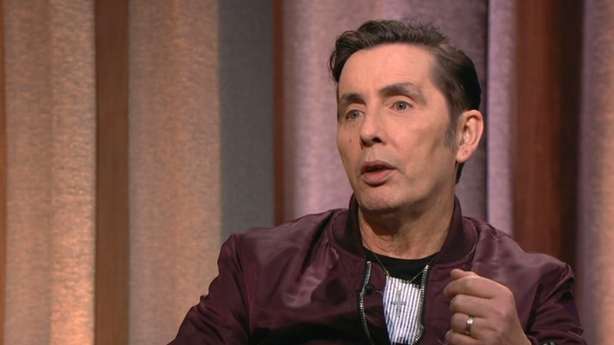 Speaking off-air and exclusively to RTÉ, Christy said: 'I had been given a death sentence, you know, and now it's been lifted, it's amazing'.
Ray notes that this is curative, not just "life-extending", a truly wonderful piece of news to receive on a Tuesday morning. The research was carried out by Prof Julian Gilmore of the Royal Free Hospital in London, where Dignam receives treatment every two months.
Still, Dignam says: 'I actually feel guilty, the first feeling I had was guilt...you feel unworthy or something'.
Christy told D'Arcy that he's going to be sure that he gets that treatment, adding 'I'm going to do everything I can'.
The treatment is being rolled out across the NHS, and Dignam said he'll lobby for it to be introduced in the HSE in Ireland.
Listen back to the interview here.