Former Irish rugby player, Ireland's Fittest Family coach and UNICEF Ambassador, Donncha O'Callaghan joined Ryan Tubridy in studio to talk about his visit to the Democratic Republic of Congo, which is currently experiencing a terrifying Ebola epidemic.
Ebola is a virus which causes Ebola haemorrhagic fever, a deadly disease: 50% to 90% of people who catch it don't recover. More than 1,400 people have died in the most recent outbreak in the DRC.
Ryan suggested to Donncha that people in this country will say we've got a homelessness problem, we've got childhood poverty, why should we care about an Ebola outbreak in a war-torn African country?
"I think we have a social conscience. I think as Irish people… other nations look to us for that empathy."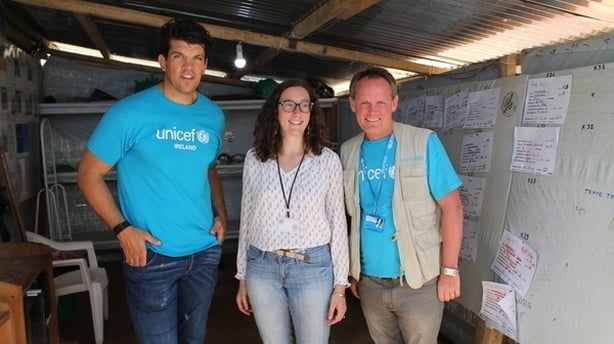 He's stood for the national anthem for Ireland 94 times, but Donncha told Ryan that the times he's been proudest to be Irish have been in the company of aid workers in the field. Most recently, Donncha spent a week in the DRC.
"The biggest thing I noticed: nobody touches. There is no physical contact. You stay three metres away from everyone… Really close friends touch elbows off each other."
The situation there conjured up echoes of the Famine for Ryan and Donncha agreed. That's what contributes to our empathy, he reckoned.
"I think it's because we have suffered, we've been through famine, we've been through wars, we know what these people are going through and, what they'll understand is, we'll actually help."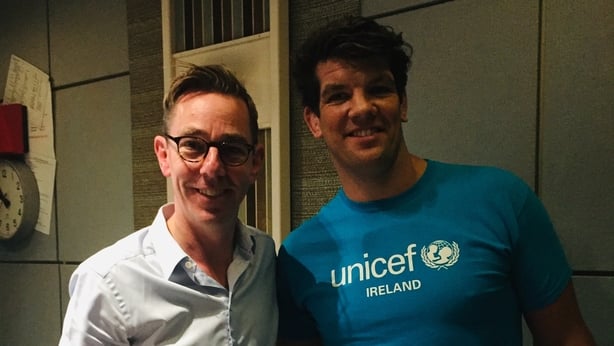 When he got home, Donncha's kids naturally ran to him for hugs, which is normal and lovely, but he said it struck him that he had spent eight days not touching or hugging anyone.
"It's those kind of moments that you realise how lucky you are and how privileged we are."
Donncha's been on a lot of UNICEF field trips, but he thinks that the DRC had the most amount of difficulties of anywhere he's been: malnourishment, gender-based violence, civil war and now Ebola. He met child soldiers between the ages of 12 and 15, who, he says, have done "horrendous things". In the DRC, as Donncha puts it, it's all going on.
If you'd like to help in whatever way you can, Donncha's advice is to go to unicef.ie.
You can hear Ryan's full interview with Donncha at the top of the page.