The RTÉ Guide's Donal O'Donoghue meets broadcaster Ray D'Arcy for a jog through his own story, from the early days in Kildare to family life and how he could survive if it all goes to pot.
Last week, I ran with Ray D'Arcy in a thunderstorm. Under leaden skies, in torrential rain, we sloshed along the tracks and trails of UCD. "Mad dogs and Irishmen!" I cried, as over the course of a half hour we met just two other runners and a few windswept seagulls. Ray laughed as we slipped through the deluge. The broadcaster (54) recalled how he only took up running at 39 to compete in a triathlon but there was that one time, back in his school days, when he also briefly ran because the best-looking girl in Kildare was in the running club.
We need your consent to load this Facebook contentWe use Facebook to manage extra content that can set cookies on your device and collect data about your activity. Please review their details and accept them to load the content.Manage Preferences
Later, by a football field, the rain sluicing down my neck, Ray has an idea. "Sometimes I take my shoes off here and run barefoot round this pitch," he says and so we did. It was exhilarating. And in that short, sodden, shoeless run I saw another side to a man I'd known on and off since his days as the host of The Den: a fun guy with an inner child that never left him, despite being a natural-born worrier.
The idea behind the rainy run was to highlight Run with Ray, the resurrection of D'Arcy's 5K from his Today FM days. In some ways, we both got more than we expected. "I don't have a towel," says Ray on the return to RTÉ. "Sure I can dry myself with some paper towels." So he zips over to the RTÉ radio centre where I meet him ten minutes later: suited, booted, showered and dry (the power of paper towels!).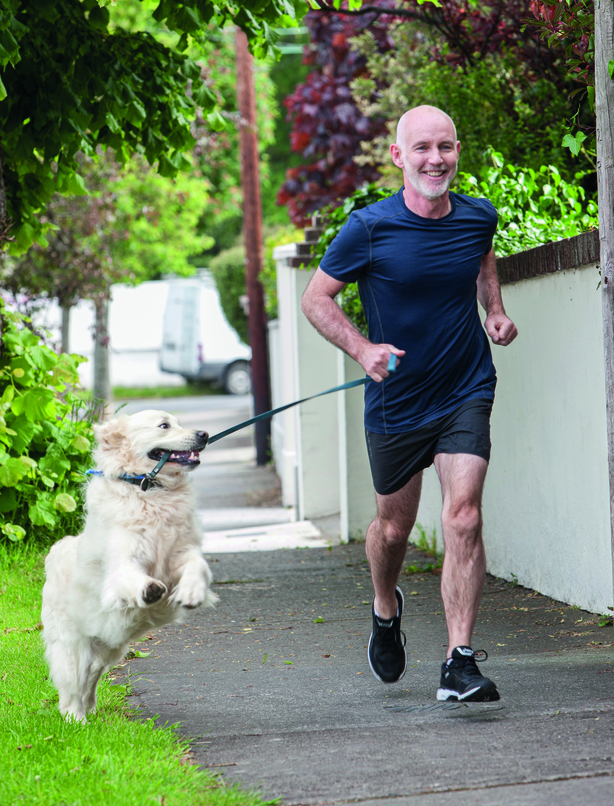 In a meeting room, running gear in a bag beside him, we talk about Run with Ray, which had four Today FM outings (he lists off the promotional shirts – black, red, luminous yellow and luminous green). "I had been bitten by the running bug in 2004 and always thought about doing something," he says of the beginnings. So
now, with the help of Park Run and local sports partnerships, he's back on track and happy to talk, even if Ray has never been at his most comfortable discussing himself.
D'Arcy, the third eldest of nine, grew up in a council estate in Kildare town. He was an "old head on young shoulders", born with determination stitched into his DNA. "I don't know where it comes from," he says. " The only thing I can think of is that I'm from a working class background and would have gone to school with people who were from the middle and upper class, rich people. So whatever they aspired to, you could too, but you had to work a little bit harder."
And he did. At the age of nine, he had his own paper round and at 15 was DJing at local discos. He recalls how someone from a similar background was advised not to give their full address when applying for a job
but that was never D'Arcy's way. Proud of his roots and driven to succeed, he was a doer who sat on the local festival committee in his late teens and was captain of Kildare RFC senior rugby team while still at college.
Once upon a time, Ray dreamed of becoming a doctor, an ambition fuelled by a stay in St Vincent's Hospital when he was 10 years old. "I was in there for three and half weeks because, I suspect, the specialist went away on holidays and I had to be kept in until he came back," he says.
Later, he would miss out on a medical degree by a single point in his Leaving Cert results and for his next option, Communications, lacked the requisite Honour in English. Halfway through a course in psychology at Trinity he applied unsuccessfully for a communications course. Yet media was his thing, doing local radio from his mid-teens, devouring a BBC training manual to learn how to put a music radio show together.
Following graduation at 20, he made his name in children's TV (Jo Maxi, The Den) before moving to radio at the age of 36. In the early days, Ray also reckoned he would have a boodle of kids. But life has its own currents. His father Ray Senior, an army man, died in December 2017, but even now Ray finds it hard to talk about him. "We weren't that close," he says. Does he miss him? "I miss him in small ways."
It seems to have been a tough relationship, perhaps not least because his father was a product of his times. He offers memories of his father that he has given in previous interviews: how a popular TV show of the time, Wait Till Your Father Gets Home, was almost the theme tune of his childhood years, anticipating his dad's return from tours of duty in the Congo or Cyprus or Lebanon, looking out the front window to see if he was walking up the road in his army fatigues.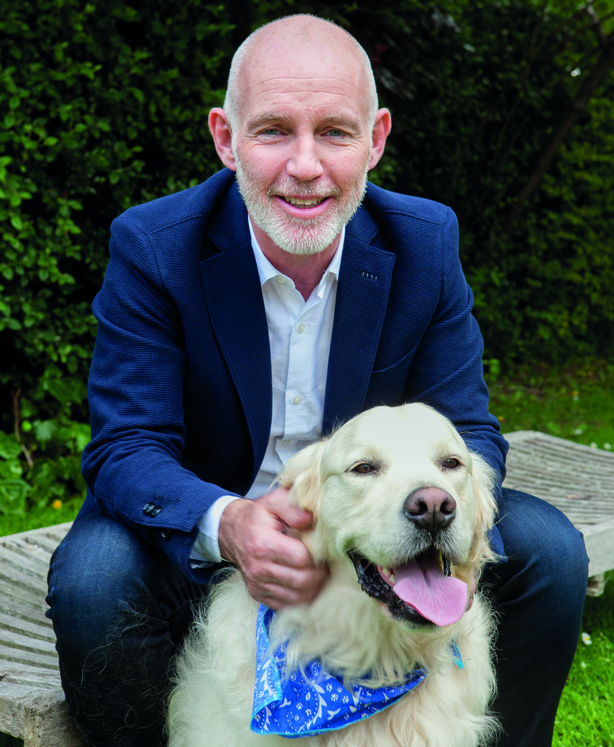 Later in life, Ray Sr would message his son in the wake of the JNLR figures and he would occasionally pop up on the radio show with his recipe for pancakes but there's no doubt that Ray was always much closer to his mother, Mary. "She's probably referred to locally as a saint," he says. "My mum is amazing, a very thoughtful, insightful and intelligent woman. She's now in her 80s but travels to Dublin most Wednesdays to go to a movie and can chat about any current news story." Like many mother-son relationships, it has evolved over the years.
"I didn't hug my mum until six or seven years ago," he says. "But I hug her all the time now and tell her that I love her. I'd never have done that years ago but as you get older, especially when you have your own children [he and his wife Jenny have two kids, Kate and Tom], you see the world differently. Also, when you have children, you want to keep the generations connected and you feel more of a pull home. You want
your children to be part of this family and to know the mother that you knew."
Of course, there were crazy tough times too in that house of nine young ones. "There were times [Mum] would say to us that if we didn't stop with the bedlam she'd have a nervous breakdown," he says. "Looking back you'd totally forgive a woman in those situations having a nervous breakdown, nine kids in such a small space."
Spreading the love among such numbers could never have been easy. "Now, this is not a bad thing, it's just a fact, but I can't recall either of my parents ever attending any sporting thing I ever did," he says. "My mother
didn't have time and my Dad was away or doing whatever. I've no doubt that my mother said 'I love you' to me as a child, only I just can't remember it. She was busy keeping the wolf from the door. My father was from a generation that wasn't hands-on and never changed a nappy. In a way, I feel sorry for those men because they missed out on so much. The more you give to a relationship, the more you get back."
Ray D'Arcy is a very likeable chap, buoyed by that child-like sense of adventure – hence running barefoot in the rain – and when he laughs it's infectious. Yet sometimes, as he wanders about the RTÉ campus, he looks like a man carrying the weight of the world on his shoulders. "I've always been a worrier," he says. What's to worry about, you wonder: after all, Ray is happily married with two children he dotes on, he loves his job for
which he is handsomely paid and is fit as a fiddle.
Yet for the born worrier such things sometimes don't come into it. "I do the maths about once a week," he says. "Tom is just seven so in 12 years time I will be officially retiring age and Tom will only be going into university. That's a real thing and I have to do something about it in financial terms." But he must be loaded, surely? "I don't have a pension with my job, not that I'd expect anyone to feel sorry for me," he says.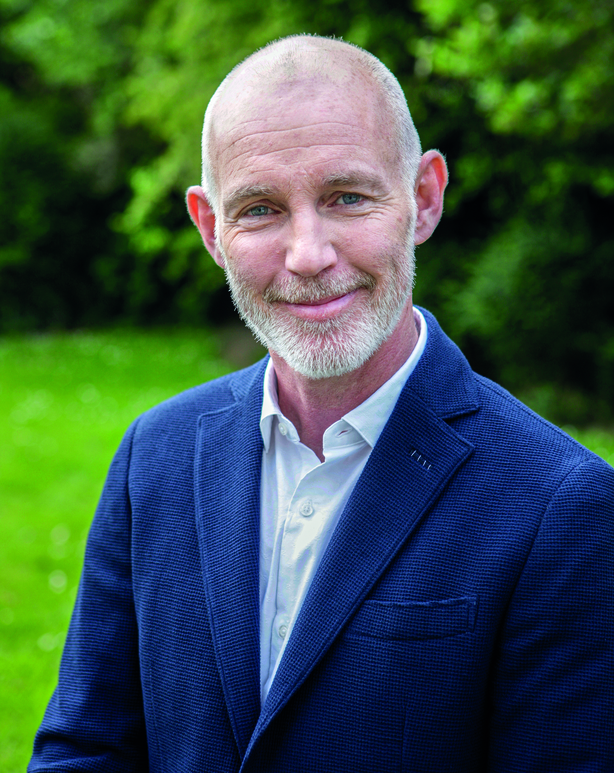 Most people won't, but Ray D'Arcy ploughs on, past those who damn him as well as those who offer praise, independent from the beginning. "I learned to interrogate them," he says of his worries. "I take it step by step. If I lose my job I may not be able to pay the mortgage but we can sell the house and move down the country and get a cheaper house and get a job somewhere else and the kids can move school and so on."
Naturally, he discusses such issues with his wife but there are other times when it wouldn't be fair to unburden. "Sometimes you don't share such matters with your partner because you can't be annoying them all the time and they may have their stuff going on" he says. Has he ever gone to a counsellor? "I went to one many years ago but I don't go anymore," he says and pauses. "There was a time in my life when I needed someone to talk to and that time has passed."
D'Arcy's TV chat show returns this autumn, the whisper that it had been axed greatly exaggerated. "It's not an interesting news story to say that the show is coming back," he says. "We had a slightly shorter season this year but we did well." But times and TV are changing. "My mantra is 'live and local'" he says, a line he got from a Netflix honcho a couple of years back who argued that broadcasters like RTÉ can never really compete with global beasts like Netflix, Amazon and such.
But he's in the business for the long haul. "I will do this job as long as I can," he says. Could he survive being let go from RTÉ? "I have gone through that in my head and the various things I could do," he says. "I would be a very good wedding and birthday DJ. I even have the app installed on my phone."
And with that, he produces his phone and plays Chic's 'Good Times' which he mixes into 'Last Night A DJ Saved My Life'. So in ten years time, he could be DJ Ray? "Well it's an option, isn't it?" he says and laughs.
Middle-age has mellowed him. "As I get older I'm getting more comfortable in my skin," he says. "But I had a long way to go from where I started. Having a loving wife and two loving children, all of that helps you to appreciate life more and that certain things are not important."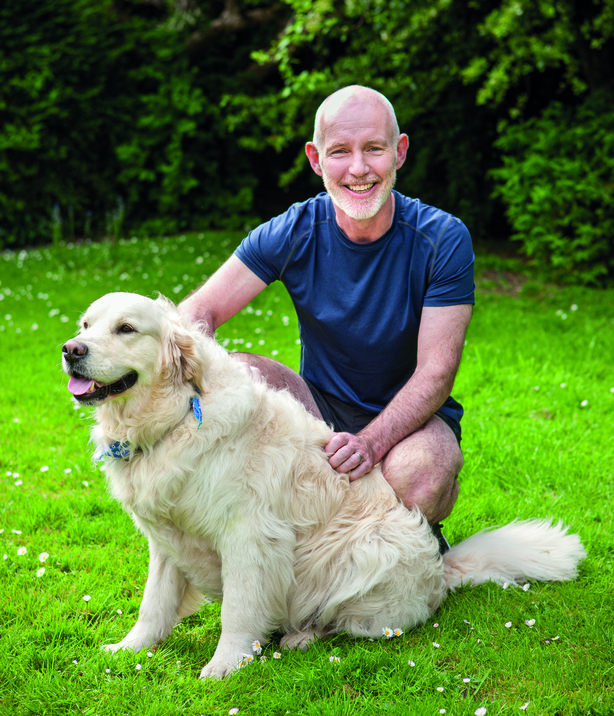 And his hopes for his children are "the usual". "That they are well rounded, happy and entertaining, that people want to be in their company. That can make up for an awful lot of other stuff which you might be lacking. And they are entertaining. Of course, a big part of that is being positive. I don't have the positive gene in me but you can fake it. Many years ago I read the book The Art of Happiness and the main thing I took from it is that you can fake it until you make it.
"The brilliant thing about faking a smile is that people meet you with a smile and before you know it it's not so bad." And it's not that bad at all. "You have enough there to write a book," says Ray as the interview
wraps. Maybe I'll write it, Ray! He laughs. Earlier, on the run, the broadcaster spoke about the many authors he has interviewed, arguing their merits and otherwise before conceding what would he truly know about such things, someone with no plans to ever pen his own book.
Interview over, Ray unlocks his bike for the short ride home, musing about how difficult it must be to write
a children's book. "They have to have a certain cadence and rhythm because they are read aloud," he says. "Like a poem?" He nods. Above us the grey skies have lifted, replaced by evening blue and sunshine too. And Ray rides off, homeward bound, into the sunlight and a future where a smile and a run can take you a long way and sometimes to places you least expect.
Ray D'Arcy is the ambassador for Organ Donor Awareness 2019. Organ donor cards can be obtained by phoning the Irish Kidney Association or free text the word DONOR to 50050. Visit ika.ie