Singing together to promote wellness has a growing evidence base, and aside from the enjoyment of harmonising in a group, its many benefits include promoting a sense of belonging, fun, stress reduction and improved cognitive functioning.
Whether it's the power of sound, rhythm or a shared experience, something magical seems to happen below the surface. Try watching Gareth Malone, the celebrated British choirmaster, transform a choir's confidence or the conversations between Vicky McClure, of Line of Duty, and the singers from Our Dementia choir to see music make a difference.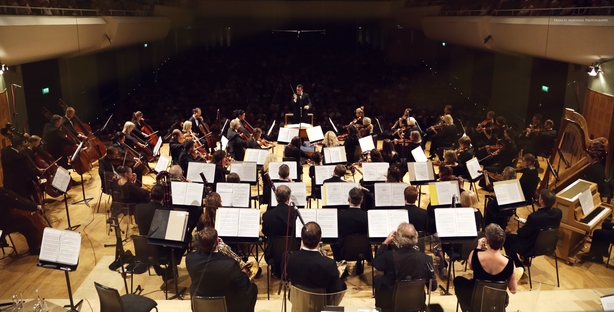 People may find their voice but can also discover hope, emotional support and connection with others.
For many of us, the biggest hurdles to joining a choir are lack of free time and a belief that you can't sing. Róisín Savage wondered if things could be done differently, and tested a pop-up format, "for those people who just want to sign up for one session and sing for two hours, without having to commit or have an audition".
"They can have the choral experience and don't have to sign up to anything long term". It was an instant success and the Casual Choir was born.
Fleetwood Mac melts Imposter syndrome
Perhaps you have seen the videos of choirs on Instagram and wondered 'could I do that?' Newsflash, I've been told by teachers and even family that I can't sing. However, curiosity and a love of music got me over the line.
However, like most skills, practice, patience and encouraging teachers are the true routes to success, as well as an inspiring setting.
Róisín describes the scene: "Every session is a one-off experience with a unique 150 [people], there will always be people experiencing it for the first time. A lot of people come on their own, and may have felt intimidated walking into a lecture theatre." 
To ease frazzled minds after a busy day, Róisín adds: "I always start the with physical and vocal warm-ups, it's to let people relax." Before we know it, there is synchronicity of laughter, heartbeats and smiles, to a chorus of Fleetwood Mac's Go Your Own Way.
What if I don't know the songs?
The approach is very much about fun and inclusivity. It's an adult choir for all voices, Róisín says, with ages ranging from 18 to 80. "We do pop, rock and covers", she says, adding that there is discovery and learning for everyone. 
"I've been really surprised because sometimes we might do a current hit and some people might not know it or don't listen to contemporary charts but it doesn't matter. When I set this up I didn't want to have any barrier for age".
Even if the song was from the 60s and you weren't even born when it came out, you will learn it, Róisín says. "I'm going to teach the song, add some harmonies and we can all have that same experience".
Choirs build community at work
It's not just in our social lives that choirs can provide a sense of community but also at work. Traditional pastimes such as fitness, lunchtime talks, and mindfulness are great for relieving stress and building relationships, however, maybe it's worth looking into other options.
Choirs provide a good return on investment by meeting a lot of needs whilst also being inclusive, and cross-generational. Róisín has seen these benefits play out in workplaces first hand. "You might have managers and people who have just come into the company and are all on the [same] level playing field and working towards that same goal. 
"People de-stress and have a different focus and it's a positive experience that should be in every workplace."
Its impact can trickle throughout a workplace, creating new conversations, positive emotions and team bonding, which are all vital ingredients for supporting a cultural change in work settings.
Being in a community choir can be an ideal antidote for modern stress, whether gospel, rock or traditional there are plenty to choose from all around the country. We all need to find our one thing that reconnects us, and for Rósín "it's two hours of forgetting what happened that day, leaving work, kids and study anything that may have happened and giving yourself two hours to sing your heart out".
Casual Choir One night stand June 7th The Academy.
For countrywide choirs www.corus.ie
To connect with Peter Connolly, contact him at peter@lifestyleawareness.ie.