Super Garden judge Monica Alvarez found her true love through her passion for gardening. The RTÉ Guide's Donal O'Donoghue hears her story.
"I was like a mother hen with her chicks," says Super Garden judge Monica Alvarez of the years she visited Bloom with her horticulture students from Dundrum College. "Ever since the beginning of the festival I would drive the organisers crazy, saying to Gary [Graham] please let me bring in students and give us a chance to build some gardens. He did and we won many medals."
That was how Alvarez first got to Bloom and also how she ended up on Super Garden, a natural fit allied to her talent as a teacher and 15 years experience designing gardens. "And let's face it, I also have a funny accent which the TV people liked," says the Spanish-born horticulturist and garden designer.
Monica Alvarez may have 'a funny' accent but it's her passion for gardening and life that is most obvious when you meet her. "In many ways, I never lost the child inside," says the 48-year-old who is smart and articulate, frequently dropping slang phrases into her bright conversation. Last December, Monica married Declan (56), the first time for both of them. "We both left it fairly late in our lives to meet the one," she says. "So the day was quite emotional. Finally, it was the one."
As wedding gifts, Declan, a fellow horticulturist and one-time student of Monica, gave her a strawberry tree (Arbutus), her favourite tree, and a glass sculpture of her favourite flower, Agapanthus. "Blue is my favourite colour and it is the flower of love," she says.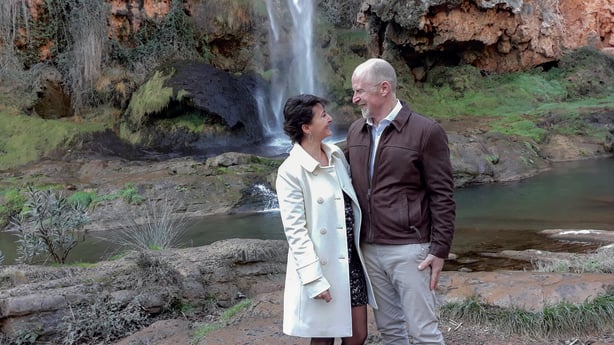 Monica Alvarez first came to Ireland in 1992. The plan was to improve her English so that she could return to Spain to pursue a career as a bilingual secretary. In 1993, she was back in her home country, working in an office but something didn't feel right. "I had to come back to Ireland because I had really fallen in love with the country," she says. Plus her job as a secretary was proving to be stifling. "I was lying through my teeth, taking phone calls from people who were asking for my boss and even though he was sitting in front of me I was forced to say 'So sorry but he isn't here!' The four walls of that room felt like they were falling on top of me because ever since I was a child I was a lover of the outdoors."
Monica, the youngest of seven, grew up near the city of Valladolid in northwest Spain. "It was like Tarzan and Jane," she says of a childhood spent climbing trees and generally going wild in the country. "We used to play in the nearby pine forest and staged our own Olympics, so all the time we were out of doors. We were one of a row of some 15 houses but we were the only family who lived there all year round. All the neighbours used their houses as holiday homes or at weekends so while the summers were full and busy, come September, we were alone. It was strange but we were able to explore the other gardens. My neighbour's dogs knew me better than they knew their owners so we'd jump the wall, go for a swim in the pool but they knew about it."
Years later, in 1995, Alvarez signed up for a FÁS course at Clonroche (she returned to Ireland in 1994) that recalled those halcyon days of youth. "It was all about being outdoors in the fresh air and how wonderful that felt," she says of her time picking strawberries and raspberries.
"I knew then that it was always in my blood to be out of doors. I also realised that I had chosen the wrong career up to then and that anything to do with the indoors would eventually destroy me, destroy my soul. So it only took me two months at Clonroche to discover that this was my new career path. I was 26, 27 then and considered myself quite old to begin life as a student but when I started at the Botanic Gardens I was one of the youngest people in the class."
Over three years, she completed a diploma in amenity horticulture, later upgraded to a degree, as the Botanic Gardens' qualification was the highest of its kind in the country. "Nature just blew my mind," she says. "I was beginning to learn about the behaviour of plants and the science behind soil and how a plant feeds. And all that knowledge and all that excitement and scientific truth about the planting world; I just felt that I had to pass it onto others. I knew before I went to the Botanic Gardens that I would end up teaching. I think there is a child in me, that I've never forgotten what it's like to be a child. And I love watching the reaction of my students when I show them a cutting from a pot with those early roots and their expressions brings me right back to the first time I saw that."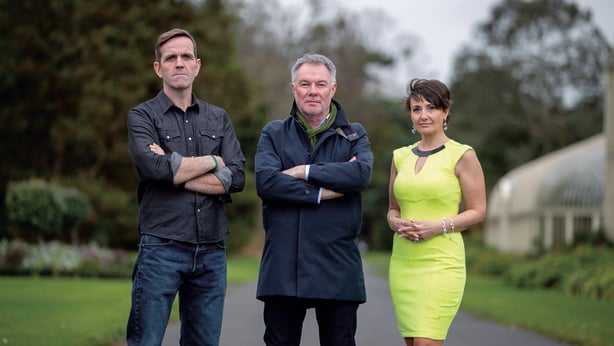 Following her time as head garden at Luttrellstown Castle, she started as lecturer in Dundrum College in 2002. "That was a bit of a risk," she says. "I was ready at that stage to back to the sunshine, to go back to Spain. But I applied for a couple of jobs to see if they would have a better holiday scenario. One of those jobs was head gardener at the National Botanic Gardens and the other was Dundrum who were doing a trial course in horticulture for the first time and if I was interested in joining on a part-time basis for nine months with no guarantee that it would go any further. It's like you're standing at the edge of a cliff and you don't know if there will be this amazing mattress or sharp stones at the bottom. I just jumped. And it worked."
Four years ago, she started on Super Garden where her passion and empathy shone through. "I adore being on the show, meeting passionate designers and working on such interesting projects," she says. By then she and Declan were already dating more than two years. "Here is the secret unfolded," she says and smiles.
"Declan joined the course as a student in 2011. That year he was only my student. A good few months after he graduated he phoned me to ask if I would design his garden. He said that his garden was very challenging and that I'd do a better job. So I went to check his garden out and I found myself nervous around him, the first time I felt that way. On the first proper date, Declan suggested that we go for a walk in the woods and to bring my walking boots with me and maybe we could pick some blackberries."
Six years later, in December 2018, they married in Valencia. Was family ever a consideration? "It was never in the front of my mind," she says. "For many years I was not in a relationship but I have always been happy with my own company. So many people, friends and family, would ask me if I was interested in a family but I didn't come into this world to be a mother; it was not my mission in life. I always said to myself that if I fall in love and the person I fall in love with is happy, then maybe we could go there but for me, one could not happen without the other. I was 42 when I met Declan and fell in love. But at that stage, we both knew we were borderline in terms of age to bring someone into this world. And we both also have the viewpoint that the world is a bit difficult for a child right now."
But with their passion for plants and horticulture, they have other projects to focus on, not least the garden in their new home (Declan never did develop those plans that Monica drew up for him). Monica figures it could take the guts of a year to knock it into their dream shape. I imagine that Agapanthus and Arbutus will somehow feature in the final design.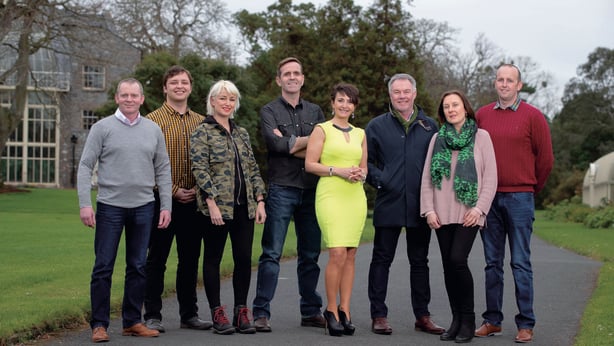 Monica's Top Garden Design Tip
It's all down to shape. If you shape the lawn, choosing a shape that is different or beautiful whether that is a kidney shape or a tear or a circle, everything else will follow.
Most people start with the flower bed, dig a hole in the garden, stick in a few plants and flowers and the lawn is the left-over shape. Don't do that. Do it the other way round. First shape the lawn and then all else flows from that.
If you are going to have a patio, marry the shape of the lawn with the shape of the patio. I call it the marriage in gardening. So if you've chosen an organic shape for the patio then let it be an organic shape for the lawn but in such a way that they both enjoy each other's space. And whatever shape the lawn is then it's the perfect excuse to have the edge of the lawn to be the path into your shed for example.
There is nothing worse than a diagonal path going from the patio to the shed or a straight line that doesn't flow. Your eyes need those flowing lines of the path. So the shape of the lawn the shape of the path and shape of the patio all have to be married. I call that rule number one.
For a non-professional designer, winning Super Garden can be a life-changing experience. Tune in to the final on Thursday at 8.30pm on RTÉ ONE.