Taoiseach Leo Varadkar has revealed that he once weighed 17st 13lbs and had a 40in waist - before he developed a passion for triathlons.
The former Minister for Health and Sport made the disclosure in a new podcast, almost two months after the revelation during an episode of Operation Transformation that he had a 'metabolic age' of 53.
In the podcast Mr Varadkar is put through his paces with a fitness evaluation which included a sit-up test, press-up test, plank test, and a 1km run test - the same exercises used by the gardaí to measure basic fitness.
In the press-up test a score below 17 is poor and above 35 is excellent in men, while for women below eight is poor and above 26 is excellent. The Taoiseach scored 34.
In the sit-up test, below 17 is poor and above 41 is excellent for men, while for women below 10 is poor and above 33 is excellent. Mr Varadkar scored 27.
In the plank challenge, Mr Varadkar scored 2 mins 30 seconds, to which the Taoiseach said: "I can do better than that."
In the 1km run test, the Taoiseach completed his run in 4 mins 44 seconds, but admitted he doesn't like treadmills.
The Taoiseach was motivated to take part in the fitness test after learning that his 'metabolic age' was 53, despite his actual age being 40.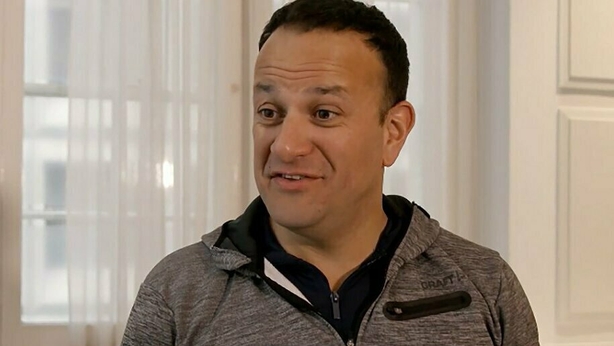 Believed to be your 'true age', metabolic age measures your overall health and fitness levels and is calculated based on basal metabolic rate, which is the amount of energy or kilocalories we burn a day before activity, compared with other people in our age group. As muscle burns more fat, the rule of thumb is that the fitter you are, the lower your metabolic age.
After hearing the latest results during Karl Henry's Real Health podcast, the Taoiseach's first response was to question the test. He later said: "I thought I'd delve into it a little bit more and find out where I'm doing well and what the problem might be and how I can deal with it."
Mr Varadkar went on to reveal how his health has changed over the years, telling Henry: "I used to be very overweight. I was 114 kilos with a 40-inch waist once upon a time and I have managed to improve that over the years."
"Fitness has just become part of what I do. I try to train four times a week, usually first thing in the morning before I go into work."
The Taoiseach currently gets up at 6:30am and trains four days a week at 7am, mixing high-intensity interval training (HIIT) and resistance training. He said he tries to "keep reasonably fit and maintain a reasonably good diet, which is not the easiest thing to do, given the pressures of the job".
Henry honed in on how the Taoiseach winds down. Mr Varadkar said that while he doesn't get enough sleep - usually getting between five and six hours a night - he doesn't have any difficulties getting to sleep, but adds that the last thing he does before going to sleep is "read my papers for the next day".
He added: "It's always possible to bore yourself to sleep with a memo on something very technical."
Henry noted that sleep and stress are two massive inhibitors for weight loss, something he has observed many times on Operation Transformation.
When it comes to diet, the Taoiseach tries to maintain a low-carb, high-protein diet but said, "in reality, that's not what happens", largely as he's eating away from home and not cooking for himself.
The Taoiseach was also motivated to take part in the fitness test to promote better health within Leinster House, bringing two of his staff with him to be tested and to report back with him in six weeks' time. Mr Varadkar will also return to see how his fitness is progressing.
On leading by example, like running in the park with Canadian Prime Minister Justin Trudeau during his visit to Ireland in 2017, Mr Varadkar said: "I'm a former health minister and former sports minister, and it was really back when I became sports minister that I started getting more interested in my own health and physical fitness.
"I particularly see it with young parents, how much more aware they are of health and how important it is for their kids...it's so different to when I was growing up, even the whole idea around treats being chocolate-based or sugar-based."
Having received his results, Mr Varadkar said they were "kind of what [he] thought" they would be.