Lá Fhéile Pádraig, Sona Daoibh!
It's that time of year again, when shamrocks come in all forms from hair clips to milkshakes, when Americans ask if the River Liffey is dyed green (oh, honey) and when Temple Bar throbs as one solid mass for about 24 frenetic hours.
In the midst of such abundant craic, you don't want to be lost in the crowds. If you're planning on celebrating St Patrick's Day, here's everything you need to know about parade routes, transport and what events you should be sure to catch.
Sláinte!
The Parades
No St Patrick's Day is the same, and routes change year by year. Below are the start and end times for some of the major parades around Ireland, so get to grips with the maps and links below rather than in a jostling crowd.
Dublin City
With 'Storytelling' as the theme, the Dublin St Patrick's Parade is sure to be a magnificent spectacle. Kicking off at its usual time of 12pm from Parnell Square, the vibrant and no doubt impressive parade will continue over O'Connell Bridge and end at Kevin Street. For the full route check out the map below.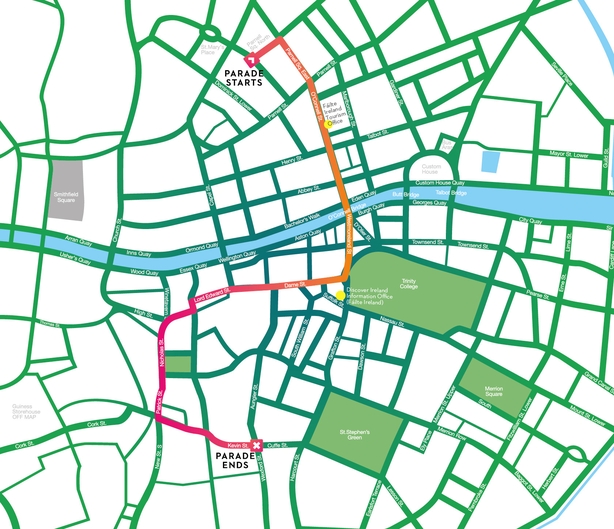 As always, the parade will feature imaginative interpretations of the theme, with national and international musical acts dazzling the crowds and it's even hoped that this year will see a record amount of attendees. For more information, visit the website here.
Swords
There will also be a separate parade in Swords, as part of a new project across Fingal county. Inspired by myths and legends, including the Legend of St. Patrick and Ériu the Goddess of Ireland. Special attention will be paid to St Patrick's Island, the island off the coast of Skerries where St Patrick is said to have first landed on Irish shores. For more information, check out the website here.
Cork
As the key event in the Cork St. Patrick's Festival, the Cork St Patrick's Festival is a joyous event, featuring as many as 3,000 members of the community and bringing its own unique flavour to the country's many celebrations.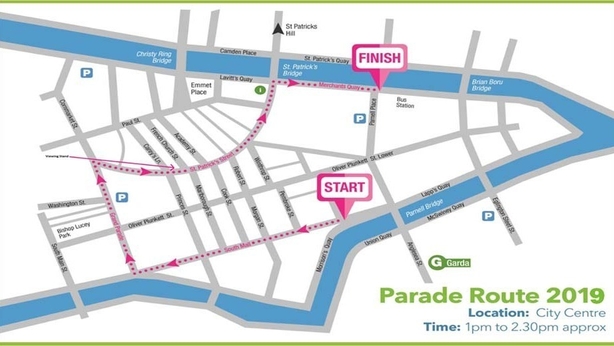 Kicking off at 1pm, this weekend's event will include sporting groups, dance schools and the city's long-established brass bands, as well as special guests from around the world. For more information, visit the website here.
Galway
Expect a typically extravagant and eclectic festival from Galway City, with the 117th festival in the city's history set to be it's most spectacular yet. The iconic fountain in Eyre Square will turn green, while a bombastic parade led by Ireland's pioneering spectacle theatre company Macnas will feature creations and innovations that celebrate the theme of "Diversity".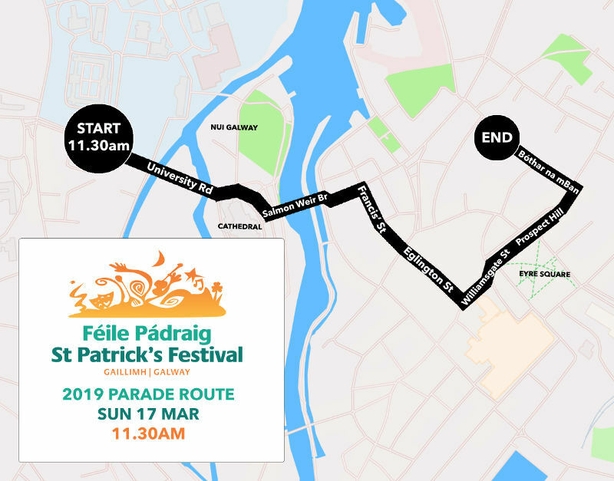 The route is slightly changed from previous years, as the Parade will start at 11.30am from NUIG and wind its way down University Road, over Salmon Weir Bridge, up Eglington Street street and past the viewing stand in Eyre Square finishing at approximately 1pm on Bothar Na mBan. For more information, check out the website.
Belfast
Belfast has seen some stunning festivals in recent years, and this year's one looks to be no different. Kicking off at 12.30pm at Belfast City Hall, with a free open-air concert from 1.30-4pm, it's sure to be an extravagant event.
Featuring float, performers and a troupe of talented musicians, you'll get to watch Belfast City come to life for St Patrick. For more information on directions and accessibility, visit the website here.