Born in Puerto Rico, Josè A. Benìtez spent most of his life moving between San Juan and Washington, where he led an impressive career in politics, a career that would lead him to become close friends with American President John F. Kennedy.
This friendship, along with Josè's larger than life personality, led him to an assignment from the CIA, a legendary performance from Marilyn Monroe, and a burgeoning line of Irish relatives.
With the help of his grandson and daughter, we've pieced together some of his most memorable moments.
Viva Kennedy
After majoring in political science at the University of Puerto Rico, Josè A. Benìtez spent some time in Panama when he served in the Army from 1943 to 1946. From there, he went on to hold various political roles having been mentored by Luis Muñoz Marín, the country's first elected governor.
In the early 1950s, things really began to heat up for Benìtez when he was named President of the Democratic Party in Puerto Rico. It was in this capacity that he traveled to the Democratic convention where John F Kennedy was running for Vice President.
Interestingly, the politician actually voted against Kennedy.
Later, when Bobby Kennedy - who was helping run the campaign - questioned the vote, Benìtez delivered the savvy reply: "I thought he would make a better President".
From there on out, the two quickly became good friends with Benìtez involving himself in the 'Viva Kennedy' campaign, a Mexican-American outreach program run by the Senator's presidential campaign from 1959 to 1963.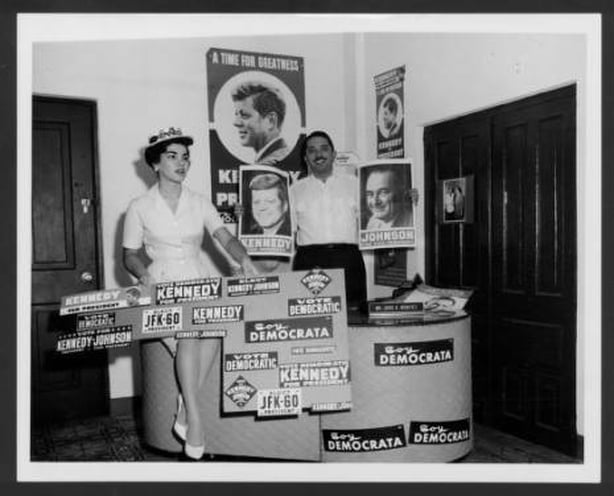 Pacific Islands
While living in Washington, Josè and his wife Reina Colon had their first child on the 4th of November, 1960 - a day that is more widely remembered as Election Day. And, according to Reina Victoria Benìtez, her name was chosen as a result of JFK's victory: "I could have been named 'defeat'," she joked. "The story goes that my mom was in labour, but everyone in the room was watching the returning counts."
Following his victory, President Kennedy offered Josè the position of High Deputy Commissioner of the United Nations Pacific Islands Trust Territory. A role that turned out to be a perfect fit for the magnetic dignitary.
"It was a position of a diplomat with political power, higher than an ambassador," explained Reina Victoria. "My father excelled and helped develop the islands."
Indeed, an article in The New York Times stated that during his two years working with the Pacific Trust, Benìtez "embraced and lifted" island chiefs and ordinary islanders alike, telling them: 'Amigo, you are my brother; I love you'."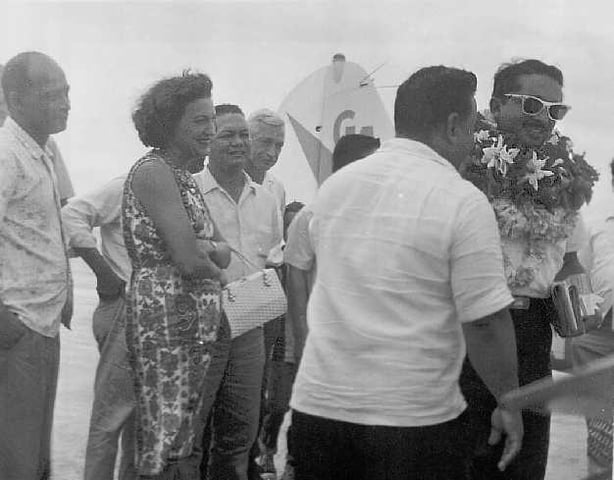 A charming fellow
With his friendly demeanor and enthusiastic attitude, Josè soon established himself as a bit of a character within the walls of the White House. In John A. Carver Jr's Oral History Interview with John Stuart, Carver Jr says the following of the Puerto Rican man:
"Benìtez had been kind of single-handedly responsible for getting the Puerto Rican votes for Senator Kennedy out in Los Angeles, and he's such a charming delightful fellow, and everybody loved him, and we got the word, you know, that he was to be Governor of American Samoa. And I didn't have any idea that he could handle that job, so we finally settled on the number two job in the Trust Territory for him.
"But that's a whole fascinating book all by itself, his relationships over there in the White House, because he was—the President liked him, but hardly anybody around the Department of the interior thought much of him. I remember one time I was looking for him. The Secretary was in a real huff, he wanted to see him, wanted me to find him.
"Well, I scouted around and guess where I found him. In a receiving line with the President over at the White House, receiving some foreign dignitary, standing at the President's elbow", Carver Jr laughs. "A very, very colourful guy, you know."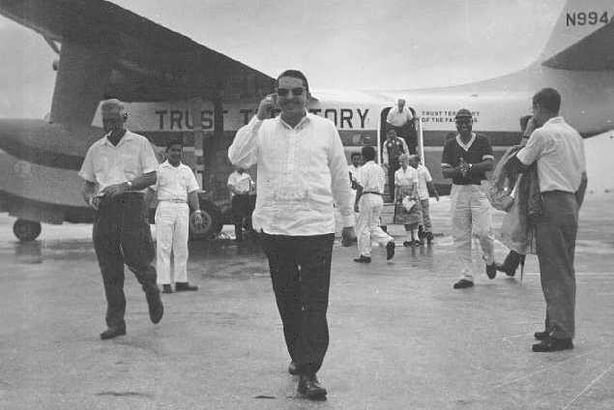 CIA Landlord
Tragedy fell on the American nation on November 22, 1963, when President John F Kennedy was assassinated while riding in a presidential motorcade with his wife through Dealey Plaza in Texas. Josè, who was living in Washington at the time, took the news of his death as a devastating blow and decided to return to Puerto Rico where he planned to retire from politics.
However, before going home he accepted an unusual assignment that brought him to the Nicaragua-Honduras border where he worked as a "CIA landlord".
According to his family, he was given 999 acres of tobacco farm which he had to live on so as to spy and report on the movements of the local dictator. Understandably, the position was a stressful one and after one year, he returned to his home town of San Juan.
As fate would have it, the move would be a temporary one thanks to his remaining connections in Washington and in 1968, when Bobby Kennedy announced he was running for the presidency, Josè returned to the U.S. in order to support him.
Sadly, just a few months later, Bobby was fatally shot at the Ambassador Hotel in Los Angeles where he was celebrating his victory in California's Democratic presidential primary with his wife, Ethel Kennedy, and fellow supporters.
It was at this point that Benìtez returned to Puerto Rico where he retired from politics permanently.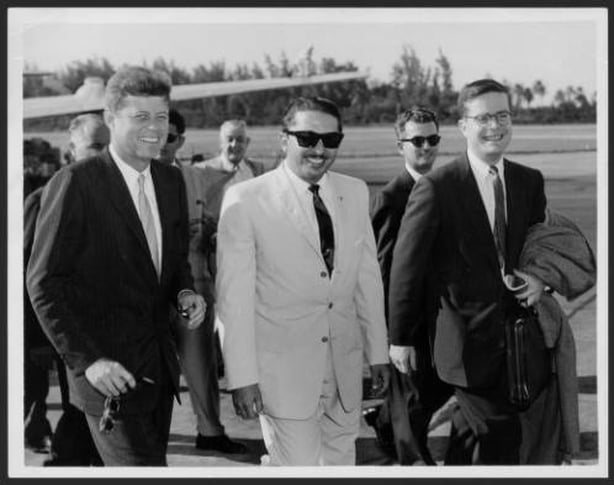 The Highlights
Despite Josè's retirement and John's sudden death, the two families remained remarkably connected both politically and personally. As Reina Victoria says: "The friendship my family had with the Kennedys was born through politics but, through mutual respect and similarities in age and purpose, developed into a personal one that continued until Bobby's death and then lessened until Jacqueline Kennedy's death".
The lifetime of stories between the families are countless but below are just some of the highlights:
Senator George Smathers - Kennedy's best man at his wedding to Jacqueline Bouvier - was named as Reina Victoria's godfather.
On an episode of E! True Hollywood Stories, Reina Victoria can be spotted playing with John Junior in the Oval Office.
Kennedy's speechwriter Ted Sorensen named Josè Benìtez throughout his books.
Reina Colon taught Jacqueline Kennedy how to speak Spanish.
Reina Victoria worked for Ted Kennedy's campaign where she bumped into a "grown-up" John Junior.
Josè and Reina were in attendance for JFK's 45th birthday celebration where Marilyn Monroe sang her legendary rendition of 'Happy Birthday' to the President.
In 1978, after an exceptionally interesting life, Josè died of an "undetermined cause". He was 54 years old.
The Longford Connection
So, where does the Irish connection come into play? In an Irish bar, of course.
While spending some time in New York, Reina Victoria - a true beauty who was once crowned 'Queen of the Carnival' - met Longford man William Flower in one of Manhattan's many Irish pubs.
The two fell in love, married, and started a family in Longford where Reina Victoria - ever her father's daughter - was named as the county's 'woman of the year', having founded and funded a soccer club, thus becoming one of the first women in Ireland to get a UEFA B License.
Now, their eldest son Garret Flower has carried the family's entrepreneurial spirit to Dublin where he has founded two successful businesses; Krust Bakery on George's Street and Park P'n'P, an app that allows users to rent their parking spaces out for a fee.
And while it would be easy to put these familial achievements down to successful genetics, Garret insists that it's thanks to good parenting and encouraging friends.
"I don't think its a family gene, actually. I believe that your make-up is of your circumstance, of your great friends, and how you are brought up," he explained. "How I was brought up, hearing these stories [about my grandfather] allowed me to think like that and to think big."
Garret spoke to Ryan Tubridy on RTÉ Radio 1 about his family history, future business plans, and entrepreneurial antics. Listen back to the interview in the video below.