If you are already feeling those New Year's fitness resolutions start to slump, you're in luck: Operation Transformation is back with its winning combination of encouragement, inspiration, humbling advice and easy-to-follow tricks to get you back on track toward your fitness goals.
Kicking off tonight, the 12th season sees the show undergo a bit of a transformation itself, as new medical expert Dr Sumi Dunne joins the team and a rake of new and more fine-tuned challenges push our five leaders ever further.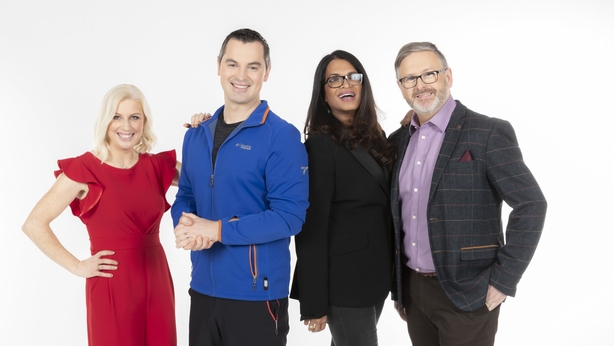 The show also moves to Balbriggan in Dublin's Northside for this series, where over the course of the eight-week series OT will be encouraging local community leaders to get their area active as the programme follows and reports on their success.
Speaking about the new series, presenter Kathryn Thomas shared her excitement about everything from the new time slot of Wednesdays at 9:30pm to Dr Sumi, who she said will "bring a whole new energy to proceedings this year".
"But of course, the main reason for my excitement – as always – is our 5 brilliant new leaders who I know our viewers will be dying to meet and follow. It's going to be a very interesting year."
Some things remain the same, of course, as presenter Kathryn Thomas once again leads the always-popular nationwide campaign to get as many people up and moving as possible while the show airs, sharing advice on how to run your first 5k.
"You better not have put my name down for that."
Too late! 🙈

Operation Transformation is back Wednesday night at 9:35 pic.twitter.com/hJqHHfqweK

— RTE One (@RTEOne) January 8, 2019
The show will also link up with the GAA for the hugely popular 'Ireland Lights Up' campaign, helping communities across the 32 counties come together and enjoy getting fit and healthy in the safe surroundings of their local GAA club.
The usual suspects of Dr Eddie Murphy, dietician Aoife Hearne and fitness expert Karl Henry return, using their combined expertise to ensure each leader reaches their goals and learns lessons to see them through the rest of their healthy lives.
To learn all about the five new leaders, click here! You can find all the updates on the latest series of Operation Transformation here.
Operation Transformation kicks off on Wednesday 9 January at 9:30pm on RTÉ One.