Managing money and being savvy when it comes to saving are lessons we keep learning throughout our lives. Navigating pitfalls, getting control of your finances and enjoying your money are areas of stress and anxiety for the majority of us, and when it comes to learning from one another it can feel like the blind are leading the blind.
Just in time for those New Year financial resolutions, financial planner Eoin McGee - who you may remember from Brendan Courtney's This Crowded House - returns to our screens on How to be Good With Money, an eye-opening and informative new personal finance series for RTÉ One, endeavoring to make the nation more financially literate.
Each episode will see Eoin guide a household through their financial trouble. Some will be struggling, others less so, but all will have a clear financial goal or aspiration. Along the way, Eoin will share his accessible and useful hints and tips with viewers
In each of the six episodes, viewers will meet a new household, many with stories and worries that will match and feel like their own. Be it a family in financial trouble or those struggling with a big payout such as a much-needed renovation, a new house or an early retirement, there are many lessons to take from them.
Eoin will delve into the financial issues of each household, observing their current behaviours and measuring them up with understanding but firmness, finally doing a full financial audit and presenting the household with a new plan to achieve their money goals.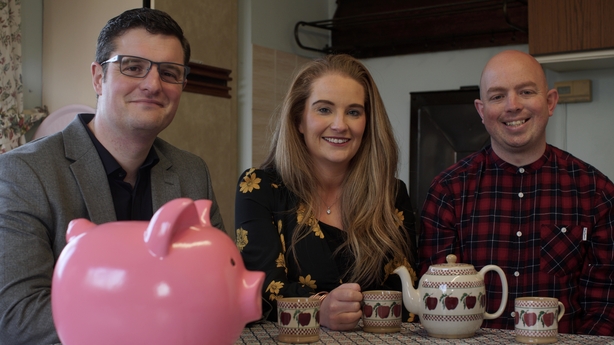 In the first episode of the series, Eoin meets Kerri and Brian from Cork, both secondary school teachers and parents to six-year-old Sean and eight-month-old Kitty. While they enjoy their life together, they wonder if they'll ever be able to save enough for big things like holidays, cars or even their own home – which is their long-term goal.
The fact that Kerri is a guidance counselor and Brian teaches business but struggle to stick to a budget only proves how difficult money management can be without some guidance. They love spending cash socialising with friends and family – especially with so many good foodie destinations on their doorstep – yet struggle to remember where exactly their money goes each month.
How To Be Good With Money starts TONIGHT on @RTEOne at 8:30pm. @EoinMcGee @CCPCIreland pic.twitter.com/IwhyMqusQB

— LifeStyle on RTÉ (@LifeStyleRTE) January 10, 2019
With a family wedding coming up in the US, the pressure is on to get their finances in order before they end up in more debt.
Tune in to How to be Good With Money on Thursday 10 January at 8.30pm on RTÉ One.