There is a gorgeous, hand painted, Christmas movie coming to RTÉjr and RTÉ2 this week and it's a must watch for the whole family - especially if you have little ones under five.
Hopscotch and the Christmas Tree follows a happy little horse called Hopscotch and her animal friends Carlo, Barbara, Jules, Malcolm and Ingrid as they set out to find the perfect Christmas tree. It's a heart-warming tale that aims to remind children (and grown-ups) about the true meaning of Christmas.
We sat down with Tamsin Lyons, one of the creators of the movie, to find out more about this festive film - watch the interview, above.
A really special aspect of this film is that it features solely Irish talent and rather than having an American narrator, Hopscotch and her friends all have Irish accents.
"This is a film for Irish kids and Irish families and it's important to see that reflected on the screen," says Tamsin. "Also, they're really good! We have Caoimhe O'Malley as Hopscotch, Gary Cooke from Après Match is doing Jules the little chicken, Garry Mountaine does Malcolm, Marcus Lamb is Carlo the Cat, Charlotte Tsai is Ingrid the little pig, and Sorcha Brooks is Baa-rbara the sheep."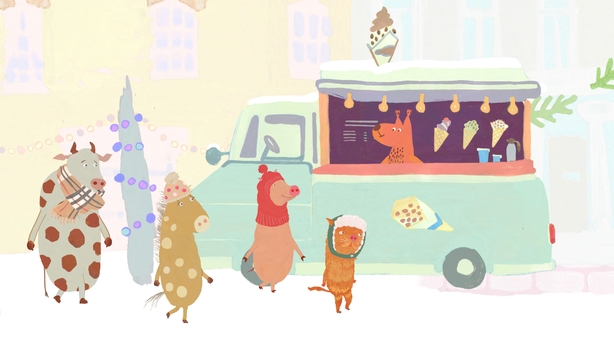 In addition to this impressive cast, the animation was produced by Tamsin's production company Ink & Light, the musical soundtrack was composed by Irish man Dean Valentine, and the characters have all been hand-painted by Irish artists.
"Part of the ethos of the film is bringing Irish talent together. Dean Valentine, who composed the music, has been doing all these big trailers for Hollywood, he's also been doing a whole bunch of cartoons for children but he pitched us a little idea and it was just perfect and then the film just sang when he put the music on."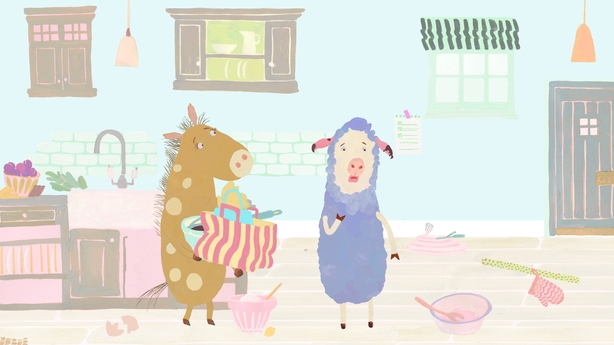 According to Tamsin, Irish shows are "punching above their weight internationally" and are often featured on Finnish television, something that she is very familiar with as she currently lives between Finland and Ireland with her husband and child.
"If you turn on the Finnish TV channel, half of the shows are Irish so that's really exciting. Gorgeous shows like Puffin Rock, Becca's Bunch and Nelly and Nora."
"It's wonderful when you go abroad because half the work is done for us. People know that Irish animation is good so they're willing to take a look."
Watch Hopscotch and the Christmas Tree on RTÉjr on Saturday 22nd of December at 5.25 pm. The movie will air on RTÉ2 on Monday 24th of December at 6.30am