Her Fair City character Orla is at the heart of a dramatic story right now, and Sorcha Furlong is in the midst of planning her wedding. She grabbed a few minutes to talk to the RTÉ Guide's Julie Lordan about saying yes to the dress. Get a sneak peek below.
Buying the dress was a really enjoyable experience for Sorcha, as it involved nearly all the female members of her family.
"It's from the White Room in Mullingar. I'm delighted. It was such a special day: my daughter Stella, Ken's daughter Joy, my Mam, sister, auntie, cousin and nieces all came alone, it was like the Waltons!
"Obviously, Ken won't be seeing it until the day, so I can't say much. But the second I tried it on I knew. Normally everyone slags me for wearing Doc Martens, so when I asked for a pair of heels, we all knew.
"Then Stella pretended to be Ken and started going 'I'm saying yes to the dress'. Looking in the mirror, I didn't realise it would be so moving. I couldn't believe this day was arriving – I've finally met my soulmate and we're getting married."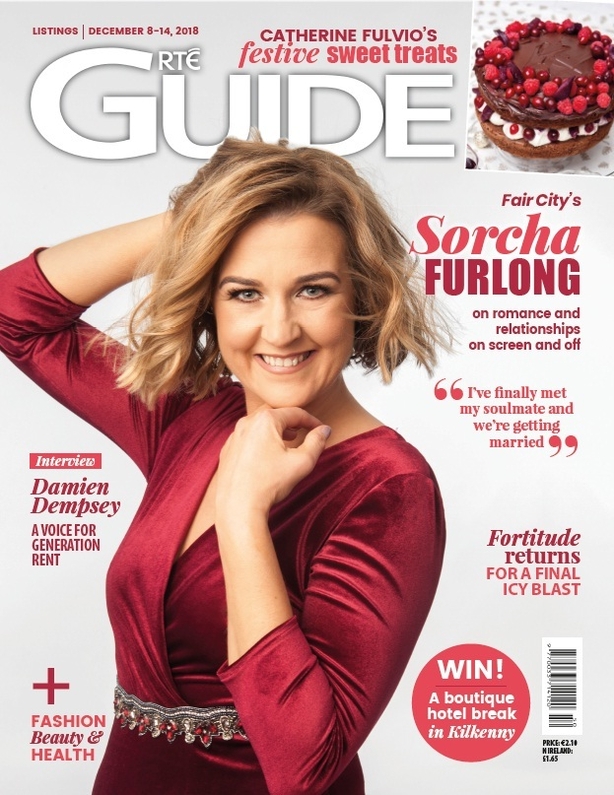 Elsewhere in this week's RTÉ Guide
Marvelous Mrs Maisel Donal O'Donoghue catches up with the cast of the hit US drama
Taken Down As the crime drama reaches its dramatic finale this week, Andrea Byrne meets actor Sean Fox, better known as Fitzer, the somewhat overzealous detective
Fortitude Richard Dormer talks to Darragh McManus about the finale of this chilling drama
Damien Dempsey Jess O'Sullivan meets the Dublin troubador
Hugh Cahill Darragh McManus chats to the sports broadcaster about his debut novel which covers his first sporting love: horseracing