An ill-fated dive into a swimming pool in Spain in 2014 changed the course of the then 27-year-old Jenna Fitzgerald's life forever. She was in Nerja celebrating the wedding of a friend and told Ryan Tubridy, "whatever notion took me that night, I was in an out of the pool a few times… I decided I would have one last dive and that's where I met my demise."
Jenna suffered a shattered C5 and was rushed to hospital in Malaga where surgeons performed life-saving surgery. She woke up six and a half weeks later, her parents by her bedside and a new and unfathomable path ahead of her.
"When I woke up initially, I had to figure a lot of stuff out. I knew I couldn't move… I had done a year's psych nursing just before my accident so I kind of assessed the room and I was like, right OK, you're obviously in ICU, things are bad… I knew when a physiotherapist came into me how bad it really was because she started doing some exercises and I just had zero feeling."
Jenna described experiencing "this innate feeling when something is really, really wrong" but had to wait until she arrived in The Mater Hospital in Dublin to discover the full extent of her injuries, which is mostly paralysis below the chest.
"You went to sleep one way, so I was 27, in the prime of my health, couldn't have been in a better spot, I had done a year's psychiatric nursing, done well in my exams, I had worked all summer, I was at a great place with relationships and friends… I woke up in the room and I was just like, well, that's all gone out the window… It's like a brand new body, you have to learn everything all over again."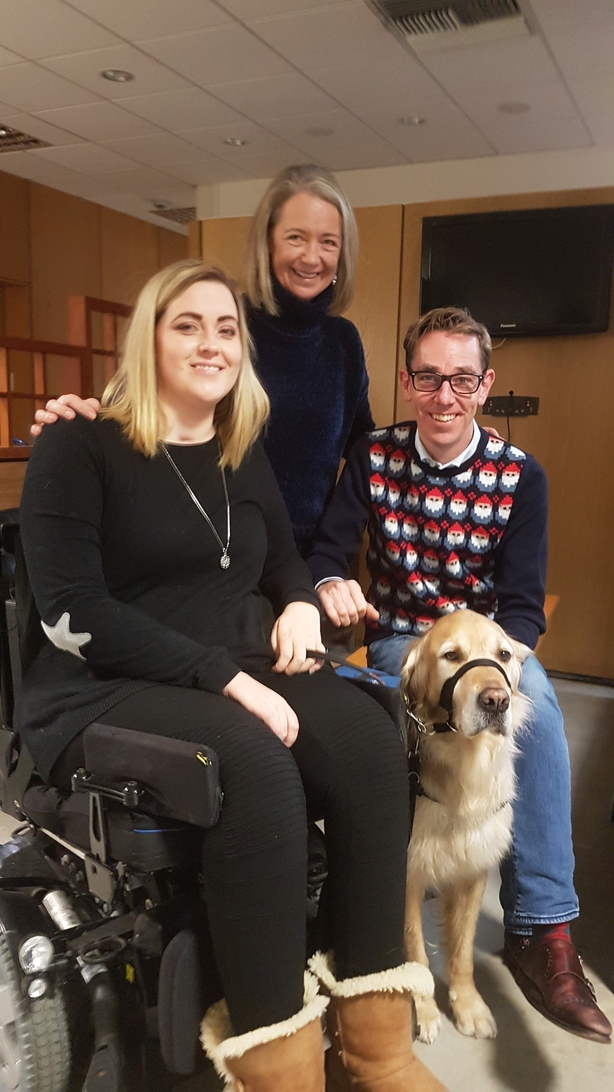 Jenna spent time in the National Rehabilitation Centre and couldn't speak highly enough about the facility and the support she received there, but things became increasingly difficult when she went home and tried to regain her independence. She was met with disappointment at every turn and told Ryan "the long and short of it is basically that I tried to take my own life."
Her suicide attempt was "18 months in the making" she said, but by a miraculous twist of fate, Jenna hadn't been able to lock the door of her home that evening. A visiting friend happened to drop in, calling an ambulance when he realized she had overdosed. Again, Jenna woke up in the ICU with her parents by her side and she knew that this was a pivotal moment.
"I'd said my goodbyes to everybody in my own way and the guilt was just unbelievable and I thought, right, now Jenna, it's time to sink or swim again, you've no other plan, it didn't work, you're going to have to get on with it."
Jenna made a promise to herself that she would work with the help available to her and carve out a new life for herself, embracing her new physical restrictions and working to recover as much independence as possible.
"I'm finding myself again, I'm regaining a bit more confidence… I'm still very dependent on carers and PAs for certain aspects… but I'm able to dry my own hair now, I can put on my own makeup, brush my own teeth, take the dog out myself… The next big thing for my independence will be to get driving… It'd be nice just to be able to take off and not have to rely on anybody."
You can listen back to Jenna's interview with Ryan above.
For information and support for spinal injuries, click here for Spinal Injuries Ireland.
If you are affected by any of the issues raised in this article, you can contact; The Samaritans (phone 116123), or Pieta House (1800247247).