Ireland's Fittest Family returned with an eye-wateringly ambitious start last weekend, with a pronounced focus on mental toughness, endurance and tight family dynamics.
The show's ability to push contestants ever further, change up challenges and keep families and viewers on their toes is one of its greatest successes, and why the country loves it so much. 
Now in her fourth season on the series, Anna Geary is practically an expert in coaching, encouraging teams to do their best and navigating the naturally competitive personalities of her fellow coaches.
And while she's reluctant to give away too much of her strategy - ever the competitor! - she did speak to us about what she's learned over the years, why this season is the most thrilling yet and what she finds is the most inspirational part of being on Ireland's Fittest Family.
We need your consent to load this Instagram contentWe use Instagram to manage extra content that can set cookies on your device and collect data about your activity. Please review their details and accept them to load the content.Manage Preferences
With a win under each coach's belt, this year is set to be even more competitive for Anna, Derval O'Rourke, Donncha O'Callaghan and Davy Fitzgerald, and it's a challenge Anna was fully geared up for. "I suppose you do become a lot more shrewd", she says, "because at the end of the day, it's a competition but it's also nearly like a game between the coaches. It's about how you can utilise the families' strengths as coaches." 
"We're all competitive people. I mean yes, it's a TV show but we're not actors, we're not playing up to cameras. We don't care if the cameras are there. We're just really ambitious people and we want our families to do well because you get to know the families."
Anna is insistent that on a show like Ireland's Fittest Family all the preparation in the world is little defence against luck, family dynamic and the new and even more challenging courses designed for this season. She explains: "We only find out about the courses on the day so you don't have that much time to plan. As coaches, we really need to be able to think on our feet, and tactics-wise we have to be able to adjust them." 
Regardless, she aims to pin down her tactics with the family as much as she can, making a point to agree with them on the plan rather than dictate to them. "The family relies on you to come up with the right tactic", she explains. "If they buy into the tactic and they believe in it, it's easier for them to stick with it." Trust is central to this, too. 
"Getting them to trust you as a coach is really important, too, because if they don't trust your skill as a coach, they're not going to trust your tactic." 
Here is where solid communication with the families comes into play, as well as trust and confidence. Despite all passing the fitness grade, many of these families will not have worked together on a competition like this, so it's natural that heads will butt. 
"I think for the families they all need to respect each other's strength and weaknesses as well, but there are often times when family members might be seen as the leader or as the best, or they themselves might think of themselves as the best family member and when the time comes they actually mightn't be."
In this way, the show is often a route to better family relationships. "In Ireland's Fittest Family, you're forced to listen to your family members and you have to work together to win and sometimes families have never experienced that before and it actually makes them stronger as a unit."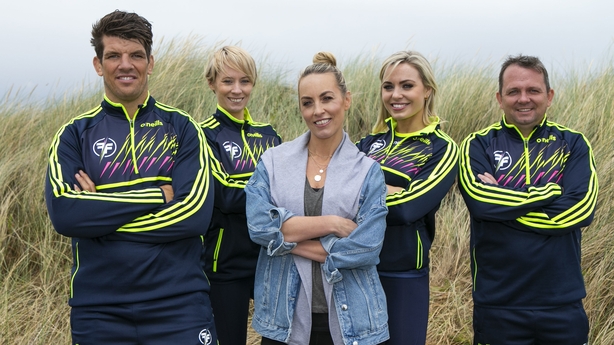 Four years on the show hasn't made it any easier for Anna when one of her families are eliminated. "When your families go out when you see how much work they've put in behind the scenes and when they come up short. I know, as a sportsperson, what that feels like: when you're all geared up and prepared, but it just doesn't happen for you. That breaks my heart because they get so upset."
One of Anna's favourite parts of the show, however, is seeing the range of incredible ability across so many generations and family dynamics. With the first ever grandparent contestant on the show this year, Ireland's Fittest Family is becoming ever more diverse, and the message it sends is one of empowerment.
"I'm an advocate of fitness and health, full stop and regardless of whether that's for a 14 year old girl or a 60 year old man, my focus is on getting people to understand that fitness never stops."
As a female professional athlete, Anna is particularly focused on empowering young girls through sport and says the strong female role models the show provides is astounding. "Ireland's Fittest Family is the best show for that because it shows women of all ages, all sizes, all shapes, backgrounds and fitness levels doing it for their families. And I think that sends a subliminal message to young boys watching ... that there's no difference between men and women."
For families thinking of applying for the next season, Anna says that small steps and becoming an all-rounder is the smartest strategy. "The nature of Ireland's Fittest Family means you don't know what you're going to be tested in. You need a bit of everything", she says.
Her top tip is to work on becoming a "jack of all trades and master of none", but with possible one skill that wows and compliments those of your teammates. And if you're serious about taking part, find ways to test yourself and your fitness now. 
We need your consent to load this Instagram contentWe use Instagram to manage extra content that can set cookies on your device and collect data about your activity. Please review their details and accept them to load the content.Manage Preferences
Because of the nature of the show, we know that families taking part are extraordinarily fit, so Anna and her fellow coaches are increasingly looking for contestants who are mentally fit and adventurous. 
It's a daunting challenge all the same, and none more so for the coaches. Anna says that in her four years, her biggest learning point has been acknowledging her abilities and skills and growing more self-confident. "It's human nature to doubt yourself, especially in an environment you're not used to", she says. "But then you just have to back yourself and you're there for a reason."
This could just as easily apply to the families she coaches. When it comes to becoming more confident, she says it's down to "embracing what you know and accepting what you don't know and then filling in the gaps by asking other people, and not be afraid or see it as a sign of weakness, to ask for help".
"Yes, it is going to be tough, yes, there's going to be a significant amount of training involved but it's one of the best experiences you'll ever have as a family."
Ireland's Fittest Family airs every Sunday at 6.30pm on RTÉ One.