Like a bodybuilder adding ever more weights to their barbells, Ireland's Fittest Family returns to our screens with even more ambition, power and, inevitably, effort.
With new presenter Kathryn Thomas joining coaches Anna Geary, Davy Fitzgerald, Donncha O'Callaghan and Derval O'Rourke, and with a new course designed by the ATS Team - those behind The Biggest Loser - this season is sure to be even more challenging, gruelling and ultimately rewarding for the 20 families taking place, as well as those of us at home watching from the comfort of our couches!
In tonight's episode, families will kick off the show with an epic 2km race, with teams tied together and tasked with navigating the Dollymount Strand course. Next, they must traverse a beam 33ft in the air and collect flags. Finally, the coaches face off in their own race to bag the best teams for themselves.
Ahead of the show airing this evening at 6:30pm on RTÉ One, let us introduce you to the 20 daring families that will brave the elements, the course and the coaches over the next few weeks.
The Cartys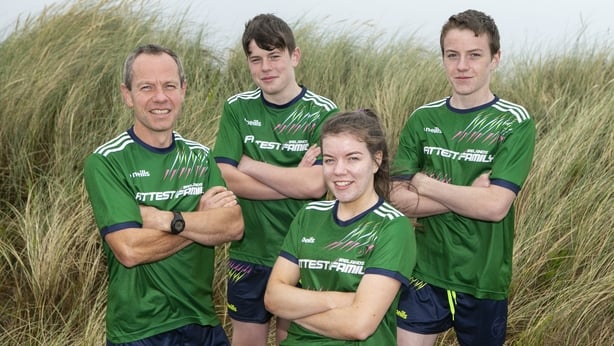 As the first-ever Sligo family to take part in the show, the Cartys are also this year's youngest family. Father Bill (47) has a proven track record when it comes to fitness, having played Gaelic football and soccer up to two years ago. He also captained Sligo minor and U21 teams in previous years, and if this wasn't enough, he's recently taken up running, completing a half marathon in 1.28.43. He's also the Chairman of Cloonacool GAA club, Sligo GAA CCC, is part of the Sligo U16 and minor development panel management and manages to get a bit of farming done alongside National School teaching. Phew.
Alongside him will be his daughter Tara (17), who plays basketball, football and athletics; son Eoin (16), who favours football, soccer and athletics and is a member of the Sligo U16 development panel; and son Liam (14), who plays football, soccer and is a member of the Sligo U15 development panel.
The Coneys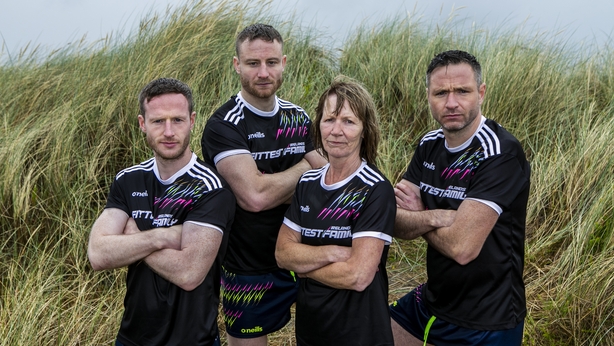 Another first, the Coneys are the first Tyrone family to take part in the show, and also the oldest family in this season. Mother Colette (59), works as a shop assistant and keeps active by running two-three times a week, as well as by taking part in 5k park runs. As well as this, she gets a great workout by running after her 11 grandchildren!
Her three sons will compete alongside her. Shane (39) is a welder, and also has three kids of his own to run after but has managed to complete both the Belfast and Derry marathons in under three hours. Gary (37) works as a mortgage adviser and plays for his local Gaelic and soccer teams with his brother Paul (28), who works in a factory and is engaged with two children.
The Dunnes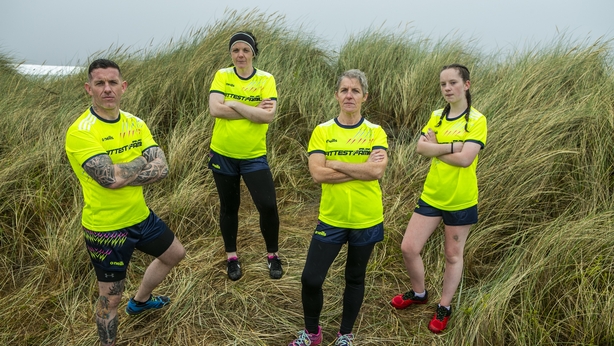 An unusual family dynamic makes for a dynamic team when it comes to the Dunnes from Louth. Mother Dolores trains in the gym every day with her son Chris (33), who owns his own gym in Duleek and does Brazilian Jiu Jitsu with his daughter, Abbie (14). Abbie herself also plays GAA around schoolwork and whatever else.
The gym is a true family affair, and clearly benefits them all. Dolores' daughter Melissa used to be overweight but over the past four years has shed a lot of weight. Since Chris opened his gym, she's really taken to training as well.
The Finnegans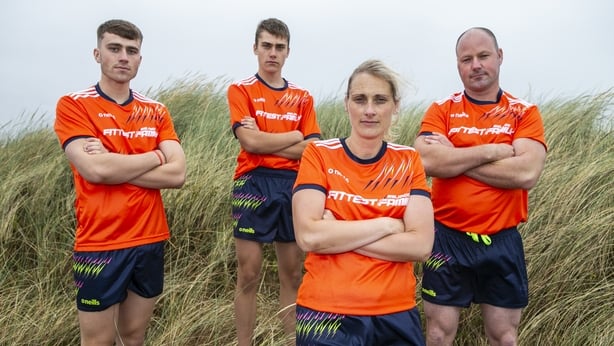 One of two families from Cork taking part this year, the Finnegans are also going up against relatives the Finnegan Hogans, which must make for some seriously competitive banter over the dinner table! Father John (41) is a keen adventure racer with his wife, and loves cycling and running. His daughter Nicola (38), shares the same passions as him, but also trains to keep fit.
John's two sons will also be taking part. Adam (21) is currently in CIT studying pharmaceutical engineering and played with Cork football from U14 to minor. Meanwhile, Aaron (15) is heading into Transition Year and loves playing football for his local club Ballyclough. He's best friends with his cousin Dylan on the opposing team.
The Finnegan Hogans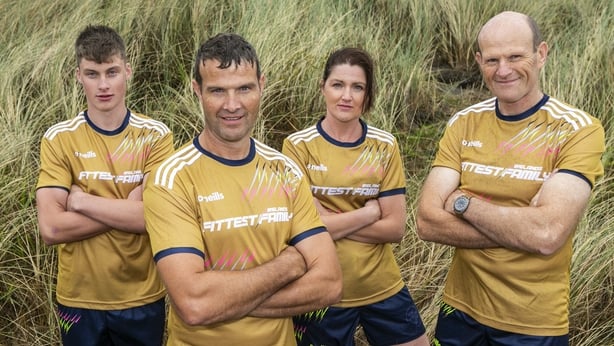 The Finnegan Hogans' make Ireland's Fittest Family history in this season, with the oldest contestant on their team at 63. Grandfather Martin (63) is a tug-o-war competitor with his son, Paul (41), who is a builder by trade but also does cycling and kayaking.
Paul's wife Louise (36) works as a hairdresser and is a sister to John Finnegan on the opposing team. Paul and Louise's son Dylan (17) has just finished Transition Year and plays GAA for his local team.
The Flynns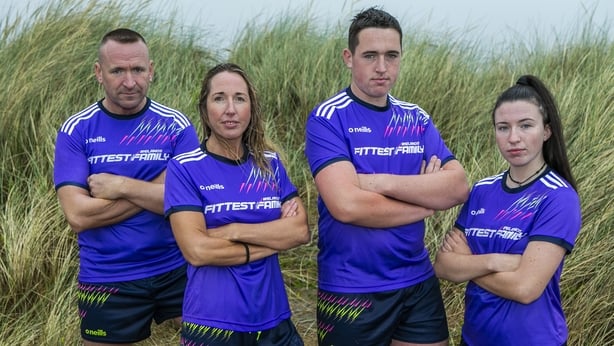 As only the second family from Galway to take part in the show, the Flynns will have a strong backing back home. Father Julien (44) is a devotee of CrossFit and any and all kinds of weight training. As someone who can never sit still, he loves a bit of cardio, too. His wife Emma (43) also loves the CrossFit and gym but loves all kinds of exercise, not to mention the busy schedule of a mother-of-five.
Their daughter Laura (16) is a club and county footballer fo rthe Galway U16 and when she's not training, she can usually be found in the gym. Her brother Jonathon (15) is a rugby and hurling nut who spends his days practicing his pucking and kicking.
The Furlongs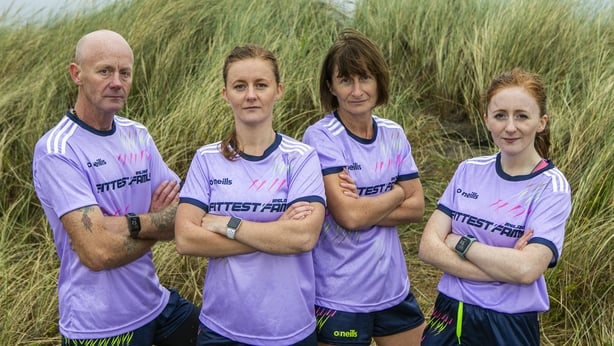 A fun-loving family, the Furlongs are well used to racing together and hope to put that expertise to play on the course. Father Alan (56) loves running and gardening now that he's retired, but in the past he played hurling. He's also a huge fan of his motorbike so going fast is practically a pastime!
His wife Kate (56) also loves running and walking, but when she wants to wind down it's Reiki she goes for, not motorbikes.
Their daughter Leonie (26) lives in Galway and works as a Chartered Accountant. She gets her fitness in by running and playing football, while her sister Orlaith (25) is in her final year of studying for her PhD in nutrition. She's an admitted gym junkie and loves water sports.
The Jones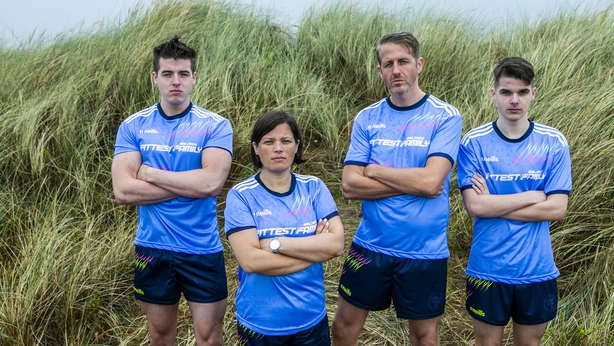 Hailing from Tallaght in Dublin, and with a body-building son and a MMA-fighting son, the Jones mean business. Father Paul (42) owns his own car valeting business, coaches an U16 football club and sings in a band, while he keeps fit by running.
Mother Simone (38) is an educational psychologist who works with children with disability. She loves going to the gym, but in the past she played football in her schoolgirls league and tried any sport she could before she got pregnant. A pelvic injury during her second pregnancy took ten years to recover, but now she's back in shape and also sings in a choir.
Their son Dylan (20) is a second-year computer science student in Maynooth and goes to the gym no less than twice a day. As well as being a body builder, he has an interest in fixing motorbikes. His brother Owen (16) has just finished Transition Year, plays football in the club his dad coaches and trains in MMA with Paddy Holahan in SBG, Dublin 24.
The Lallys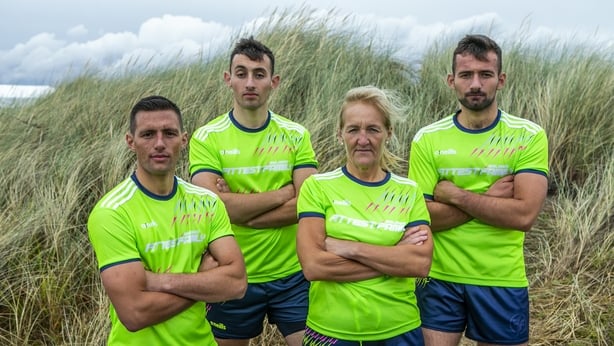 A soccer-mad family from North Dublin, the Lallys have three sons who all work as postmen and plan to deliver on the course! Mother Susan (55) works as a bookkeeper and is extremely active in her community. A boxercise fan, she attends 3-4 times per week and cycles or jogs on alternative days.
Her son Keith (27) has worked as a postman for nine years and is just back a year of travelling. He plays soccer for his local club.
His brother Stephen (21) is studying pharmacy in Bradford University and has just started fourth year. He also plays soccer for the local club, while other brother David (18) has just completed the Leaving Cert and has taken up rugby.
The Lawlors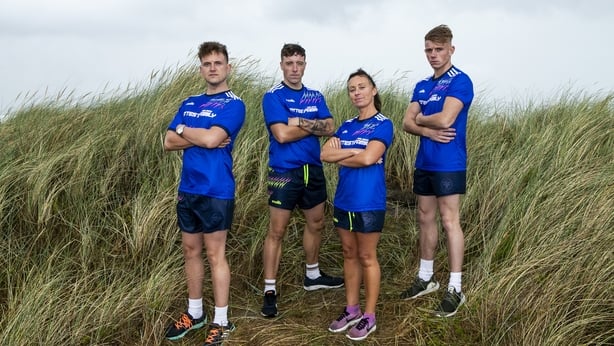 From Limerick, the Lawlors have a passion for hunting, and hope their outdoor expertise will give them the leg up on the competition. Mother Dympna (46) works in health and safety and is a keen runner and runs everything from half marathons to marathons and 10k runs.
Her son Jonah (26) works in a medical device company which, ironically, makes implants such as knees and hip bone cement. A gym devotee, he loves fishing, shooting and anything to do with the wild.
His brother Matthew (22) is still in college studying product design in UL, while Darren (21) is a qualified barber and is doing an apprenticeship in metal fabrication. He plays soccer, goes to the gym and shares his family's passion for fishing and shooting.
The Leonards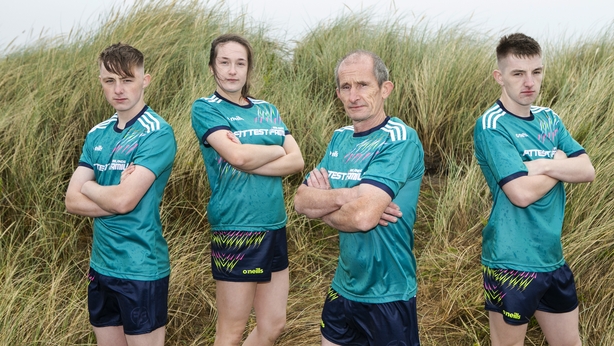 Also from Limerick, the Leonards' passions are hurling and camogie. Father John (57) is a plasterer, but also works as a local firefigher and runs a family business as a licensed driving instructor. In between all of this, he keeps fits by running and going to the gym.
His son Ben (20), is a senior Cappamore hurler and Limerick county footballer. When he's not on the pitch, he's studying accountancy in LIT and working for a statistics company that works on the World Cup.
Son Jack (19) is described as the "messer" of the family, and has just finished his Leaving Cert. He's also a senior hurler in with Cappamore and is soccer-mad. Daughter Amy (17) is in fifth year and a senior camogie player with Cappamore.
The Lipinskis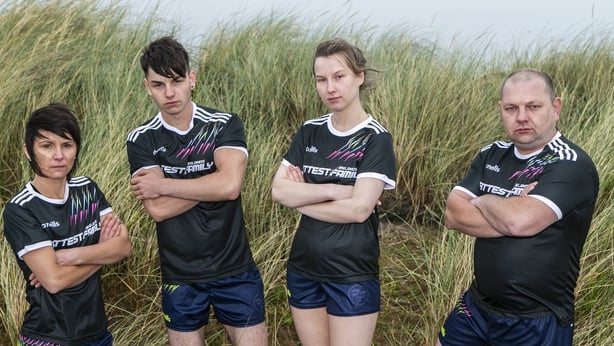 Though they live in Tipperary, the Lipinksis are the first Polish family to take part in Ireland's Fittest Family. Father Darek (43) moved to Ireland 15 years ago and describes himself as naturally strong and fast.
His wife Justyna (40) is also from Poland and works in their local hospital in Tipperary. She keeps fit by going to the gym.
Daughter Daria (19) focused on athletics in school and now goes to their gym a few times a week to stay fit, while son Oskar (17) is an Instagram fitness influencer no less, with 15k followers. He goes to the gym every day and recently left school to pursue his dream of becoming a personal trainer.
The McCarthys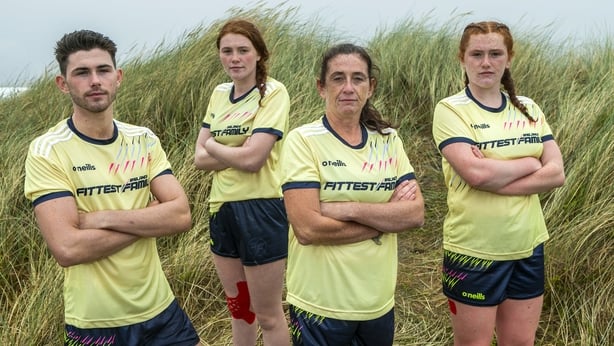 The McCarthys from Dublin are headed by their P.E teacher mother, so now doubt they'll be kept well in check. Emer (48) used to play hockey, badminton an softball but now stays fit by going to the gym. She coaches Gaelic football and teaches swimming as well as her work as a P.E teacher.
Her son Seán (20) played a variety of sports growing up but eventually settled on just Gaelic football, which he plays for Raheny. He's studying languages in DCU and is a qualified lifeguard.
Daughter Caoimhe (17) plays Gaelic football, camogie, cricket and is also doing a course in lifesaving. Her passion is acting, and has performed in the Helix, BordGais and the Three Arena. Her sister Aoibhín (14) plays the same sports as Caoimhe but is also on the Dublin U15 development team for Gaelic football.
The McDonalds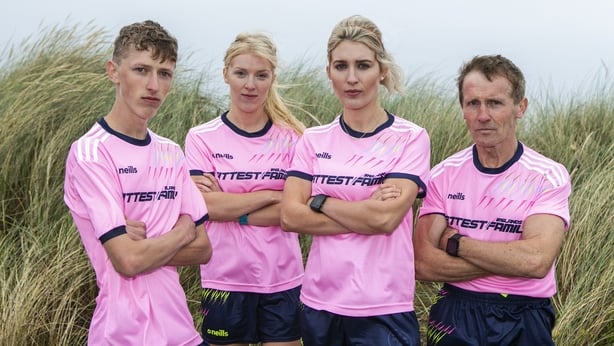 From Laois, the McDonalds are a seriously sporty family and have the medals to prove it, having won several for cross-country and road-racing. Father Martin (61), who works as a farmer, has represented Ireland many times in sport, came 2nd in the World Mountain Running Championships O60s twice, as well as several All Ireland Medals at track, cross-country, and road.
His daughter Breda (25) is a secondary school teacher, while her sister KAte (23) studied psychology. Both also represented Ireland at Mountain Running.
Their brother Cian (17) is a fifth-year secondary school student and also got the sport bug from his father, having represented Ireland several times at mountain running. He also runs cross-country, track, road and mountain running.
The McDonnells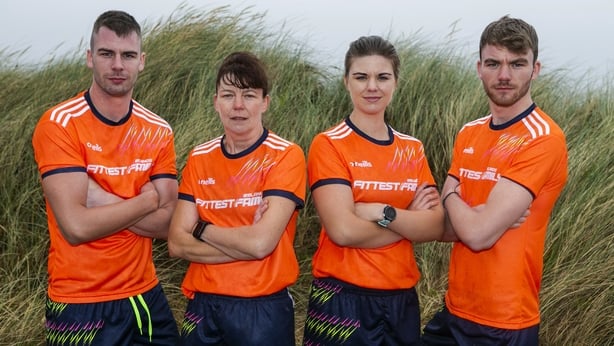 From Mayo, the McDonnells are a farming family and hope the strength needed in that business will stand to them on the course. Mother Marcella (51) loves the outdoors, taking time to run, cycle and swim when she can. She recently ran the Cork marathon alongside her daughter Ciara (25), who works for the Young Farmers Association and regularly runs and goes to the gym to keep fit.
Sons Stephen (24) and Patrick (20) both play for Kitimagh football team, while Stephen works for Irish Water and Patrick studies pharmacy in college.
The McLoughlins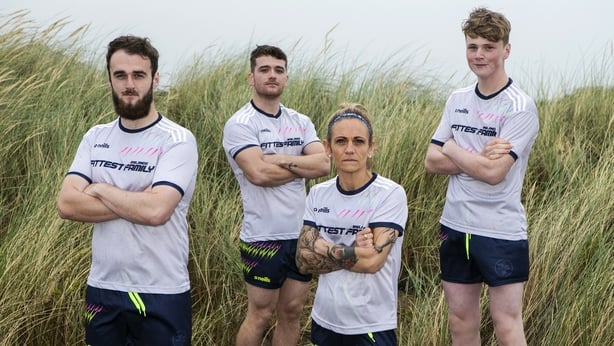 Hailing from Kildare, mother Orla (43) is a mother of eight boys so well used to running around after people and working with her family! She trains in her local gym to keep fit.
Her son Ryan (24) is also very keen on fitness, as well as a singer/songwriter who was once a member of Louis Walsh's boyband HomeTown.
His brother Conor (22) may look imposing at 6'4" but he's a real gentle giant and works with people with disabilities. Don't be fooled, though: he does have great strength. Danny (16) is still in school and loves his soccer and GAA.
The Pierses
From Kerry, the Pierses are making a bid for a win for the Kingdom. Father Riobard (50) works as a solicitor and is a keen runner, focusing on 5ks. He also co-founded the Listowel park run and is the manager of Cliona's Listowel Emmets u16 ladies team.
His son Oran (20) became the U18 Munster Cycling Champion in 2016. Has also won the Senior Kerry Road Race League and raced internationally for the Munster Team.
His brother Ciarán (18) Plays Gaelic football with UL freshers team and Listowel Emmets seniors. A good leader himself, he captained Listowel to victory in the minor county league in 2017 and has played in two All-Ireland finals in the community games. Cliona (15) does one better, having taken part in the All-Ireland community games finals five years in a row in athletics, Gaelic football, soccer and futsal twice. She also plays soccer with the Listowel Celtic team.
The Rooneys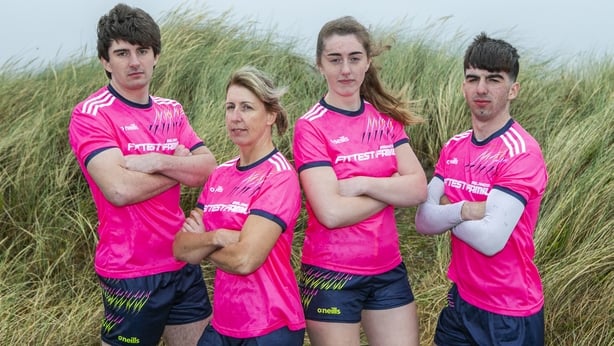 True all-rounders, the Rooneys from Donegal enjoy every kind of sport from kayaking to football. Mother Eleanor (53) is an ultra-cyclist and has tackled courses the world over. Her son Oisin (20) is a county footballer and hurler with three All Ireland Medals, daughter Méabh (19) is a lifeguard, triathlete and Gaelic footballer and Senan (16) is a county minor footballer and hurler.
The Ryans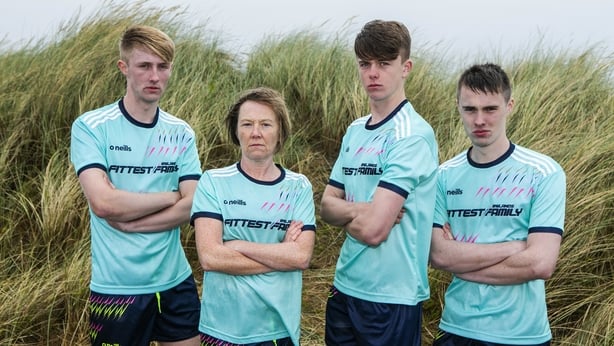 From Dublin, the Ryan family certainly have height on their side. Mother Laura (51) is a mother-of-four, with her three sons making up the rest of her team. An avid walker, Laura often takes part in park runs as well as heavier boot camps to keep fit.
Her son Luke (20) used to play football before giving it up, and now works as an engineer, while Adam (17) is a gym fanatic just out of fifth year in secondary school. He's also keen on soccer and GAA. Finally, Daniel (16) is a complete all-rounder, with immense stamina and the de facto leader of the team.
The Sinnotts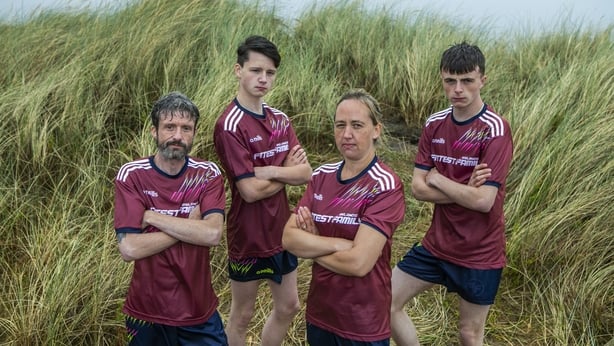 Coming from Wexford, gymnastics and parkour-loving family, the Sinnotts are in it to win it! Father James (45) runs his own printing company and stays fit by going to the gym. Lyndsey (35) is the mother to their six children and keeps fit by running around after them! She loves walking and trying out different fitness classes, as well.
Their son Jordan (16) is in Transition Year and trains in gymnastics. Even more ambitiously, he loves doing parkour, not something you come across often. His brother Nile (15) has just finished his Junior Cert and loves parkour like Jordan. He also loves going to the gym.
Ireland's Fittest Family airs every Sunday at 6.30pm on RTÉ One, starting tonight.