Karen O'Donohoe, Head of Community Development at GIY (Grow It Yourself), is passionate about her job. From presenting RTÉ's Grow It Yourself to founding The Cottage Market - a community-led market initiative - the Cork native strives to empower micro enterprises and promote communities to create their own success stories.
Essentially, she's a gardening Wonder Woman.
We caught up with Karen to find out more about her impressive career and how people can start growing their own food in autumn.
What inspired your interest in growing your own fruit and veg?
Some key childhood memories are picking parsley from my Granny's herb garden outside her kitchen in Galway and hanging out with my Papa in his glasshouse in Cork growing tomatoes so it definitely started there but it wasn't until I started a GIY Group and a community allotment a few years later that I fully got the growing bug.
I was oddly fearful of growing food because I was convinced I was going to fail at it or that is was not for someone like me – whatever 'someone like me' means. But once I got over that roadblock and experienced the simple joy and satisfaction of sowing a seed, watching it grow to harvest and then eating the fruit/vegetable, oftentimes fresh from the vine or bed, I was hooked.
I did a Masters in Public Health at the University of Bristol and fully understood the importance of eating good, nutritious food for physical and mental health and well being but growing food for my children and I put theory into practice and made me re-evaluate how I think about food – how it's produced, who produced it and how can I make better choices around it.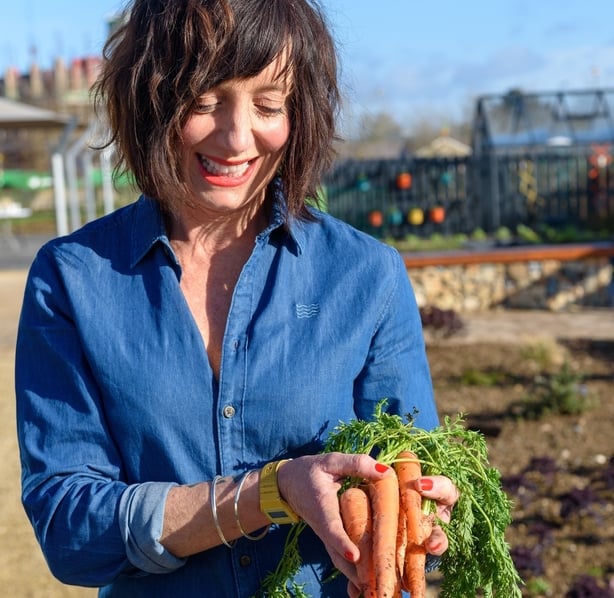 What are 3 benefits you've experienced since beginning to grow your own?
1. Without a doubt, the community allotment. It gave me a purpose and a place when I felt very lost after returning to Ireland from the UK. Through it, I have met the most amazing people who are now my friends.
Today, it's still a lovely green space for my kids and me to head to for an hour or two – we even camped overnight during the summer! Sometimes I get loads done, and other times barely a bit but at least we're outdoors and active.
2. I have become far more food conscious and by that I mean I appreciate food more rather than watching what I eat in a limiting way - I really value seasonal, local, chemical-free food and am happy to pay more for it because, as the fella said, you get what you pay for!
My shopping habits have completely changed and I feel that I shop more by choice than by habit - food miles, food packaging, seasonality, food provenance, free range etc. all influence my food choices now and so I'm living more sustainably. There's more I can do and I'm working on it but it's about progress, not perfection.
3. I know the true taste of homegrown food and my taste buds are eternally grateful for that! I'm not a 'foodie' and would fail most taste tests but through growing some of my own food I have a better appreciation of the distinct flavours and smells of really good food be it sourdough bread, olive oil, cheese, fruit or vegetables and I know that's the quality that my children and I deserve because our physical and mental health depends on it.
Top tips for someone who wishes to start growing their own but doesn't know where to start?
Grow what you like to eat – no point in giving precious time and space to something you hate!
Keep it simple – go for easy, low maintenance varieties – spuds, herbs, salads, chillis, beetroot – all of which can be grown in containers or in the ground so, grow as much as you can wherever you can
It's all about the soil - whether you use bags of compost or get a tonne of topsoil delivered make sure it's the right soil for the job and full of nutrients – if it's not (like the soil in my raised beds right now!) then you can replenish with seaweed, horse manure, chicken manure, compost etc. but get the soil right and the rest will follow
Ask for help - find a local community food growing project and join or ask them for some advice – growers love to share their experience and you may well get a few seeds or plants to get you growing!
Just give it a go – worst case scenario you end up throwing a few things on the compost heap or in your brown bin, most likely scenario you'll be harvesting and eating delicious homegrown food from your windowsill/balcony/garden/allotment and wondering why you didn't grow sooner.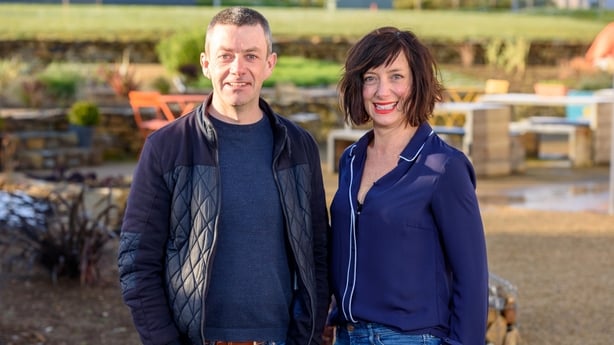 If someone is starting in autumn, what should they be sowing?
I'd be an awful eejit not to take full advantage of working alongside Michael Kelly and so I generally follow (copy!) his growing plan:
Michael Kelly's Top 5 Things to Grow in Autumn:
Garlic
When I started to grow first I was surprised to find that garlic actually needs cold weather to grow well. It needs a prolonged spell of 4-6 weeks in soil where temperatures are less than 5 degrees Celsius. This can make spring sowing problematic, particularly if it's a mild spring.
For best results, sow it before Christmas. I generally sow mine in October to give it a chance to establish itself before the real cold sets in. It will spend 7-8 months in the soil before being harvested in June.
Sowing garlic couldn't be easier. Simply break up a garlic bulb and plant the individual cloves so that the tip is about 1cm below the surface of the soil. Put the cloves 10-12cm apart in rows 30cm apart.I generally top dress the soil with a good cover of compost too to feed the soil and the garlic.
Broad Beans
Broad beans can be sown in the spring, but I always sow mine pre-Christmas to get an earlier crop the following year. I find broad beans most useful if they arrive in May, about a month before the peas and French beans. Over-wintered broad beans are also less susceptible to blackfly (aphid). They also look amazing in the winter garden when there is very little else growing.
Broad beans are really easy to grow - simply push a bean down in the soil and it will grow into a plant about 4ft tall that will produce hundreds of pods. Use overwintering varieties such as Aquadulce Claudia. Sow in October, direct in the soil 5cm deep, 15cm apart in rows 45cm apart.
Carrots
I generally do a sowing of carrots in the polytunnel in the autumn (September or October), using an early variety of carrots such as Amsterdam Forcing or Early Nantes. They will take up to three weeks to germinate and will then do very little for the winter months, before bursting into life in the spring. They should be ready to eat as baby carrots in May.
Sow seeds thickly in shallow drills (about 2cm deep) leaving 20cm between rows. You might need to protect seedlings from slugs as they emerge (though slugs are less active in winter). Thin the carrot seedlings to 5cm apart when they are large enough to handle.
Baby Turnips
Quick growing baby turnips such as Snowball or Milan Purple Top are incredibly quick growing and delicious. They have white flesh and a completely different flavour to the yellow standard 'turnip' which is actually a Swede. Because they are so quick growing and relatively hardy, they are great for late season sowing.
I always do a small sowing of these turnips maybe once a month from August to October outside in the veg patch and they are usually ready to eat within 5-6 weeks or so. Sow directly in a shallow drill in rows 30cm apart and then thin to 10cm apart. Harvest the turnips when they are approx. 10cm diameter. The leaves of the thinned seedlings are edible in salads.
Salad Leaves
If you are lucky enough to have a polytunnel or greenhouse you can enjoy salad leaves right through the winter and into the new year. The trick is to take the broadest possible definition of the word 'salad' and use varieties that can withstand the cold weather (normal lettuce just won't cut it). So instead opt for winter varieties of lettuce, oriental greens such as mizuna and red mustard, claytonia, chervil and lamb's lettuce (corn salad).
I also do sowings of spinach, chard and kale which I will use as baby leaves in salads. You can also try a sowing of coriander, dill and chervil. I generally try to get all of these sown by mid-September, but you might get away with it right into October depending on the weather.
I am a particular fan of Claytonia (also called Miner's Lettuce - so called because it was valued by miners in South America for its vitamin C content). It's a delicious, succulent, almost meaty and vibrantly green salad leaf that will withstand even the toughest winter.
Perpetual spinach is another brilliant performer in the winter garden – tough as old boots and incredibly productive. Not quite as tender as the lovely small annual spinach leaves, but great for cooking.
I sow the following in module trays to be transplanted into the tunnel later:
Claytonia, chervil, corn salad, coriander, dill, perpetual spinach.
I direct sow the following in the tunnel:
Chard, kale, annual spinach, oriental greens (mustard red frills and mizuna)
If you don't have a covered growing space, you can still sow salads in containers or window boxes inside the house.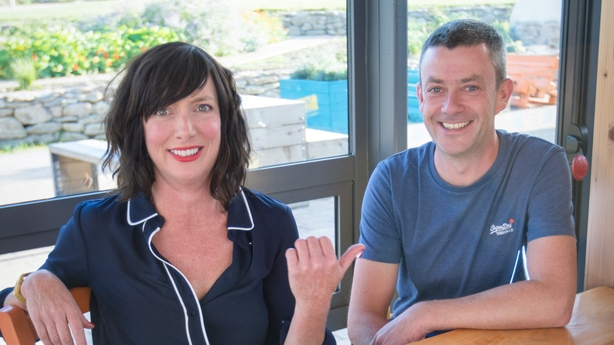 In terms of sustainability, how important is growing your own organic food?
I am fully committed to growing without chemicals but can't honestly say I grow 100% organically because the compost or feeds I use isn't always organic. The use of chemical pesticides is having a disastrous effect on our soil, water, wildlife and of course people because we're consuming them through the food grown with them.
We have become so accustomed to being able to buy whatever food we want whenever we want it that we don't stop to think about how that food was produced or the consequences of that production system. Food production on a massive scale puts profit before people and planet so those companies put whatever they need to into the ground or on the plant to make it grow as fast as it can as cheaply as possible without any regard for the environmental impact those chemicals are having.
By choosing to grow organically or at least chemical free and to support organic/chemical free producers we are reducing demand for the other and so supply will adjust accordingly. We have more power than we realise to affect change but we need to stop waiting for someone else to do it and be the change ourselves.
What are the biggest misconceptions you've heard from people about growing your own?
The three biggest obstacles people have, or at least they think they have, to growing food are lack of time, space and knowledge – as with everything it's all about priorities and practicalities.
If you want to do something enough you will find the time and sowing seeds can take as little as 5 minutes.
If you want rows and rows of a particular veg then for sure that requires more time but you could sow a bulb of garlic or some chitted potatoes in no time.
The amount of space you have available will determine what you can grow and how much of it but you'd be amazed what you can produce from a window box or grow bag – choose a veg that suits the space and be creative – grow up walls and railings or in hanging baskets!
As for know-how? Ask a grower, check out a website, read a book, go on a course, watch the show – there's a wealth of information out there and trust me, if I can do it anyone can!
For any further information on Karen or GIY, you can visit the website by clicking here.