On 6 October, a mother tweeted her love for her navy vet son, lamenting that he won't "solo date" because of the culture of false allegations. A few days later, his reply voices support for #MeToo, if not for his mother.
It's perhaps the most perplexing part of our culture today that a meme can trigger discussions so vast, frenzied and far-reaching that they actually contribute some way to larger, political narratives. But here we are.
Last week, one woman in Florida earned herself the dual title of Most Adoring and Most Mortifying Mammy when she tweeted her love for her Navy vet son, Pieter Hanson, something she does very often, it seems.
This tweet was different, lamenting as it did how her beloved son will not go on "solo dates" due to "the current climate of false sexual accusations by radical feminists with an axe to grind". With the hashtag #HimToo tacked on - dangerous, potentially life-ending territory here - she waded into a discussion with a history as complex as its present is volatile.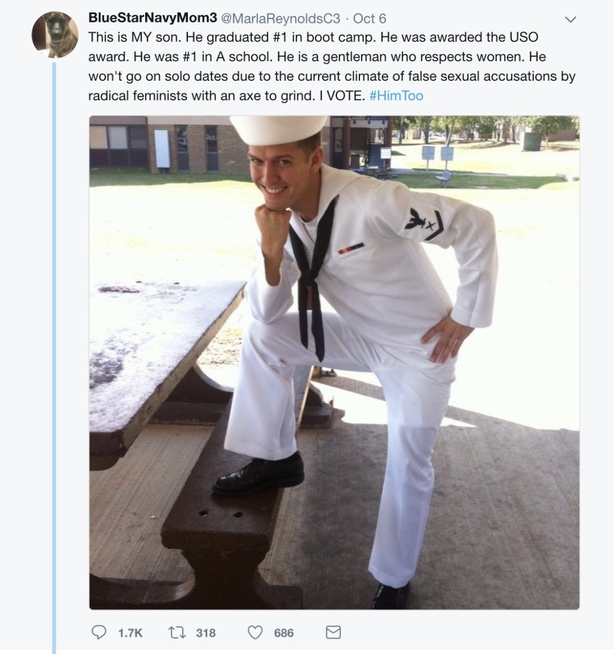 This was only made worse by the frankly ridiculous photo she chose of him - posing in his Navy uniform, beaming into the camera with his fist perched under his chin like an extra from a Shirley Temple movie. Essentially, this proves that whatever your mam finds cutest about you is unlikely to be what potential partners will find cutest.
The tweet went viral, with hundreds, if not thousands, of parodies springing up. Many fiercely criticised the woman, many empathised and shared their concerns.
Pieter was horrified.
Such was his embarrassment, Pieter made his first ever Twitter account - using the excellent handle @Thatwasmymom - to clear the air.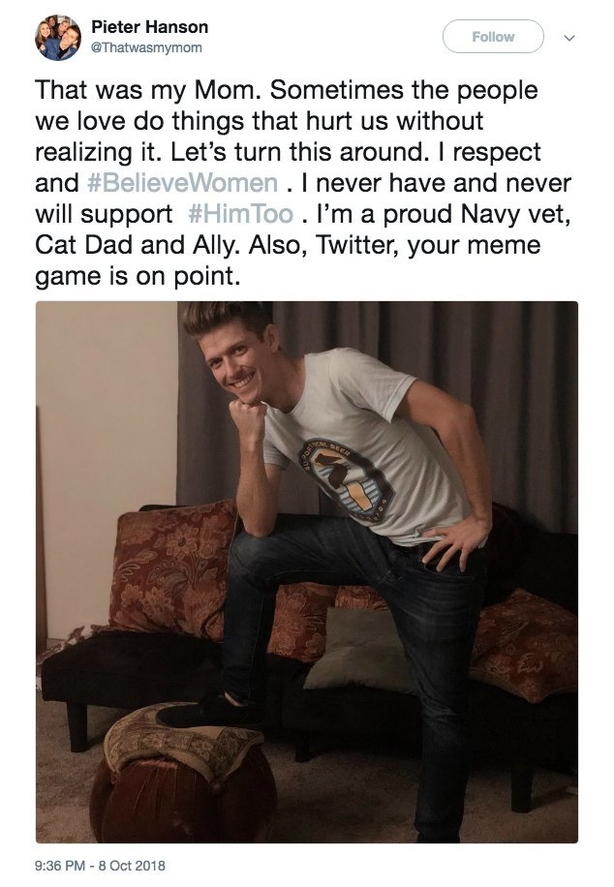 "That was my mom. Sometimes the people we love do things that hurt us without realizing it. Let's turn this around. I respect and #BelieveWomen. I never have and never will support #HimToo. I'm a proud Navy vet, Cat Dad and Ally. Also, Twitter, your meme game is on point", he wrote.
And for the record, he's not afraid to "solo date". His mother plays fast and loose with truth, it seems. How very 2018.
What is #HimToo? A political maze, it seems, having morphed from representing one end of the political spectrum - as a branch of the #MeToo movement - to the other - defending men against the perceived rising tide of false accusations of assault towards men, spurred on by the Brett Kavanaugh Supreme Court hearings in the US.
As WIRED explained, #HimToo started three years ago as a wholesome way to refer to a partner or important male figure in your life and also reappeared during the 2016 US elections, co-opted by the Democrats (to voice support for Tim Kaine) and Republicans (to call for Barack Obama to be locked up with Hillary Clinton) alike.
By 2017, it had fully entered the #MeToo discussion, here referring to men who had been sexually assaulted. In the following wave of outrage and action, it became a way of highlighting other predators, a tag for the many "name and shame" lists that circulated the web.
In the wake of the Supreme Court hearings, men's rights activists have hijacked the hashtag to spread misinformation about false sexual assault allegations and to warn parents, presumably, about the dangers of being a young man in the world today.
Enter poor Mrs Hanson.
While the New York Times reported that Pieter hadn't spoken to his mother as of yesterday morning, we hear they've made up and are trying to see the funny side of things.
"I forgive my mother. Her and I caught up a couple hours ago. She didn't intend it that way and was mortified I'd disown her. Which is silly! She's mom!" he told NBC.
While we're here, we picked out the best MY SON parodies, because this is one of the funniest cultural memes we've ever seen...
A spicy boy
This is MY son. He graduated #1 from the University of Flavortown. He was awarded three banging fajita poppers. He was #1 in flamin' hot crunch. He won't go on solo dates due to the current climate of false accusations of taking the last slice of pizza. I VOTE. #HimToo pic.twitter.com/4DY151a2W7

— Mike Drucker (@MikeDrucker) October 9, 2018
When your son just isn't like any other boy
This is MY son. He graduated 1st in his drawing class. He respects women & has a keen sixth sense. He doesn't go on solo dates with women because he doesn't know if they're alive or not. I VOTE.#HimToo pic.twitter.com/smyGUPK8Rv

— Simar (@sahluwal) October 9, 2018
My son's an old-fashioned kind of guy
This is my son. He's a good boy & a representation of the zodiacal division of the human body & of the harmony of macro & microcosm. He won't go on solo dates anymore b/c he's a symbol & also is worried he'll be asked to put clothes on in public by unreasonable feminists. #HimToo pic.twitter.com/7IVkdEktQQ

— Dr Eleanor Janega (@GoingMedieval) October 9, 2018
My literal sun, moon and stars
This is my sun. It won't go on dates with girls because it's a giant mass of incandescent gas and therefore too hot to handle. #HimToo pic.twitter.com/eEzBYG3Hws

— Qasim Rashid, Esq. (@MuslimIQ) October 8, 2018
Hate it when my son is misunderstood
This is My son, Michael. He had to be institutionalized because of a simple misunderstanding with his sister Judith and therefore did not get to go to A school. He is afraid to date women in today's current climate because he will probably kill them.#HimToo pic.twitter.com/VZZmXzCWqa

— IPinotWhatYouDidLastSummer (@PinotYouDidnt) October 9, 2018
The son of the future
This is MY son. He graduated #1 from the University of Tannhäuser Gate. He was awarded three c-beams. He was #1 in murder. He won't go on solo dates due to the current climate of false accusations of wanting more life, father. I VOTE. #HimToo pic.twitter.com/PuL01b1Fzc

— Duncan Jones (@ManMadeMoon) October 9, 2018
The best boy
This is my son. He's never gonna give you up. He's never gonna let you down. He's never gonna run around and desert you. He's never gonna make you cry. He's never gonna say goodbye. He's never gonna tell a lie and hurt you. #HimToo pic.twitter.com/uZsEDaeTlo

— C0MRAD3 CAT 🌹 🇲🇽 (@c0mrad3cat) October 9, 2018