When Simone George noticed that the man ahead of her in the coffee shop queue had dropped his coins, she picked them up and handed them to him, wondering if he was the guy her friend had talked about, the blind man who was also a competitive rower and adventurer. But she didn't ask. It would have been rude.
As she told Ryan Tubridy, it would have been a bit "are you the blind guy who rows or just another blind guy?". The pair would meet again.
Explorer Mark Pollock and fiancée Human Rights lawyer Simone George joined Ryan Tubridy this morning to talk about the release of their Ted talk, A Love Letter to Realism in a Time of Grief.
The publicity of a Ted talk is not alien to Mark. Despite losing his sight towards the end of his time at University, he continued to be a competitive rower and graduated to more extreme feats of physicality, like trekking the South Pole.
"That desire to compete got me back in a boat going rowing again."
Mark told Ryan that he came back from the South Pole "full of the joys of Spring and ready for the next chapter of life". But he couldn't have predicted what that next chapter would bring.
A year after returning from the expedition, Mark suffered an accident. At a party, he fell from a second-floor window.
"My hand found an open space where the closed window should have been".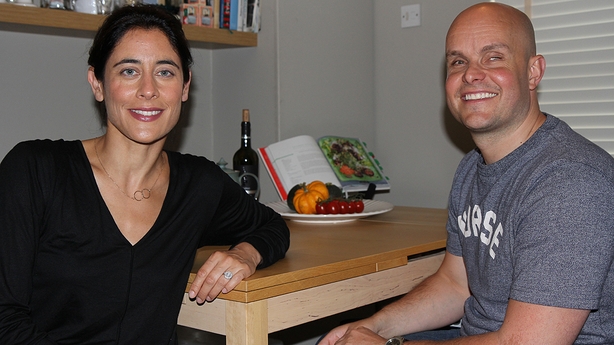 Left with a fractured skull and unable to walk, Mark and Simone played a waiting game to find out the extent of Mark's injuries.
"Together we started this kind of exploration into this unknown world of paralysis."
The instinct was to give Simone permission to leave if she wanted to, Mark explained.
"It felt like I was just lying there in pieces…I just kind of wanted to give her an out…because it happened to me it shouldn't necessarily mean that Simone had to be part of that…I wanted her to stay but this is hard.
"I mean, this is devastating…I just wanted, I think, to give her an out."
While mindful that their type of relationship can be romanticised or fall prey to a "cult of martyrdom", Simone told Ryan that she wanted to stay.
"As if I could go and grab my handbag and get on a Ryanair flight."
The couple favour a Nietzche quote, which Mark had originally quoted to Simone: 'He who has a why to live can bear with almost any how' (from Man's Search for Meaning by Viktor Frankl). This quote seems to have informed both Mark and Simone's attitude towards life.
In an aim to find their 'why', they have become involved in connecting scientists and researchers around the world who are working in the realm of paralysis. Mark is confident about the progress being made: "We believe we can cure paralysis in our lifetime and we're doing it in two ways. One, through exploration and the second, through collaboration.
"So, the exploring piece, I was and am inspired by the Shackletons and Amelia Earharts and all of these people who are pushing boundaries…we're working with the new wave of Shackletons out there."
They are collaborating with other like minded thinkers to make reach their goal.
Watch Mark and Simone's Ted Talk, A Love Letter to Realism in a Time of Grief, below:
Listen to Mark Pollock and Simone George speak with Ryan Tubridy on RTÉ Radio 1 above.