This week, Claire Byrne Live returns to TV ahead of the presidential elections and its host is buzzing with anticipation.
Claire Byrne talks to Donal O'Donoghue about motherhood, media and keeping the show on the road in this week's RTÉ Guide. Get a sneak peek below.
The broadcaster lives in Co Wicklow with her husband, Gerry and their three children, Patrick (4), Jane (3) and Emma (1). She is one of three women among RTÉ's top ten earners.
"I have refused to see gender throughout my career," she says. "I have just operated as a person working in the industry."
But what of others who do see gender? Does that impact?
"Maybe it's the bullish part of me but I just keep on keeping on. I refuse to see those things and if I do see them I just brush them aside and keep going. That's my strategy.
"I believe that the best weapon you can have in this business is to be good in your job and be hard-working and nothing else should matter."
But sometimes it can matter, can't it?
"That hasn't been my experience," she says and the shutters come down.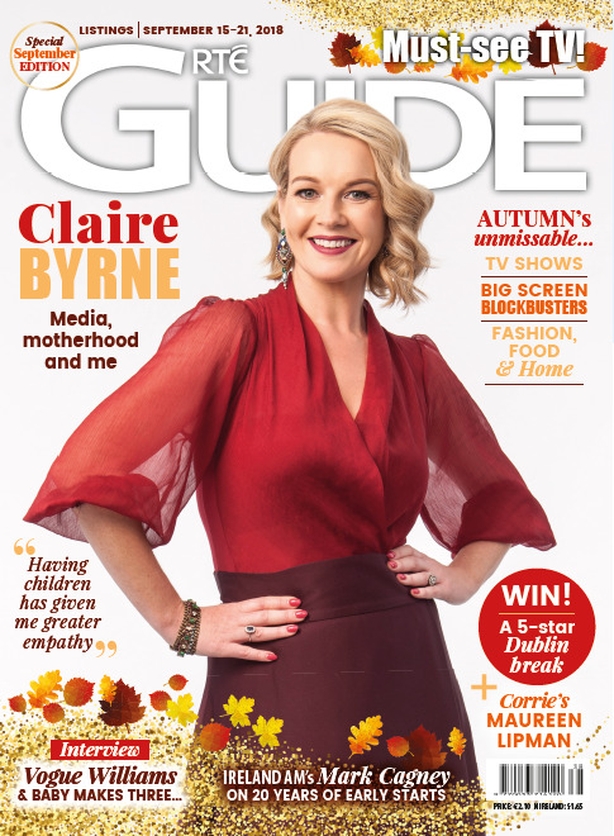 Elsewhere in the RTÉ Guide
Autumn TV Special The big shows and the big stars coming our way on the small screen
Orla Tinsley Darragh McManus previews the documentary on the fearless CF campaigner's life
Vogue Williams Janice Butler chats to the Dublin broadcaster to talk about her remarkable year, personally and professionally
Mark Cagney Andrea Byrne talks to the broadcaster about 20 years of early starts!
Maureen Lipman Julie Lordan catches up with Corrie's latest incumbent; a true veteran of the screen
Coming this autumn Michael Doherty looks ahead to the big movies still to hit our screens in 2018.