Electric Picnic is a foodie's paradise and it gets bigger and better every year. This year's line-up includes a 7-course banquet dinner cooked by Derry Clarke and Clodagh McKenna.
In partnership with Tesco Finest* and in aid of Pieta House and Temple Street Children's Hospital, The Banquet promises not to disappoint any of its diners.
Tickets for the seven-course meal come in at €120 a pop and a limited number are still remaining.
We caught up with Derry Clarke to hear all about the unique dining experience and got to enjoy a sample of what will be on offer over the weekend at Electric Picnic. Watch the interview above.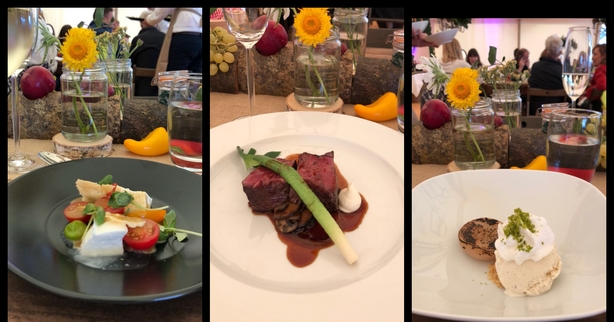 Guests will be treated to a gastronomic dining experience in sumptuous surrounds of Stradbally Estate with five-star silver service at this year's Picnic. Veggies take note, a full vegetarian menu will also available over the weekend.
So what does your €120 golden ticket entitle you to? Derry filled us in.
"Wines* are included with that and drinks beforehand. We're starting with a nice amuse bouche, a grape gazpacho.
"Then we're having a nice cured salmon gravlax and then we're having a tomato and mozzarella salad and then we're having crab and late harvest corn and then west Cork dry aged beef.
"Then roast peach with vanilla ice cream and then to finish off whipped goats cheese with beetroot and orange blossom and then coffee, tea and petit fours. And then go back out to the main stage and dance it off," he laughed.
The dress code for the Ultimate Picnic Banquet is Black Tie come Festival Fabulous – attire will be provided but guests are more than welcome to bring along their Sunday best.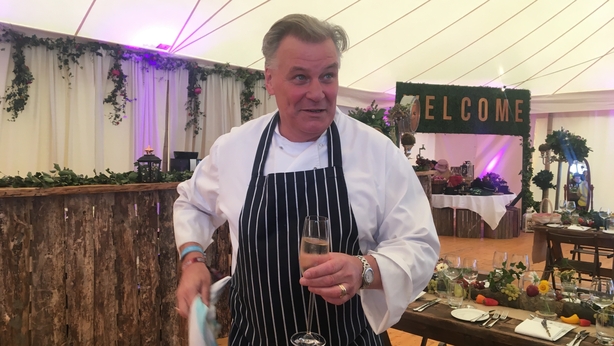 Of course, there's much more on offer for festival foodies this weekend at Electric Picnic. According to Derry, it is a central part of the festival.
"I'm coming to Picnic a long time and the food here is brilliant. I'm old enough to remember going to festivals where the food was pretty crap. You can go this weekend and eat anywhere there's lots of really good food - great stir frys, curries and Asian cuisine."
"There's a great place - Rathmullan House and they do a mega breakfast here. It's organic bacon, free range poached eggs, fresh coffee and fresh orange juice with freshly baked scones. I mean you couldn't get that anywhere else. I mean imagine having that here, 5 star. "
Melvin Benn, Managing Director of Electric Picnic said, "The Banquet is probably the best food you'll ever get with Derry Clarke right in the middle of it. I'd say The Banquet is going to be extraordinary."
"As ever, the food stalls all around the picnic will be offering a fantastic array of food."