In the final edition of Like Family, Brenda Donohue explores the relationship between Irish families and food and how it has changed over the generations.
Brenda began by recalling her own childhood, "When I was a child I spent a lot of time with my Granny Kathleen in Kildare, where she had a small cottage and a big garden backing onto the banks of the canal.
"She grew vegetables and fruit in her garden and cooked a dinner everyday. Everyone sat together, shared a laugh and cleared their plates. The rhythm of her life surrounded growing, cooking and serving family meals. That world has all but vanished," she said.
Brenda's first visit is to Michael, Aileen and their three daughters in rural Wexford. The couple are encouraging their kids to eat well by eating at the kitchen table.
"The kitchen table for us is the centre of where everything happens. We try to have structured times," they told Brenda.
And they encourage their young daughters to cook and bake themselves too. "It's important to get them cooking because then they have an interest in it."
But despite their very best efforts, they have the modern family problem of getting the girls to eat.
"Maybe we weren't strict enough on them when they were smaller." They'll go to their grandparent's house and "they'll eat the spuds 'til the cows come home" - they'll come home and they won't eat them.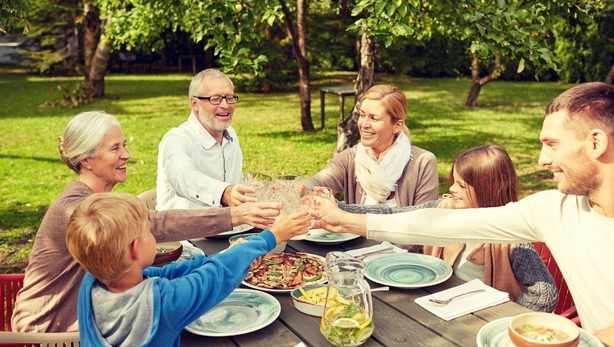 Michael and Aileen aren't alone in their struggle to achieve a single family dinner every day. Next, Brenda meets the Davis family who have two young adults who work and study.
To get the whole family sitting around the kitchen table "wouldn't be the norm" as everyone is working different hours and shift work meaning that the girls don't know their rota "from one week to the next".
Student and part-time worker Kerrie says her dinner is usually, "microwaved and after everyone has eaten." Her sister Aoife also works part-time and so she tends to just stick her dinner in the microwave whenever she's hungry."
Their mother Jennifer is the first to admit, "we're not eating the healthiest. We keep saying we're going to do it... next Monday", she jokes.
"It was much easier when the girls were smaller and their routines were so set, and my work schedule was so set. But I find it harder how with their social lives and friends and work and college and school."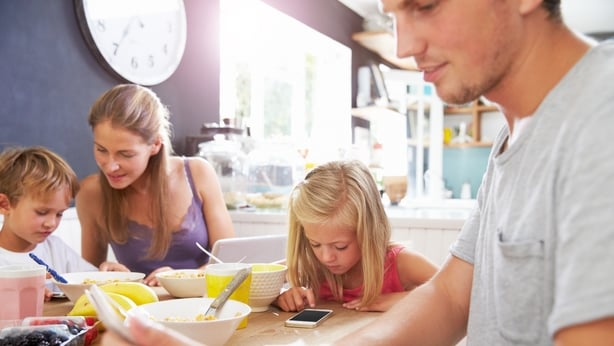 When Jennifer was younger she says they would never have had a takeaway, now it's part of the kid's diet. The girls admit to sometimes getting a takeaway three or four times a week. They don't find Sunday dinner as appealing as spicier foods.
The whole family agree that they don't make enough of an effort to all sit down together with the TV turned off and their phones put away.
But their Father Enda says it's also "a timing thing. Within seven days we couldn't pick a time that suited us all."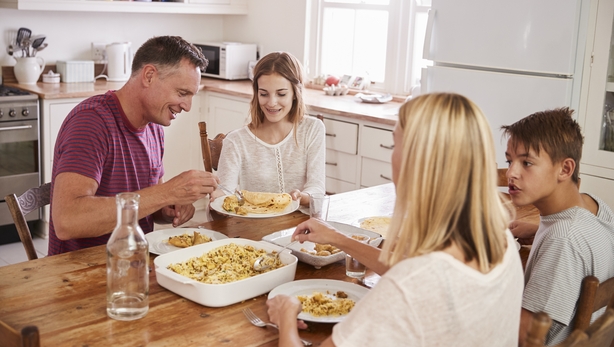 Brenda's next visit involves meeting a community where food "is not just fulfilling needs in the body, it's fulfilling needs in your soul."
"Eating together is the secret ingredient that makes the food served at the Naas Day Care centre so special."
Brenda spoke to Betty who attends the Day Care Centre twice weekly. She says she's "a new person since being invited to the centre."
As a mother of ten children, she recalls meal times when her children were young.
"They all had their porridge. There was none of this, 'I want this or I want that,' For dinner, it was a pot of stew with everything in it. They'd all be at the table."
She now enjoys her meals at the Day Care Centre where she says they're "all one big family. We all laugh together. We have a great time."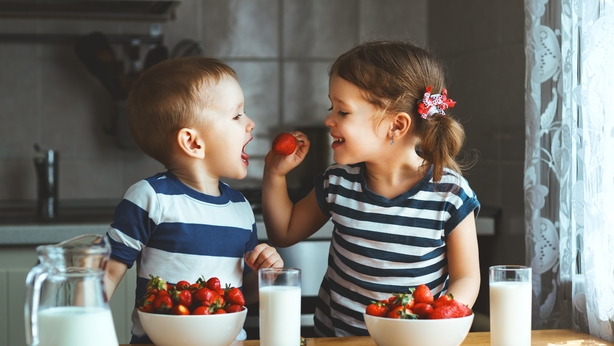 Also in this week's edition of Like Family Brenda meets Professor Donal O' Shea who treats patients with obesity.
Commenting on the changes in the relationship between Irish people and food across generations he says, "the pace of life is unbelievably fast but you miss out on so much if you don't sit around the table as a family. So much shaping of personalities goes on around that table as you grow up, you've got to maintain that."
Giving context to the wider issues stemming from our relationship with food as a society he says, "We have a health service crippled by cancer, diabetes, heart disease and if we were eating healthily and more physically active you would completely transform the health landscape in a really positive way."
"It's vital that we preserve the nurture that you get from a family environment and that dynamic around the table is like no other."
In this week's season finale, Brenda also meets young people in county Cork who are busy growing their own vegetables.
You can listen to the series finale of Like Family above.