We're sorry. We know! Summer is barely over, the kids only have a foot in the school door and you can't even think about Halloween, never mind Christmas.
Here's the thing though, Santa is a very popular man and he gets booked up quick. Why not do yourself a favour and book your place now rather than worrying about it later down the line?
Here are some of our favourite places to visit the man himself across Ireland.
Antrim: Santa at W5 Belfast
From Saturday 24th of November, visitors can meet Santa in his icy Christmas Cavern and take a trip on W5's magical miniature train ride, the Winterland Express, at Belfast's interactive museum.
Tickets: Pre-booking required. Booking available from September 2018 on www.w5online.co.uk.
Armagh: A Magical Christmas Experience at Navan Centre & Fort
The Navan Centre is running a Christmas Santa experience this year, taking place on Dec 13th,14th and 18th at 6:30pm. Tickets will be on sale from 1st September, if not before!
Delight in the live stage show capturing the true essence of this most magical time of year! Afterwards, listen to seasonal storytelling, make your own Christmas craft and even meet Santa at the North Pole.
Admission Charges are as follows: Child £8.00 Adult £3.50 Child Under 1 £3.00
Carlow: Rathwood Santa Experience
Bookings for Christmas 2018 will open at midday on September 1st. The Rathwood Santa Experience is growing in popularity.
Board the Santa Train which takes you on a ride through the enchanted forest where you can meet Rudolph and the other reindeer along the way. Arriving at Santa's woodland home, each family will meet with Santa individually with each child receiving a special gift from Santa.
Children can post their letters to Santa in his 'official' post box with every child receiving a reply during the run-up to Xmas.
For more information and to book your tickets click here.
We need your consent to load this YouTube contentWe use YouTube to manage extra content that can set cookies on your device and collect data about your activity. Please review their details and accept them to load the content.Manage Preferences
Cavan: Kilinkere Farm
Santy is visiting Kilinkere Farm starting Sunday, December 2nd and finishing Sunday the 23rd. Dates and times will be released soon.
Phone bookings begin on Monday, September 3rd.
Clare: Aillwee Caves
Already open for bookings for Christmas 2018, Santa Claus has been taking up his annual residence at Aillwee Cave in Ballyvaughan especially to meet children and their families since the Millennium. He works very hard as he prepares for this unique event.
Along with Mrs Claus and his team of happy Elves, Santa ensures a very special personalised visit for each child with face painting, a puppet show and lots of carnival entertainment to be enjoyed.
During this year's workshop, Santa and his elves are hosting a day for children with autism and other sensory challenges. This will not only be for the children but also their friends and families to enjoy at Aillwee Cave.
On Thursday, December 6th, Santa will attempt to slow down the pace around the workshop. This way children with sensory challenges and autism can join in the fun and festivities. We hope to create a safe and happy environment to enjoy with their friends and families.
Prices: Adults €17.00 Children €34.00 Babies (up to 1-year-old) €7.00. SPECIAL OFFER: 24th & 25th of November 2018 - 20% OFF Total Booking.
Cork: Seek at Fota Island Resort
It's the busiest time of the year in Christmastown. There are decorations to be hung, trees to be grown, carols to be sung and snow to be made – but something is not right, and we need to help fix it!
This December, Santa is visiting Cork, and the usual Christmastown delivery is supposed to be hot on his heels, but the C.A.R.D.S (Christmastown Automatic Remote Delivery System) is not working and so none of the supplies can reach the area. It's up to Beatrice Cogsworthy, Chief Engineer, and the families of Ireland at Fota to work together and get everything back in order in time for Christmas.
General tickets will go on sale on the 3rd of October 2018. There will be a pre-sales day on 1st or 2nd of October 2018. Accommodation packages (including event tickets) will be available from 17th of September.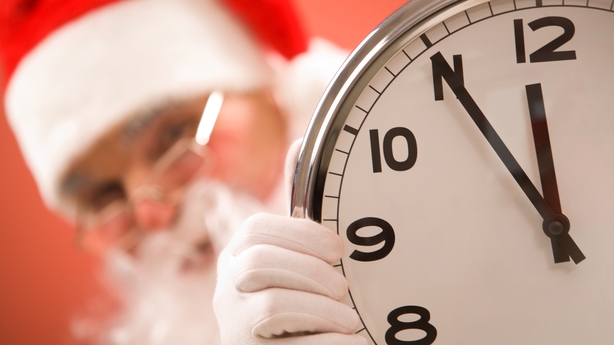 Derry: The Jungle's Christmas Wonderland
This festive family event is unique in its offerings for not only can visitors share a meet and greet with Santa but, they can also have a giggle with his colourful Elves, enjoy The Jungle's exciting adventure activities, get creative with a spot of arts & crafts or grab a cuddle with the curious creatures in the Woodland Petting Farm.
The Jungle offers the very best way to end a Christmas day out: with a festive tale told by Mrs Claus herself. Father Christmas will meet and greet little ones in his magical Christmas Grotto delivering his fantastic Christmas gifts and posing for a treasured family photo.
For older kids and teens who don't want to hang out with Saint Nick, there are a host of Jungle adventure activities and arts & crafts to keep them entertained. Choose from: Archery, Bungee Trampoline, Clay Crafts, Climbing Wall, Face-Painting, Paintball Target Range or Rodeo Reindeer.
Prices: Children £16.50 Adults £8.50 Babies (under 12 months) £6.50. Click here for more information.
Donegal: Donegal Lapland
Suitable for adults & children, this project is to convince the unconverted. When the show starts the elves appear and explain the story of Christmas. The show continues and Santa makes his entrance, coming down the chimney! Here Santa talks to the children. He has treats for everyone. Beware of the naughty elf!
Next, you are off to Santa's village. First stop is the toy factory, then into the village courtyard. The village courtyard includes: the stable with donkey and crib, post office, Santa's Sleigh, Santa's House where you can meet Mrs Claus and make sure the Elves are asleep, Santa's helpers and reindeer and Santa's Toy Store.
Ticket Prices: Child Ticket (aged 2 & over) = €14.50 Child Ticket (0 – 23 months) = €5.00 Adult Ticket = €14.50. For more information or to book your tickets click here.
Down: Santa's Polar Express at Slieve Donard
The Polar Express will be a festive occasion with a host of attractions for all the family, including a winter wonderland, story-telling with Mrs Claus and of course our Polar Express train adventure which will take you on a magical journey to visit Santa and his elves in their busy workshop as they prepare for their busiest time of the year.
A warm welcome awaits in the Grand Ballroom, Santa's Holiday Lodge, where the Ticket Master will issue you with your tickets. Board the Polar Express Train where your journey begins!
In the Winter Wonderland, there will be lots to keep you entertained. From movies and letter writing to Christmas stalls and stories from Mrs Claus. Why not join us have something to eat? Choose from Santa's Buffet, Afternoon Tea or Festive Dining.
After exploring the Winter Wonderland and being entertained by various artists, meet the man himself were you will receive a gift and a personal photo. Following your visit with Santa, you can enjoy refreshments and browse our festive stalls.
Adults £16 Children £22 Infants under 1 years old £9. Price includes complimentary tea, coffee or mulled wine and refreshments for the children, a personal photo with Santa and gift for every child.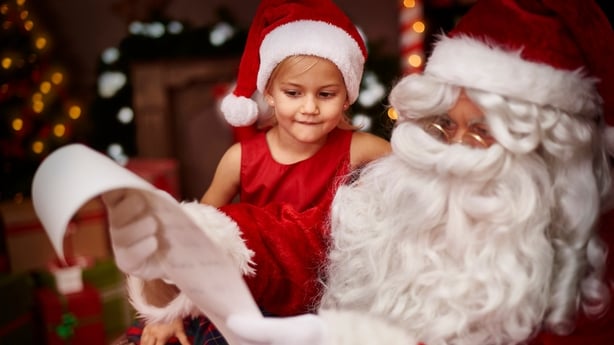 Dublin: Arnotts
Santa is back in Arnotts Department Store for another Christmas season. Pieta House and St Vincent De Paul are the charities of the year.
The big man is arriving on the 18th November and he will be in his grotto until Christmas Eve. Last year, Santa at Arnotts introduced a very clever e-queuing system to eliminate long hours of keeping children occupied while waiting to meet the man of the moment, so we're hoping it'll be making a comeback for 2018.
Dublin: Airfield Estate
Experience the magic of Christmas as Airfield Estate transforms into a magical festive world with many areas to explore and enjoy.
Decorate a tasty treat in the Elves' Kitchen. Warm up over hot chocolate or mulled wine in Mrs Claus café. Make a craft Christmas Tree decoration. Take a souvenir picture on board Santa's sleigh. Jump on board on the Santa train for a magical trip.
Airfield Estate Christmas Experience will be available from the 30th November – 23rd December. Pricing: €21 per child and €11 per adult. Bookings will be available online from late August 2018.
Fermanagh: Orchard Acre Farm
Orchard Acre Farm is open for Santa visits again in December on Sunday afternoons 2nd, 9th and 16th from 3-6pm
An intimate, relaxed experience is promised for children and adults alike. Ideally suited for young and sensitive children. Fully wheelchair accessible. Premiere choice and location for baby's first Santa experience.
Ticket Price: £15 per child. Adults go free.
Galway: Elf-town
Back for a second year, after a successful 2017. Set over 4 floors is "a fantastic interactive and entertaining Christmas adventure" at the Galway Race Course.
Santa and his merry band of elves are looking forward to returning to Galway and meeting all the wonderful boys and girls. This year's Christmas experience returns even bigger and better across four floors with lots of new characters to guide you on your way, as well as new exciting additions added, while keeping the best of last year.
Tickets are now on sale so click here to find out more.
Kerry: Santa at Crag Cave
Santa's Winter Wonderland is located at Crazy Cave Indoor soft play adventure centre. While the children are waiting to meet Santa, his elves will lead them through the magical winter wonderland, where they will see Santa's bedroom, the Elves' bedroom, Santa's Post Office, snow scenes, polar bears and lots more.
Prices: €20 per child and €6 per adult includes 1.5 hours in Crazy Cave. Tickets are on sale click here to find out more.
Kildare: Lullymore
Santa arrives in Lullymore on Saturday, 24th of November and departs for the North Pole on Sunday, 23rd of December 2018.
A magical experience for both young and old is guaranteed as the park is transformed into a Winter Wonderland of family fun with some very special guests to entertain you along the way!
Our Road Train will take you on a magical trip through ancient woodlands, glassy lakes and a beautiful peatland landscape.
Family booking is not essential although early arrival is advised. Click here to find out more.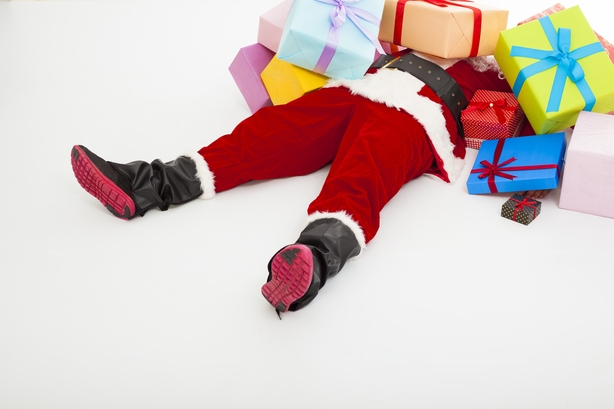 Kilkenny: Santa at Castlecomer Discovery Park
Hop on board The Santa Express and make your way to Santa's magical Christmas Village in the heart of Castlecomer Discovery Park's woodland. There is a lot to see on the way!
Have you ever been in an igloo? Well, this is where you will be visiting Santa! He is waiting to meet all the boys and girls, but he can't do that without making sure Mrs Claus has had a chance to double check that famous list.
When Mrs Claus finishes her tales, its off to see the man in red himself. Santa can't wait to have the groups of children visit him in his new winter wonderland home. Of course, every family will have a special moment with Santa to tell him the presents they wish for this year.
After visiting Santa, you can spend as much time as you wish exploring the enchanted Christmas Village. For grown-ups, you can have refreshments under our woodland canopy.
Prices: Prices are €20 for a child & €15 for an adult. Booking begins in September.
Laois: Emo Court
Visit Santa and Mrs Claus at Emo Court gardens and tearooms. Each child receives a gift from Santa and a homemade cookie with milk from Mrs Claus. Bring your own camera and take some beautiful memories.
Details have not been released for 2018 just yet. But Santa was at Emo every Sat and Sun Thurs 22nd – Sat 24th Dec Finishing in 24th Dec at 4pm last year.
Emo Court, Gardens and Tea Rooms are a beautiful part of Irish heritage. You can explore the OPW site and take a walk through the gardens.
Tickets have not gone on sale yet but going by last year (Booking essential) Group bookings welcome in and out of these times and dates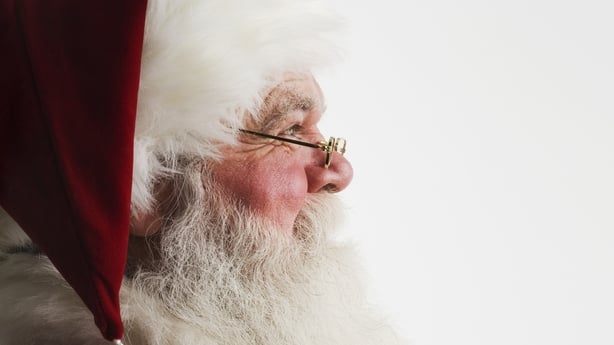 Leitrim: Santa's Christmas Special Train
There has been no information about Santa visiting Leitrim this year but if previous years are anything to go by Santa may make a welcomed return to the Cavan and Leitrim Railway in his Santa Christmas Special Train.
Previous years have seen trains running from the Narrow Gauge station in Dromod between 13.00 and 17.00 for the first three Sundays in December. Once you have boarded the train, you journey along the track in one of the restored carriages.
Enjoy the delights as you travel back to the station where you will visit their Tea Rooms. Here the kiddies can visit Santa in his Grotto while the adults can enjoy a cup of tea or coffee and a snack. The children can give Santa their Christmas Lists and receive a small present to tide them over until Christmas.
We'll keep you updated it Santa makes definite plans for a trip to Leitrim this season. Why not check out Santa at Arigna Mines below...
Limerick: Lough Gur Centre Village
Santa will visit Lough Gur on Sat 8th, Sun 9th and Sat 15th & Sun 16th December 2018 from 10am to 4.30pm. Places are strictly limited for this exclusive event.
Santa will meet and greet children decked out in his most luxurious handmade outfit, worn only on special occasions. When you visit Santa in Lough Gur you can be sure that he will pass the beard pulling test as he is, of course, the real deal as verified by our younger visitors from previous years!
You can book from our website from September 1st 2018. Contact 061 385 186 for any other information. or visit www.loughgur.com.
Prices:€25 per child; €7 per adult (includes tea/coffee, mince pies); €15 baby under 12 months. Photograph optional extra.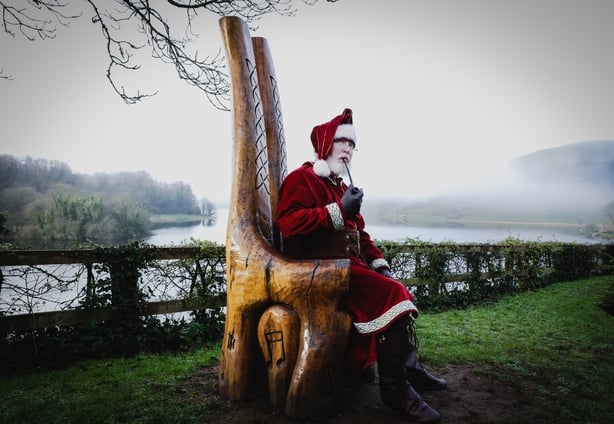 Longford: Light Up Longford
There are no details about Santa's trip to Longford this year just yet but we have a feeling the man in the red might be in the town to turn on the street lights in the run-up to Christmas.
Keep an eye out for details of the turning on of the street lights and if Mrs Claus informs us of any updates of Santa's visit to Longford we'll let you know. For now, why not see when Santa is going to be at Belvedere House in Westmeath below.
Louth: Red Mountain Open Farm
All Christmas activities are under one roof so, regardless of the weather, you're guaranteed to have a good time.
Visit Santa's Sitting Room and Santa's Bedroom, visit the Elves Workshop, make a wish in Santa's wishing well, visit the live nativity scene and post your letter to Santa in Santa's giant post box.
Prices: All for €6 per child and €6 per adult. Under 12 months go free. Optional Extras: Visit to Santa with age-related present €10. Visit to Santa €4. Spin on Blue Barrel Express Train €2.50. For more information or to book your tickets click here.
Mayo: Westport House
Winter Wonderland at Westport House is a magical family experience brimming with Christmas cheer that will leave the kids starry-eyed and the whole family believing in fairy-tales!
You will start the journey with story-time by the fireplace of the gorgeous Drawing Room with a very warm welcome from Mrs Claus who will tell you some magical Christmas Stories.
Your next stop will include festive face-painting to really get you in the Christmas spirit, followed by learning all about the Ginger Bread Man – while decorating your own – in the Long Gallery.
Next, it's time for the main event! Kids will be wowed with a very special visit to Santa in his magical grotto where he'll have a chat with all the children, receive their small gift and take photos to remember this very special occasion.
Prices: Babies under 1 year old go FREE for their first Christmas with gift included! €15 for infants (children under 2 years – a token gift is included) €26.50 for children (aged 2 years and up – a token gift is included) €12 for adults (aged 16 years and up). Click here to book your tickets now.
Meath: Causey Farm
Visit Santa's house and help Mrs Claus pack his bag for the big journey. Slide down into the toy workshop and play with the toys Santa has ready for packing. Make your way through the Elves' door to Santa's Parlour.
Follow the Bethlehem Trail to the stable where Mary and Joseph take care of their new arrival, watched over by the cows, donkeys, sheep and lambs. Visit Christmas Cottage to experience an old Irish Christmas, remember to make a wish as you stir the pudding! And, of course, don't forget to visit the reindeer as they relax before their big night.
Prices: Children (aged 2-12 yrs)€22.00 /Toddlers (1-year-olds)€8.00 /Adults€14.00/ Babies (0-11 months) Free. Click here to book now.
Monaghan: Christmas Craft for Belturbet
Santa is visiting the Nuremore Hotel and Country Club every Saturday and Sunday in December. Meet Santa and receive a gift before playtime in the Elf Funhouse.
Tickets: To book, please call us at 042 9661438 or email: sales@nuremore.com Santa Packages with accommodation available to book online.
Offaly: Birr Castle
Come and enjoy the magic of Christmas at Birr Castle Gardens and Science Centre this December. Be greeted and entertained by the Castle elves, before taking a trip to the enchanting Birr Castle where you will find Mrs Claus in the drawing room beside an enormous roaring fire and be read a magical festive story. Your visit continues to the elegant dining room where you will meet the man himself… Santa Claus!
Santa will visit Birr Castle Demesne over 9 dates this year kicking off on December 1st up to Saturday 23rd December.
Tickets are priced at €18 per child and €8 per adult, and pre-booking is essential. Each booked child will receive an age-appropriate gift from Santa as well as a sweet treat and hot chocolate.
The Santa visit experience lasts for 45 minutes, but there is plenty more to see and do at Birr Castle Gardens. Pre-booked adult and children tickets also include general admission to the Treehouse adventure playground and gardens. (T&C apply) For further details please visit birrcastle.com or T. 057 9120336
Roscommon: Arigna Mines
Following its success, Santa is coming back to Arigna Mines this Christmas. The admission price includes a gift for everyone including adults, there are two entertainment shows, visit the elves workshop, face painting and a sweet treat from Mrs Claus. There are a few other surprises too.
The Prices are as follows: Adults €10 each / Children up to 2yrs €10 each/ Children 2-13 years €20 each
For more information click here, booking opens in October.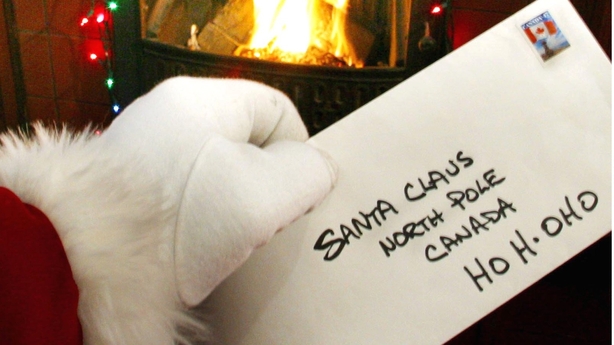 Sligo: Santatown Sligo Folk Park
Santa Claus is coming to town - with bells on! Santatown, at Sligo Folk Park, Riverstown returns to entertain thousands of children and adults from all over the country.
This Winter Wonderland is a Christmas Paradise for the whole family to enjoy. On arrival of Santa's Village, visitors will be dazzled by a spectacular display of lights. The Village Grotto is home to Santa's elves and is where every child gets to meet with the man himself-Santa Claus.
This year the enchantment continues with a beautiful play for all the children. This year's show promises to be bigger, better than and as exciting as ever. Keep an eye out for tickets for this year as they're not on sale just yet.
Tipperary: Nenagh's Largest Santa's Grotto
Mrs Claus hasn't sent on Santa's Tipperary schedule for Christmas just yet but when we hear, you'll be first to know. Last year saw the Big man visit Nenagh's Largest Santa's Grotto.
Santa has also previously visited Tearaways Farm in Roscrea in North Tipperary so keep your eyes peeled for updates there too.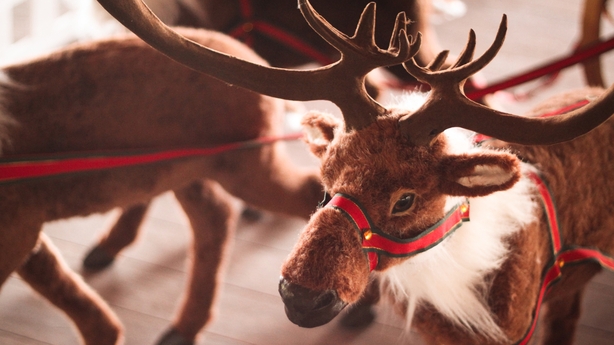 Tyrone: Santa's Magical Grotto
Are you ready to take a ride on our new North Polar Express Virtual Train? It will make you believe you are riding a train to the North Pole to meet Santa. With state of the art 3D visualisations, full surround sound, special movement effects and an amazing cast of characters.
Every few steps you will find a free family photo opportunity so we highly recommend bringing your own camera, the elves will assist to take full family photos.
At the end our the tour you will enter Santa's Grotto for a private meeting with Santa and Mrs Claus where every child receives a wonderful gift. Feel free to take your own photos with Santa, you then choose to have a souvenir photo taken and printed instantly.
Prices: Adults and children's tickets are all the same price at £14.95 each. Tickets are on sale now, click here for more information.
Waterford: Winterval
From the 17th of November to the 23rd of December Winterval is coming back to Waterford. For over a month the city will be transformed into a winter wonderland.
Some of last year's Winterval highlights included Santa's Kingdom, Winterval on Ice, The Waterford Eye, the horsedrawn sleigh and the markets.
Tickets can be purchased on winterval.ie or through the new Winterval app available on IOS and Android.
Westmeath: Green Santa at Belvedere House
Last year saw Green Santa visit Belvedere House, and Father Christmas is returning to Mullingar again in 2018 on the 8th, 9th, 15th 16th, 22nd & 23rd December
Belvedere House, Visitor Centre and Estate will have a truly special festive spirit with traditional decorations all around. Your visit to Belvedere House itself will have a flavour of Christmas' past with natural decorations from the grounds of the estate.
When you're finished at Santa's Grotto, there are 160 acres of parkland to explore and playgrounds to be enjoyed. Follow the various walking trails through the whispering trees of Belvedere's ancient woodland and perhaps make a wish in the Magical Fairy Garden.
More details about the 2018 Santa visit will follow soon. Keep an eye on the website for more details and booking is required.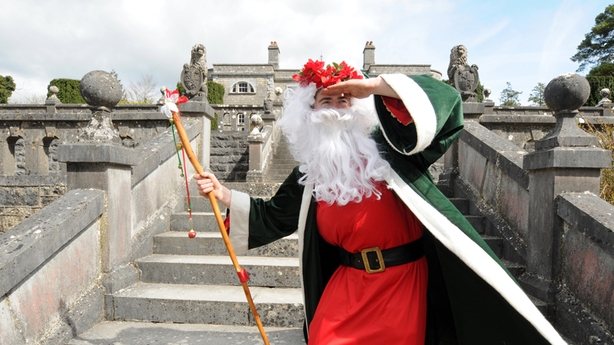 Wexford: Kia Ora Mini-Farm, Gorey
Santa Claus is delighted to announce his return to the Wexford Winter Wonderland that is Kia Ora Mini Farm. Come and visit the animals, see Santa's cosy home and view in amazement our enchanting musical light show.
From start to finish a festive Christmas visit to Santa at Kia Ora Farm is full of sparkle and will include: Thousands of Twinkling Lights, Live Stable of Bethlehem, Illuminated Light Show, Feed the Reindeer and other animals, Ride the Fire Engine and sing Fun Christmas Songs, Visit Santa's Bedroom, Kitchen, Workshop and Post Office, Post your Letter in Santa's Post Box, Visit Santa and Mrs Claus who will present each child with an I'm on the Good List Key to access the Giant Present Room and pick your own toy with our Happy Elf, and Hot chocolate for each child
Admission: €8 per adult, €18 per child, €10 for small babies who are not yet able to walk (if they want a present - if not they are free). No booking required. Click here for more information.
We need your consent to load this YouTube contentWe use YouTube to manage extra content that can set cookies on your device and collect data about your activity. Please review their details and accept them to load the content.Manage Preferences
Wicklow: Santa's Journey, Roundwood
As Christmas approaches, Santa, with the help of his industrious elves and Mrs Claus have created a magical journey in the foothills of the Wicklow mountains.
This enchanted train journey sets off from Winter Wonderland Station stopping to see Santa's Runway, The Talking Trees, Candy Cane Land, Elves Village and many more incredible attractions along the way before going to a very special audience with Santa himself.
Guests will be invited into the warmth of Wonderland Lodge where the journey continues with a visit to the elves quarters before stopping off at North Pole Post Office and the elves bedrooms, then onto seeing how the amazing elves are preparing all the letters for Santa Claus to read.