She is, without doubt, one of the coolest women in the music world and when DJ/broadcaster Edith Bowman came to Dublin this week, she told Taragh Loughrey-Grant about the things that really matter to her.
The Scottish-born presenter is a regular visitor to Ireland
"I was only here about five weeks ago for the vinyl festival, where the Snow Patrol boys asked me to come across and chat to them about the new record which was great. I'm a big vinyl fan and when I was doing my Virgin radio show we used to do a thing on the last hour of the show – Vinyl Hour – just any excuse to play vinyl.
"But yeah, whenever I can [I come to Ireland]. Then prior to that the last time I was over, we shot an episode of Guitar Star here, which was a Sky Arts show that I did a couple of years ago looking for guitar talent. So I've been across here a fair bit over the years.
"I used to come across for Oxegen... and been across with my other half [Tom Smith, The Editors frontman] when he's played the Olympia. It's a beautiful venue and I loved seeing it documented within the Wolf Alice series that Michael Winterbottom did. He's such a great director and he taps into music specifically in his films as well, be it with 24-Hour Party People [British comedy-drama film centred around Manchester's music scene from 1976 to 1992]... and in a real way."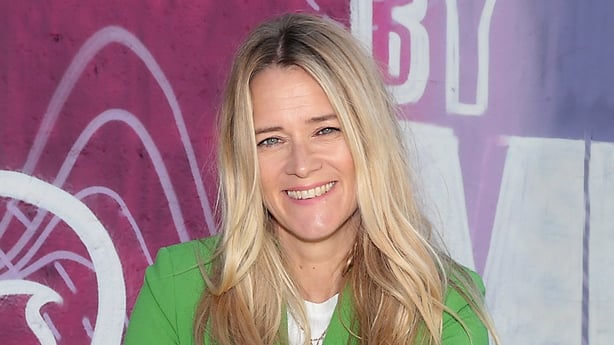 Is there anywhere in particular she would love to bring her boys over to visit?
"I'd love to go back to Dingle. I went to Dingle with some friends and with some of the Patrol boys [Snow Patrol] about 15 years ago. A whole gang of us went and rented a house out of town. There was an amazing coastal walk that we would walk as the sun was rising coming back from nights out. I'd love to go back there.
"Oh and I went to a great little coffee shop on my way today, The Fat Fox, just around the corner."
What brings Edith to Dublin this time?
"I'm here to help 3 launch 'Made by Music' which is this fantastic platform that they are launching with three brilliant Irish artists Jafaris, Saint Sister and Kormac, really different artists which are a really nice snapshot of the Irish music scene at the minute.
"They are backing them by helping them make these new videos and supporting them by giving them a platform and, hopefully, it's the start of something that will continue on, which I think is a great thing because the music industry at the minute is a bit of a weird place.
"It's really easy for artists to make music and to get it up on something, but in terms of it standing out and someone shouting about [it], that's quite difficult. So things like this [event],of proper platforms that can shout about specific things, can be really good.
Check out the first video in the series below - Jafaris' If You Love Me below
With a lot of focus on the 'Struggle to Juggle' for working parents, how does she manage it as the mum of two little boys, Rudy and Spike?
"I always remind my brother of how lucky he is because he lives about 35 seconds walk from my Mum's house, so he has my Mum and Dad there at the drop of a hat [in Scotland]. So I always say to people don't take that for granted. Appreciate how lucky you are.
"We don't have that but Tom and I are a really good team because neither of us have traditional jobs, so I'm quite anal about the diary. We've got a really nice woman called Helen who helps us out a couple of days a week, who's been kind of on-and-off with us for the last five years. She's older with grown-up kids and she's like part of the family, to be honest.
"It's about asking for help, I think, thats an important thing and not trying to prove something, you don't need to do it all yourself. But also it's really healthy to say no to things, that's what I've learnt.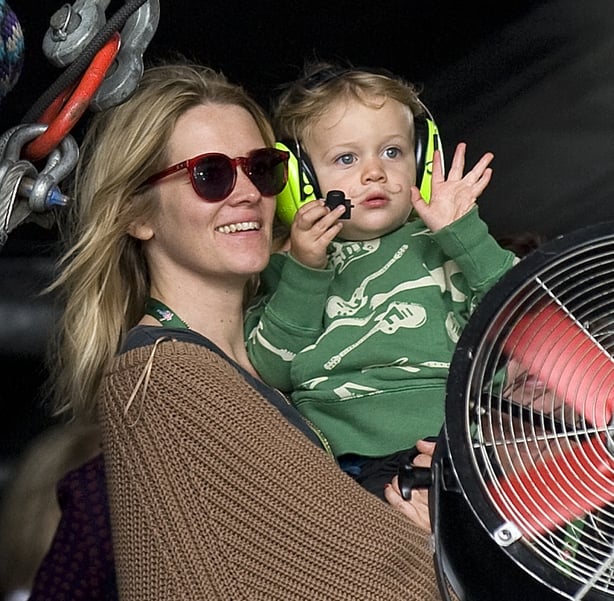 What's happening with the day job?
"I've constantly got a life to-do list. I've been really lucky, particularly with my podcast that I launched in August 2016. It's coming up to the second anniversary. We've just won two awards at the New York Radio Festival which kind of blew our minds because it's such a bedroom thing: It's me; I book the guests, I do the interviews, I record them, then send my mate the audio, he edits it.
"I decide who'll do the interview and make the calls and send the e-mails to the guests and stuff. But for this little thing to connect in the way that it has, has just blown our expectations really, so I love that. I'd really like to pursue that further. I don't know, there's just loads I want to do.
"I feel like it's a nice position to be in now. I'm getting the projects off the ground that I really want to make, so it's my ideas. I've had my first doc commissioned with Sky last year Songs to have Sex to that's a really interesting documentary about the physical connection that music can have with us.
"That's really part of the message today, about that connection with music but film and music seem to be at the heart of everything that I do, but that's not to say that I don't like doing other things. I really like getting thrown out of my comfort zone."
NEW EPISODE: A brilliant filmmaker and a bloody top bloke, #KevinMacdonald talks to @edibow about @whitneythefilm, #WhitneyHouston, @KingofLast #BobMarley & so much more. If you love movies and music, you'll love this chat https://t.co/HnE2lS8Qun

— Soundtracking (@soundtrackinguk) July 6, 2018
"Over 10 years ago, before we had our son, I went to Cambodia, did a documentary about endangered crocodiles with BBC [Saving Crocodiles as part of the Saving Planet series] and I loved it. So I think people have got to be at the core of what I do because I like chatting to people and I'm nosey, so I think that's maybe at the heart of what I do.
I think that nails two key similarities between the Scots and the Irish. Laughing, she added another:
"And having a nice time!"

Edith is the kind of woman who you want to go for a pint* with - not something she's hearing for the first time.
"I remember back at [BBC] Radio One days the best response I ever got to anything I ever did was an e-mail from a girl who....[had] gone to sit an exam and had come back to her flat where there was no one there and she turned on the radio and it was me and she felt like she had a mate in the room! And I never want to be any different when I'm on either TV or radio to what I am sitting here with you now."
I can attest - having met the presenter at a couple of film interview junkets in London over the years. Talking of which...
"They're a funny world [junkets], aren't they? Someone needs to - Christopher Guess [he of This is Spinal Tap fame] needs to - do a mockumentary about that whole junket scenario... You get some of the European journalists who have the weirdest requests ;
"[Like] 'Can I ask Robert Downey Jr if he would eat a chocolate covered digestive upside-down?!"...It can be soul destroying sometimes being in those rooms."
Often the film's stars are doing numerous interviews with various media over the course of the day and they can become jaded so you need to have an angle to stimulate them. What's Edith's?
"When I go in and I say I'm going to talk about music they kind of go – oh ..... their shoulders drop [and they relax]."
If you follow Edith on social, you'll soon see why she's a bit of a style icon.
"Like what I was saying about being the same person on camera as off camera, it's the same with what I wear, it's kind of, and it's mostly stuff from my wardrobe
"For me, I'll usually have to do the school run and then go straight to work so it's got to be something practical.
"Or knowing that I'm going to be out all day and go from this to that to this, so it's a bit of thinking ahead, really more than anything."
"Like when I was doing the Virgin breakfast radio show I got into this habit of – because I was leaving really early and wanted 5 extra minutes in bed – of laying out my outfit the night before. Like your Mum laying out your uniform when you were in school.
"I'd lay out my outfit on the bathroom floor and just fall out of bed and put it on.
"But it's just highstreet. Highstreet is so good. I mean I live out of Zara pretty much, and Topshop - this suit is Topshop."
Did she have an opinion on the result of our recent Irish referendum where the public voted to repeal the eighth amendment?
"Oh yes, it was everywhere. You know I had people like Sharon Horgan getting in touch and sort of asking if I could repost her video and all that sort of stuff. What it felt like was, not that I'm Irish, but feeling like, I'm here if you need me to do anything.
"It was just a support for anyone that had a connection and a voice and a reason to shout about it and just being there and making sure that you were passing that message on because you know, we should be in charge of our bodies, we should be in charge of the decisions relating to our bodies. I'm so happy with the result.
"And all the footage of when it was announced was just amazing. It was incredible.
"You watch things... like I'm obsessed with The Handmaid's Tale at the minute, and I think there's a correlation there in terms of being terrified of other people being in control of your life and decisions and your future, more so than ever now."
Also referring to the recent Pride celebrations - important at a time when disturbing events such as a brick being thrown through Dr Panti Bliss' window are still happening, she added:
"Well, I just think it's really important when you do a job in the public eye, it's really important to get behind things that you're passionate about.
"All the causes I've drawn my weight or voice to I've always had a connection with and I've always really believed in them."

What about her experience of gender equality, personally and professionally?
"So I've got different opinions on different elements of it. I grew up when my Grandad had a little family hotel that he started and my Mum is one of seven girls and so my Mum... her siblings all ran the hotel, so I grew up in an environment where everyone was equal so it was the norm for me.

"There was no kind of thing of that's the men's job and that's the women's job, it was just everybody did everything. So I was very lucky that that was what I grew up in so my expectation is that is how it is."
I just worked on TRNSMT Festival and I would say that the ratio of men to women working on that, in terms of the production staff, was 70:30 - women. I've worked with an amazing number of women in radio and TV- huge numbers. And I'm a mum of two boys and I was at this thing recently at Facebook about women in the media.
"You looked out at this room and it was predominantly women, there was a couple of blokes there, and I just kind of thought as I sat there as a mum of two boys, that I need my boys to be part of this conversation."
"I don't want them to be excluded from it because that's almost fighting fire with fire.

"I think that for anything to change it's got to be an open conversation that is inclusive and not exclusive."
So, whats next?
"I'm always making plans and lists you know. The podcast is going really great."
"We're starting to do some regular live events with that so we've got our first one coming up in September, actually with Lenny Abrahamson, Steven Noble and Ed Guiney. So they're coming to the BFI to talk about Little Stranger.
"They're a great bunch of people. I've done a few things with them over the years and they're just so encouraging. So I'm thrilled that they're doing the first one.
"And then, I don't know.

"You see it's about that balance. I've been crazy busy over the past 2 weeks and the guilt is awful it's crushing and I just got an e-mail there to say that my 5-year-old had a trip that I was going to go on to a little [London] city farm and now I've just got an e-mail saying it's been changed to Thursday and I can't do it.
"I had deliberately kept the day free because I knew this was a date and those things make me want to cry. And that's where we need to be kinder to ourselves as women.
"It's one thing I would say, especially if you're a working mum, it's a natural instinct, its part of your maternal instinct that you're working with that kind of guilt."
She inspires many. Who inspires her?
"My mum's always been mine. Her name is Eleanor. She had me when she was 19. And she's got this hilarious video of me singing Happy Birthday at her 21st in my nightie. But we've got a great relationship.
"I was a nightmare when I was a teenager and she still loves me even after that so. I was a write-off."
"Lost, I was desperate to get out of the little fishing village.

"Yeah, she's amazing, my mum. And she was a working mum. She was just always there and she was one of those mums that my mates liked as well. You know they'd always go to her for advice. And she is that person that's always there for people.

"She was always really encouraging; she was a bit of a performer. I think maybe if she hadn't had the life that she had, in terms of the expectation of working in the family business she probably would've been an actress actually.
"One of my earliest memories is watching her play Nancy in Oliver. She had an amazing voice. I was three and one of my earliest memories was thinking that Bill Sykes had killed my mum. And my Dad going to me "oh no it's just pretend."
How does she keep herself on track?
"Exercise, actually. I've found that I need to do some exercise to keep me sound in mind, more than anything. So I've got a little routine that I try and do, which I haven't been able to do this week because I've been so busy but there's a great little Pilates place right by my kid's school.
"They do Pilates classes on the hour, so I try to drop the kids off at school, do a class and run home. And if I can do that three or four times a week, I know that I'll achieve more that week because I've a clear head and I've got rid of any baggage that might've been weighing me down."

They say, never meet your idols. They haven't met Edith.

Watch the first video in 3's #MadeByMusic series, Jafaris' If You Love Me