Jim Carroll is a renowned music journalist, podcaster extraordinaire and the editor of RTÉ Brainstorm. We caught up with the multi-media pro to find out how he landed himself a spot at Ireland's biggest gardening festival. Watch the interview above.
Jim runs a series of public talks and interviews called Banter where he interviews everyone from Blindboy Boatclub and Mattress Mick to Paul Howard and Paul Kimmage. In 2015, he brought his podcast to the Bloom in the Phoenix Park and the rest, as they say, is history.
"It was a really good experience, we interviewed everyone from Neven Maguire to The Happy Pear guys to the many gardeners who came through the show garden section as well."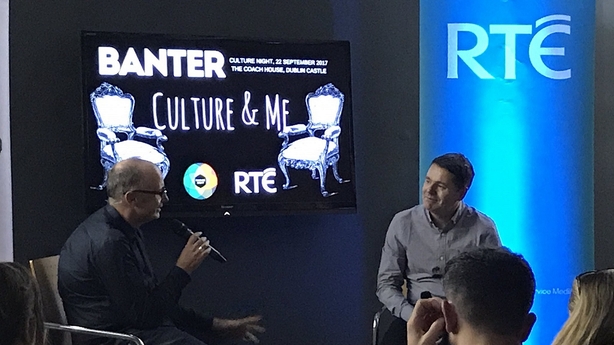 These days, Jim is busy leading Ireland's academics to the world of journalism with RTÉ Brainstorm.
"We started last September and there's about 400 articles on www.rte.ie/brainstorm to date covering everything from 'Why do kids join terrorist organisations?' to 'The future of cancer treatments' to 'The future of fake news' to 'My boss is a psychopath: Why do bad people get good jobs?'.
With such a diverse range of writers and topics, Jim has cultivated an incredible mix of features which explains how he landed on one of the most popular articles to date - Will cow poo be more valuable than milk in 2030?
"We had a number of academics writing articles based on farm and agriculture-related topics. One of the guys, who wrote two articles, was a guy called Kieran O'Connell - he's an academic at DIT. He wrote one article called 'The Secret Life of Cows' and the second article, which kind of took off, was 'Will cow poo be more valuable than milk in 2030?'
"He's looking at how the methane gas that cows produce be turned into energy and can basically be an alternative revenue source for farmers. It was just one of those articles that completely took off."
Did you catch @RTEBrainstorm at #Bloom? pic.twitter.com/oIBjdWCTZF

— LifeStyle on RTÉ (@LifeStyleRTE) June 1, 2018
Jim sat down with Kieran in the RTÉ Tent at Bloom to discuss the business of farming in Ireland. Now that the gardening event is behind him, what's next for Brainstorm and Banter?
"More videos, more podcasts, more events like what we're doing here at Bloom. We've done stuff already with DCU and Maynooth but we'll probably do something at the Ploughing Championship - just do more events and keep the articles coming in."
He continued: "In terms of Banter - shock, horror - we've been going since 2009 and the 200th Banter will happen in October so I'm currently booking that. We've also got he Beatyard festival in Dun Laoghaire in August and we'll also be at Culture Night with RTÉ, so we'll just keep them going."
"Banter is very simple. It's me with a microphone, talking to people - it's the simplest entertainment format in the world and it seems to work, people want to come along to it."