It's finally summer and with over 700 festivals taking place in Ireland, there really is something for everyone. We went along to Wellfest in Kilmainham, Dublin to see what its all about. From Davina McCall to Joe Wicks to Madeleine Shaw to The Happy Pear they were all there.
If you're looking to be inspired and motivated to jump on the health and fitness train, then WellFest in association with KBC is a very good place to start.
From the moment you walk in you are taken into this energetic world of movement, dance, healthy food and drinks, all set to a banging soundtrack…wherever you go!
Inspiration
Much like a music festival, the set-up sees a number of stages and tents with an almost carnival vibe. In one direction there are 50 spinning bikes going at full tilt, then a hundred people POUNDing it (more of that later), a boogie bounce class with tunes that would make you want to jump up and down even without the mini trampolines!
This level of enthusiasm and energy might sound nauseating to some but in fact is totally infectious. I challenge the most cynical not to feel even a hint of positivity after getting involved in the event.
As you walked around the venue it became a little more serene with the WellMum tent and foodie area with cookery demos and vendors selling their healthy and delicious wares. 
There was the WellYoga tent, which offered a zen aura, and then the various talk tents where talks on mindfulness, mental health and also super-energised interviews with some of the headliners took place.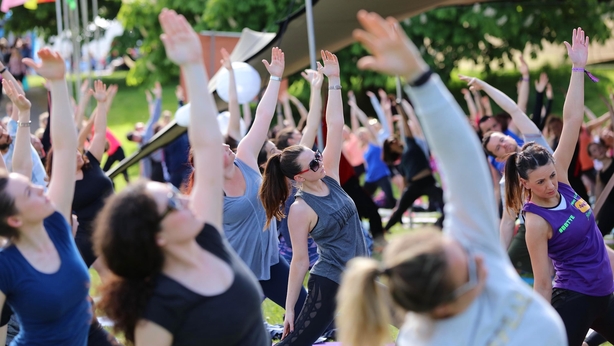 Fitness
Trying out a Pilates class, or doing a High-Intensity Interval Training (HIIT) class to some cracking 80's tunes might be daunting for those who have never done it before, but WellFest made it feel like it was the best fun and you couldn't not give it a go!
Only occasionally did the proximity of the fitness class areas get a little close when the scheduling overlapped and four or five banging tunes assaulted the senses at once. For the most part, it was exactly like being at a music festival where you want to catch different acts except at WellFest it's Davina McCall or Joe Wicks, The Body Coach. It's clean living at it's best, most fun.
It finished at 6pm which left plenty of time to go out with friends, all in the name of balance! And as an event, it's really refreshing to be leaving the venue with people on a serotonin high and not tripping over a carpet of cans.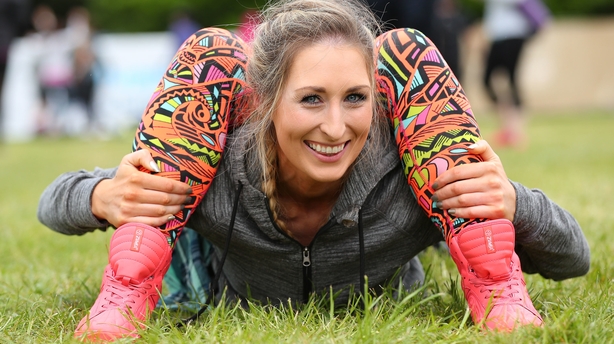 Highlights
The Day 1 highlight was, without a doubt, Davina McCall. For those who think of her as the Big Brother presenter, she reminded us that it was 16 years ago since Brian won it.
She has now gone on to become a fitness guru in her own right. Looking amazing after her workout on the main stage for the crowd of a few thousand she was interviewed on the WellTalk stage by an equally incredible Kathryn Thomas (with her adorable 7-week old baby being minded backstage while she did it). 
There was an immediate rapport between the two and it made for a really enjoyable interview full of energy, and emotion at times, while it bucketed rain outside the tent.
We started off day 2 in the sunshine doing a Rise and Shine yoga class. As a Dubliner, being able to stand in the grounds of Kilmainham hospital and take part in a yoga practice in the sunshine was truly amazing, we couldn't have asked for a better way to start the day.
And it wasn't just us who thought this setting was something special, we repeatedly heard the speakers commenting on its beauty and that an event like this could only work this well in Ireland with the Irish making it what it is, and that it was absolutely world class.
The Body Coach, Joe Wicks, headlined day 2 with a HIIT workout from the main stage to the largest crowd the event history has seen. The energy was palpable. In his interview later in the day, he came across as a really chilled, nice guy who has stuck to his core message of bringing fitness and health to people and this single-mindedness is what he feels has brought him success. Having sold over 2 million copies of his first book he is a global sensation with a massive social following.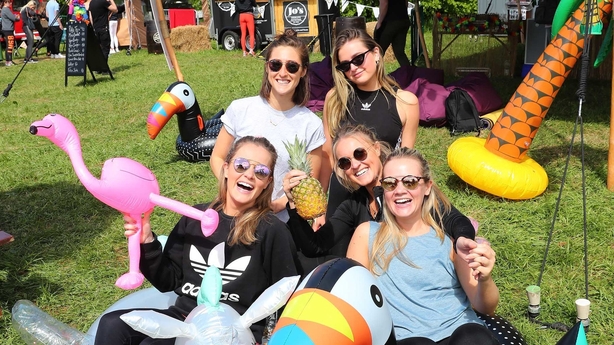 The WellNow Company's Fitopedia of WellFest
With an array of weird and wonderful exercise classes available across the weekend, we thought we'd create a little cheat-sheet or 'fitopedia' to help explain what they're all about.
POUND – Pound away the pounds with a set of drumsticks and some honking tunes.
Boogie Bounce – Re-connect with your inner child by working out on your own mini trampoline.
HIIT – normal HIIT and 80's HIIT – Sweat out your sins with some High-Intensity Interval Training set to a soundtrack of today or yesteryear…we can highly recommend the 80's version.
Pilates – A more controlled way of working out to build core strength and flexibility.
Yoga – Breathe and bend. Yoga is all about slow and controlled movements connecting your breath, body and mind.
Spinning – In stark contrast to yoga, spinning will get your heart racing and adrenaline pumping while not actually going anywhere…on a stationary bike of course.
Barre box blend – Combining ballet and boxing. What's not to love?!
Dance Cardio – For all you Fame lovers – a chance to dance your socks off!
TRX – strap up and work out, using your own body weight.
Bodyweight Workout – use your own body weight as resistance for training.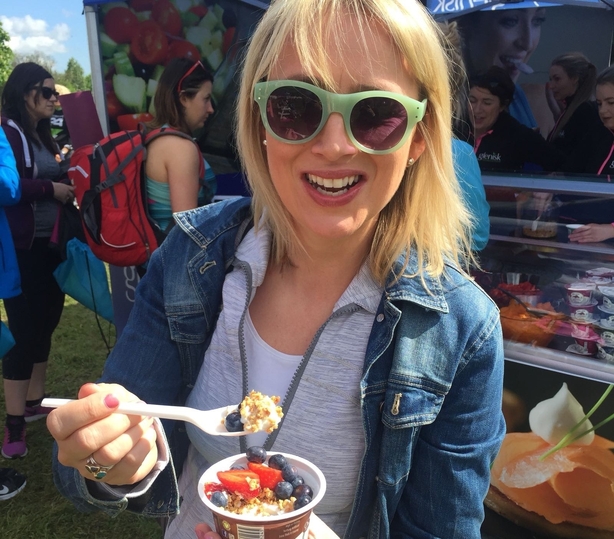 Food
Smorgasbord is not a word often used, but it definitely applies to the food on offer by WellFest's presenters, stalls and vendors. And all of it healthy! 
The Supervalu Food Academy tent showcased multiple brands that are taking part in their development programme.  All of them giving tasters and passionately chatting about their products.
We had the absolute pleasure to interview Madeleine Shaw, The Food Medic, and The Doctor's Kitchen for RTE.ie/Lifestyle. There were some common themes they discussed in terms of staying healthy so we've combined their top 5 tips for getting and staying healthy just for you:
1. Plan & Prep - Spend 20 minutes in the evening prepping. This makes cooking from scratch quick and easy.  Taking the time to plan your week ahead will keep you on track to maintaining your health.
2. Cook from Scratch - Master a few meals you like. It doesn't have to be complicated but gets you really comfortable with a handful of recipes as a starting point.
3. Variety - Mix up the fruit and veg you buy as each has its own spectrum of nutrients that are good for gut health and overall health.
4. Stock Healthy food in your cupboards – If there's junk there, the temptation stakes are too high.  Remove it if you don't want to eat it.
5. Hydrate – We need water for optimum functioning so make sure you're drinking enough every day.
No healthy food event would be complete without a mention of The Happy Pear and they didn't disappoint. They had their van on site filled with plenty of tasty eats and offered the boys another novel handstand platform opportunity.
On Sunday, The Pear gave a demo on Food for Happiness, which had the crowd whooping and cheering in delight!
We need your consent to load this Instagram contentWe use Instagram to manage extra content that can set cookies on your device and collect data about your activity. Please review their details and accept them to load the content.Manage Preferences
We were totally spoilt for choice when it came to lunchtime and snacking, although the queues nearly sent our hungry tummies over the edge.
There were a number of coffee vendors there but not quite enough to quench the caffeine thirst of the festival goers, particularly on Sunday morning. The biggest queues were at the dedicated coffee vendors Frank and Honest and Cocobrew's old-style VW combi van. 
Lunchtime for us consisted of Blazing Salads on Saturday and the most delicious Rice Bowl on Sunday but we could have stayed all week to sample all the options on offer. The natural and refreshing ice-pops from the girls at WellNice Pops were a welcome way to revive when energy levels were beginning to wane on Sunday afternoon.
Between the inspiring speakers and healthy food hits, we left the event brimming with our own food ideas and motivation to up our food game!
We need your consent to load this Instagram contentWe use Instagram to manage extra content that can set cookies on your device and collect data about your activity. Please review their details and accept them to load the content.Manage Preferences
Pregnancy and Parenting
While Boogie Bounce and TRX might not be every pregnant woman's cup of tea, there was plenty for the expectant Mums (and there were plenty of them!) to enjoy at the WellMum tent.
The Stork Box had a stall set up where you could ogle over their gorgeous Mum and baby clothes and hospital hampers – such a handy and clever idea!
Obstetrician, Dr. Vicky O'Dwyer of The Stork Box also gave a talk on staying healthy in pregnancy and there was no shortage of advice on exercising with a bump with talks and classes from Platinum Pilates and FFS Gym.
Mum Talks had an ever-inspiring set of speakers with their very own Kara Heriot taking to the stage to share her story of motherhood and career progression alongside Erica Sheehan of Homespun and Milena Byrne, Founder of Platinum Pilates. 
Right next to WellMum was the WellKids area where little ones could dance and play and even try out a bit of yoga over the weekend.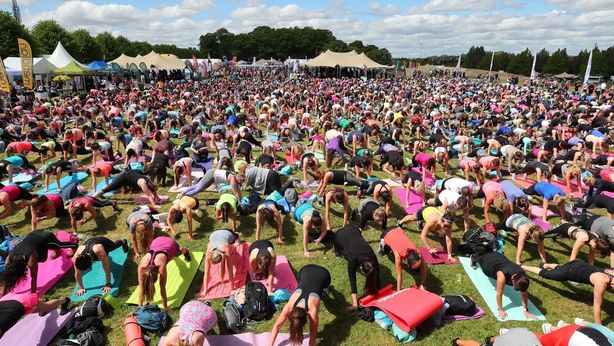 Summary
WellFest 2018 made for an amazing experience for both fitness & foodie fans, but also a brilliant way to delve into seeing and trying out new types of exercise, fitness and wellbeing activities. 
The only problem was the immense choice and trying to fit it all in! If there were 2 things we would change for next year, it would be to have more food stalls to dampen the queues and more toilets dotted around the venue to cater for everyone but especially the pregnant ladies!
We're already looking forward to next year and trying to find a local POUND class in the meantime.  The feeling that shone through over the weekend was that with an ever-increasing awareness of the importance of health and wellness this event will grow and grow and continue to attract international stars as well as our amazing homegrown health gurus.
Read our interview with Madeleine Shaw here.
P.s. Other health & wellness events coming up:There are a number of other health and wellness events taking place in the coming weeks including WellTech in Dogpatch in CHQ on Tuesday May 22, the Future Health Summit 2018 in the Convention Centre Dublin on Monday May 28 and the Fertility Wellness Workshop in Blackrock, Co. Dublin on June 17, 2018.
The WellNowCo: Instagram & Facebook: @thewellnowco or visit our website