Tonight on What Are You Eating?, Philip Boucher-Hayes investigates sugar, marketing and the super trendy, super-sized, doughnut.
With Easter coming up, it's easy to see the link between sugary treats and children at big annual events.
Birthdays, Christmas, Easter, and Halloween all revolve around chocolates, cakes and biscuits. However, Philip says that sugar may not as bad as everyone makes it out to be. Watch the video above.
"I think, personal opinion, sugar gets a little bit of a bad rap. It's only a nutrient, it's not addictive in itself like some people say.
"The problem comes in the combination of sugar and marketing together."
So what is it that makes advertisers' use of cute characters and bright colours particularly effective with children?
PBH travels to a Wexford primary school with Sheena Horgan, author of Candy Coated Marketing, to ask the children to come up with an ad for 'Unicorn Toast'.
We need your consent to load this Instagram contentWe use Instagram to manage extra content that can set cookies on your device and collect data about your activity. Please review their details and accept them to load the content.Manage Preferences
Let's be honest though, it's not just kids who love an indulgent treat. It seems like you can't walk down a street in Dublin without coming across a pop-up doughnut shop showcasing extraordinary fillings and toppings from Nutella and marshmallow to peanut butter and caramel.
Fair warning ⚠️

If you like your doughnuts you probably shouldn't watch #WhatAreYouEating tonight

            (on @RTEOne at 8.30) pic.twitter.com/ALN0Qz0Z2F

— Philip Boucher-Hayes (@boucherhayes) 29 March 2018
If you're a fan of these super-sized treats, Philip says you may want to look away now...
"Bad news coming folks, for lovers of doughnuts.
"Those big, super-sized, almost cake-sized treats that you will see in the window of every shop at the moment. Look away now if you don't want to know, but if you do tune in at half-past eight."
At the Rolling Doughnut's iconic O'Connell Street kiosk, Philip samples the traditional doughnut with father and daughter team, Michael and Lisa Quinlan.
Elsewhere, Philip meets with drinks expert Susan Boyle and is surprised to find out just how much sugar is in one cocktail.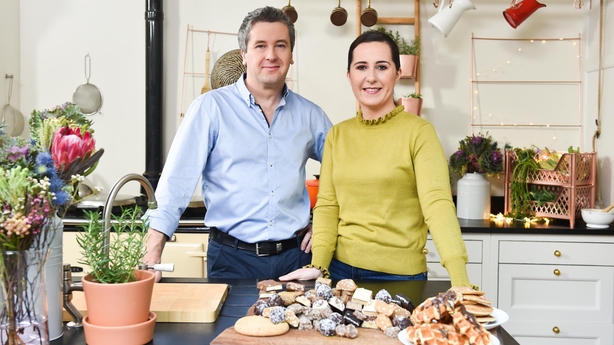 In the kitchen, chef Hilary O'Hagan-Brennan challenges him to a race: microwave popcorn versus stove popped. In the food lab, he compares the health-giving polyphenols in Hilary's popcorn versus commercial varieties. 
"In Dublin the nachos & hot dogs tend to do better" 🌭🍿🍫

What Are You Eating? looks at Treats! Tonight at 8.30pm pic.twitter.com/CeBtxflsI2

— RTE One (@RTEOne) 29 March 2018
At the National Botanic Gardens, director Matthew Jebb introduces Philip to his second most addictive plant after tobacco: sugar cane, while dietitian Aveen Bannon casts a cold eye on sweet treats and suggests some healthy alternatives.
Watch What Are You Eating? tonight on RTÉ One at 8:30pm